Saree, which in Sanskrit means "strip of fabric," is more than simply an unstitched piece of cloth to Indians; it describes their culture, heritage, and pride in femininity. The simplicity of the saree is what makes it beautiful.
A saree never fails you, whether for a festive appearance or an unplanned celebration. It's a fresh style that works well for showcasing a person's personality. The various ways a saree is draped represent the various personalities of the woman who wears it.
Want to show off your gorgeous saree appearance to others? Here are a few amusing Saree Quotes and sayings that are ideal for Instagram captions.
Cool Saree Quotes For Instagram Captions
Nothing feels as perfect as a saree.
My comfort blends well with sassiness.
The saree is the epitome of my femininity.
An elegant way to define my boldness.
I loved it. I draped it.
I drape with pride as beautiful as a bride.
Folded in pleats, bright and sleek, I got Beauty in simplicity.
Flaunting my Indian ambiance in a saree.
I got a saree to cover my glitches; that is all I need for rough ridges.
Always ready to slay with my festive saree looks.
Desi vibes are on!
I got a guileful yet respectable nature, all covered in my saree.
Have you ever seen something more glamorous than this?
I can be pretty, but I chose to be bold today.
I got humility as long as my pallu.
Saree is perfect for concealing my dark secrets.
I can burn bridges as fast as I can pleat my saree.
And today, you see a furious woman in a saree.
I'm as curvy as my pleats.
Always as sleeky as my saree.
Saree Quotes That Perfectly Define You In Saree
A look in a saree is enough to slay.
My saree never fails. Your style might.
When I'm in a saree, confidence and comfort are my buddies.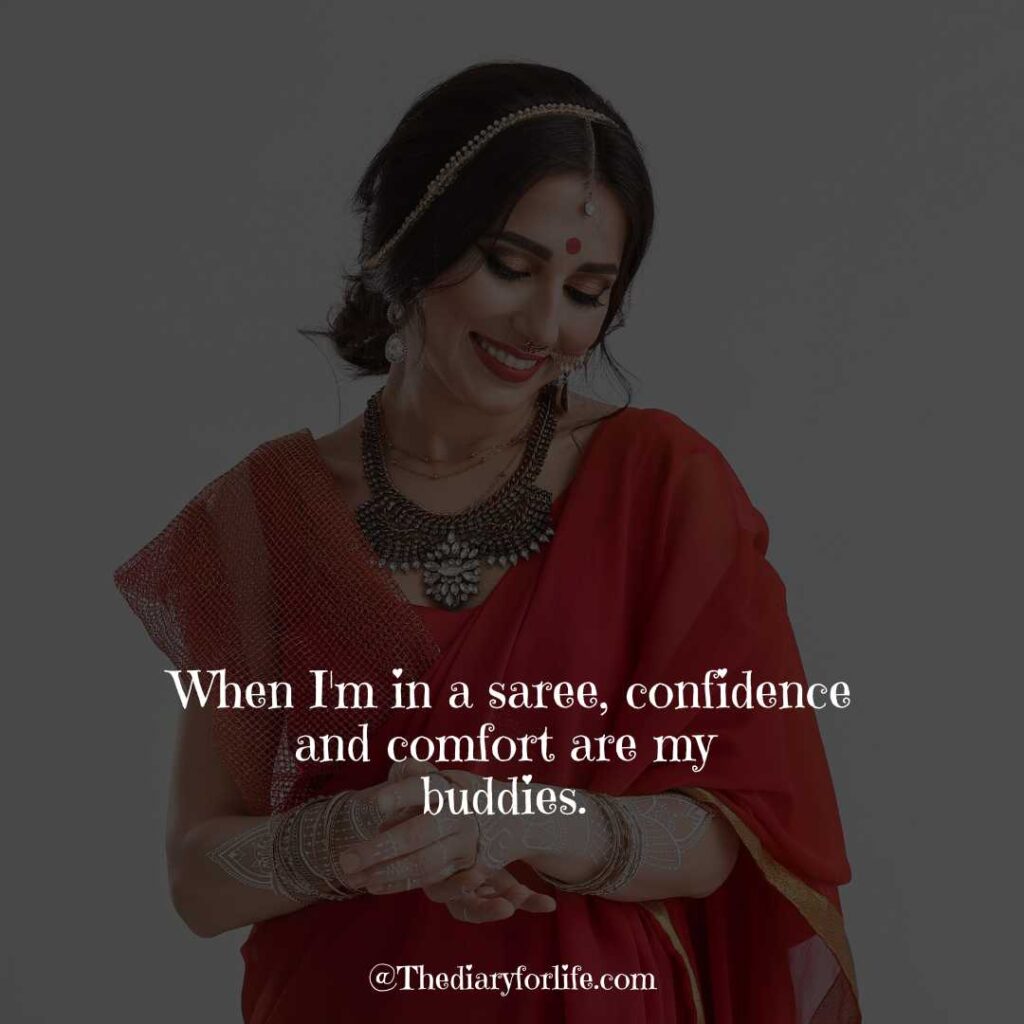 A saree on high heels always rocks.
I have a saree and no regrets.
I'm attractive bold, popsy rocking in red.
Kajal, bindi, jhumkas, saree and heels. I got everything at my will.
I bet your heart pounds when you see me in a saree.
I'm as flattery as my saree.
Nothing as bold as a lady in a saree.
Never doubt the necessity of time and a woman in a saree.
My dreams are as curvy as my pleats.
My mom's saree is all I need to feel her comforting hug all day long.
If you have a saree, you never go out of style.
You don't have to worry as long as you have a saree.
I'm always as fresh as my saree.
My mood varies with my style of draping saree.
You gotta be lucky to see me in a saree.
Best Saree Quotes For Your Desi Look
I got the sharpness of a knife and saree to whet the same.
I'm truly artistic in a saree.
Saree is my way to intensifying Beauty.
You see a more charismatic me when you see me in a saree.
Nothing shouts more desi than a saree with jhumka.
You don't need to worry when you have something as perfect as a saree.
I can be sly as a fox and as sleek as a saree at the same time.
I pleat it carefully and wear it confidently.
Today I'll have a 6 yards saree shooting like tequila.
I drape my strength with pride.
When I'm not blue, I'm in my saree.
Beware of women in saree. They are more ferocious than you think.
It's a beautiful day to light up with a saree.
The Colour of my saree matches your heart.
Ironically, it looks like I can handle my pallu better than my problems.
Final Words
You are a unique and beautiful creation out here in the world. Saree is just another way of letting your emotions to the surface and capturing people's hearts.
It is an outfit that doesn't need the help of makeup to highlight a person's Beauty. It's the perfect way of showing people who you are while bringing to light our Indian culture.
Saree has been in the history of India for a long time and has evolved eventually along its journey. As it is rightly said that we must never forget our roots, the saree is that connection between us and the roots.
It's not just a strip of fabric; it's a tradition and legacy to be passed on to subsequent generations. It's genuinely unique how a saree can be so simple yet versatile simultaneously, just like women.
These saree quotes are definitely everything you need to know about how charismatic the nature of the saree is. Be sure to share these awesome saree quotes for instagram with your group, along with your astounding pictures.
Also read: 100+ Aesthetic Captions For Instagram Posts [Unique & Creative]