Jalal ad-Din Muhammad Rumi was a Persian poet, an Islamic dervish, and a Sufi mystic. He has a superior level of discipline and wisdom.
Rumi is seen as a great spiritual master and poet. He has influenced many people and became a great source of inspiration for many artists.
Rumi's poetry and spiritual teachings have been translated into many languages globally, and they are very popular and relatable even today.
The way Rumi has seen things was priceless, and here are a few Rumi quotes on silence you must read.
Beautiful Rumi Quotes On Silence
This silence, this moment, every moment, If it's genuinely inside you, brings what you need.
Sing to me in the silence of your heart and I will rise up to hear your triumphant song.
Silence is an ocean. Speech is a river. When the ocean is searching for you, don't walk into the river. Listen to the ocean.
Out beyond ideas of wrongdoing and rightdoing there is a field. I'll meet you there. When the soul lies down in that grass the world is too full to talk about.
Silence is the root of everything. If you spiral into its void a hundred voices will thunder messages you long to hear.
This is how it always is when I finish a poem. A great silence overcomes me and I wonder why I ever thought to use language.
Silence is the sea, and speech is like the river. The sea is seeking you: don't seek the river. Don't turn your head away from the signs offered by the sea.
In the silence between your heartbeat bides a summons. Do you hear it? Name it if you must, or leave it forever nameless, but why pretend it is not there?
Short Quotes On Silence By Rumi
Let silence take you to the core of life.
I choose to love you in silence, for in silence I find no rejection.
Be quiet, the secret cannot be spoken, It is wrapped in silence.
All is known in the sacredness of silence.
Silence gives answers.
I want that love that is the silence of eternity.
There is a place where words are born of silence.
Let Silence speak to you about the secrets of the universe.
In the silence of LOVE you will find the Spark of LIFE.
Also read: 50+ Inspirational Buddha Quotes With Images
Meaningful Rumi Quotes On Silence
Your old life was a frantic running from silence. Move outside the tangle of fear-thinking. Live in silence.
Silence is the language of God, all else is poor translation.
Ground yourself, strip yourself down, To blind loving Silence.
In Silence there is eloquence. Stop weaving and see how the pattern improves.
Carry your baggage towards silence , when you seek the signs of the way.
Do not consider what strangers say. Be secluded in your secret heart-house, that bowl of silence.
Let silence be the art you practice.
More Quotes About Silence By Rumi
Keep silent, because the world of silence is a vast fullness.
Move outside the tangle of fear-thinking. Live in silence.
Keep silence, be mute. If you have not yet become the tongue of God, be an ear!
There is a way between voice and presence, where information flows. In disciplined silence it opens; with wandering talk it closes.
I will be waiting here…. For your silence to break, For your soul to shake, For your love to wake!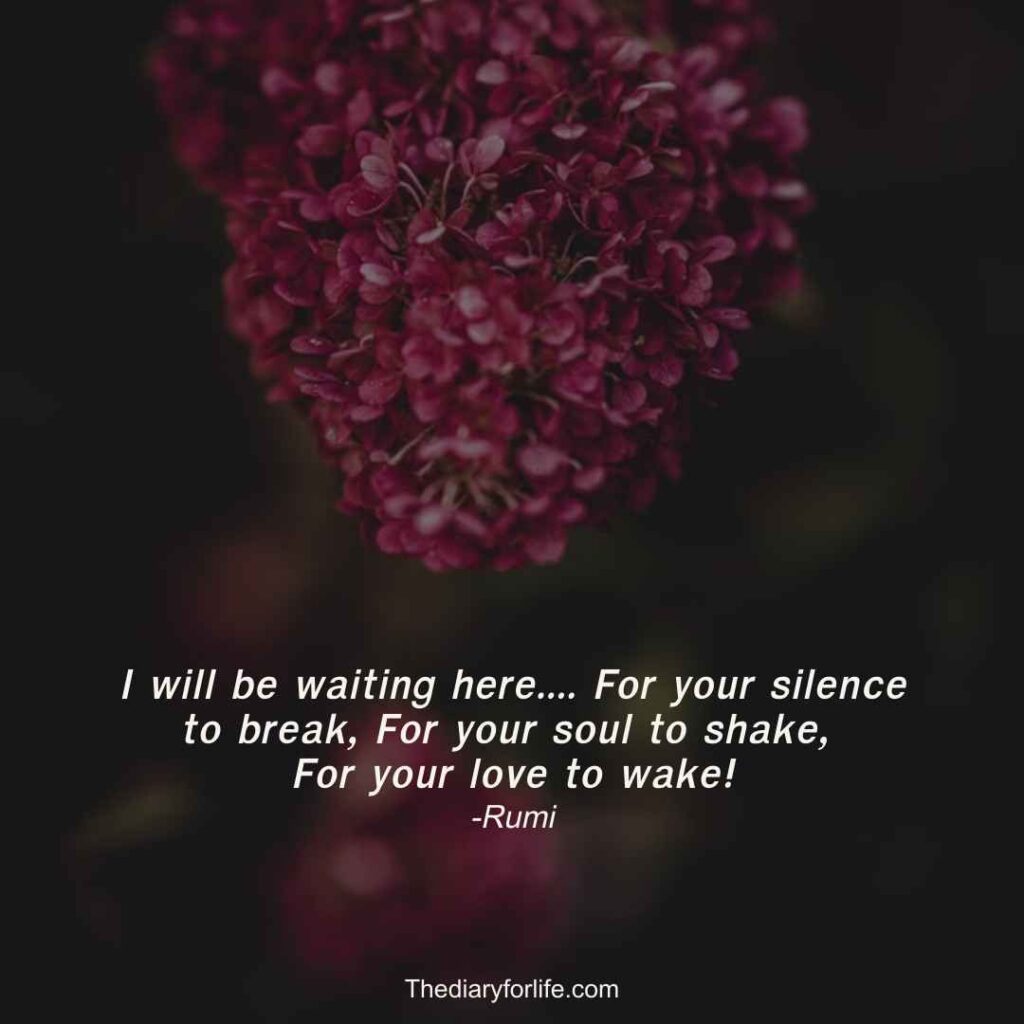 The Bottom Line
Silence is full of answers, and it never betrays you. All it takes is courage and a mind who is willing to seek his growth in the silence.
Hope you enjoyed these beautiful Rumi quotes on silence. If you did, don't shy away from sharing them with friends.
Also read: 25 Beautiful Quotations About Waiting For Someone