Each one of us craves financial security. Trapped in financial struggles, there is no prospect of growth and development. In a world that continuously alters and tests us, the power of positive thinking as well as The Law of Attraction have emerged as sources of inspiration for people who want to change their lives. Through constant affirmations and a change in our attitude, we can gradually attract opportunities that help us become more financially independent.
One of the first steps in implementing the Law of attraction and leveraging the power of affirmations for money is by starting to envision your financial goals everyday. With unrelenting faith in your abilities, you can change your life and make it whatever you want it to be.
This article will tell you about the Law of Attraction and help you harness it to achieve financial success. Also, we've shared 50+ Law of Attraction Affirmations for Money to manifest wealth.
What Is the Law of Attraction?
The Law of Attraction is a powerful universal concept that explains that like attracts like. Your thoughts and emotions attract outcomes and experiences that are in sync with them. In the case of The Law of Attraction, it's crucial to recognize that it functions in accordance with your emotions, thoughts, and your beliefs.
How To Implement Law of Attraction For Financial Success?
Money and the Law of Attraction are intertwined because your financial circumstances are the reflection of your values and beliefs about money. To apply this Law of Attraction for financial success:
Change Your Mindset: Replace your negative thoughts about money with positive empowerment ones.
Create clear goals: Set your financial goals precisely to ensure that the universe knows what will be brought into your life.
Practice Daily Affirmations: Perpetually declare your goals in financial terms with conviction and confidence.
Visualize Success: Imagine Success. Create a mental image of your life filled with money in abundance. Feel the emotions that accompany it.
Law of Attraction Affirmations for Money
I am a magnet for financial abundance.
Money flows to me effortlessly and abundantly.
I release all resistance to wealth and success.
I am open to receiving wealth in expected and unexpected ways.
My bank account is constantly growing.
I deserve to be financially free and secure.
I attract lucrative opportunities into my life.
Every day, I am getting closer to my financial goals.
I am grateful for the money that flows into my life.
Wealth and prosperity are my birthright.
I make use of money to bring about positive change in my own life and in the world.
I am thankful for the abundance of life that surrounds me.
Everyday, I am moving towards my goals in financial terms.
I am in tune with the energy of wealth.
Success in the financial realm is my normal condition of being.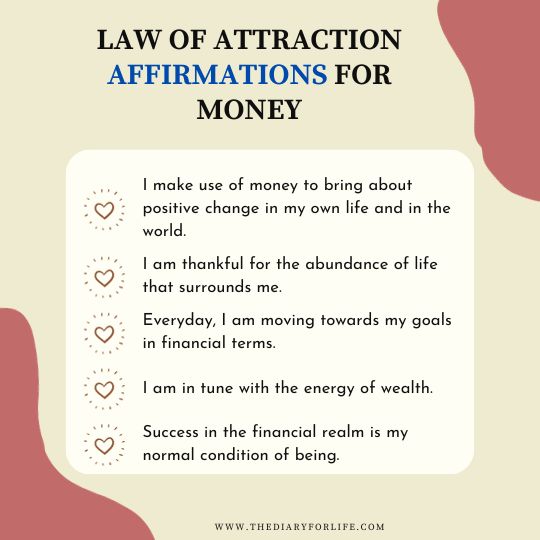 I am willing to receive unlimited financial blessings.
I deserve every good fortune that I am blessed with.
Prosperity and wealth are my right to be born with.
I can easily attract wealth and happiness.
I align myself to the vibrations of infinity prosperity.
Money Law of Attraction Affirmations
Money is a positive and abundant force in my life.
I am in control of my financial destiny.
Financial success comes naturally to me.
I am financially empowered and make wise money decisions.
Money is a tool I use to create the life I desire.
I attract money and wealth with ease and joy.
I am a money magnet, and opportunities abound.
My financial situation improves daily.
I release all fears and doubts about money.
I am aligned with the energy of abundance.
Wealth flows effortlessly to me and in abundance.
I am a pro at making wealth and multiplying it.
I make money by every thought I make.
My wealth continues to grow.
Wealth and abundance are my always-present partners.
I am aligned with the power of wealth.
My worth is endless prosperity and wealth.
I make use of my wealth to live a life with significance and purpose.
My financial options are endless.
I am willing to receive the riches that are beyond my wildest imagination.
Wealth is flowing to me from everywhere.
My prosperity is a reflection of my own state of abundance.
I'm a magnet to lucrative opportunities.
I am financially unaffected and abundant in all ways.
My wealth is growing exponentially every day.
Law of Attraction Affirmations for Wealth
I am wealthy in all aspects of my life.
Abundance flows freely to me from all directions.
I attract unlimited wealth and prosperity.
Wealth and success are my constant companions.
I am worthy of limitless wealth and abundance.
My wealth is a reflection of my positive mindset.
I am grateful for the wealth that surrounds me.
My financial abundance benefits myself and others.
I radiate the energy of wealth and abundance.
Wealth is a natural and integral part of my life.
I am an attractor to wealth and prosperity in the financial realm.
Money flows easily to me and in abundance.
I have the right to be financially secure.
My income keeps growing.
I am financially secure and safe.
I am able to attract lucrative opportunities into my life.
The pursuit of wealth and success is my right to be mine.
I let go of all worries and doubts regarding money.
I believe that God will provide my every need.
I align myself to the abundance of energy.
My money comes through unexpected sources.
I am a shrewd and responsible steward of my financial assets.
I am thankful for the abundance that surrounds me.
I am willing to receive the endless blessings of prosperity.
Conclusion
Include these affirmations in the daily schedule, envision your financial goals and observe how you see the Law of Attraction begins to play its part throughout your life. With a positive attitude and a complete faith in your abilities to attract wealth and money and wealth, you can clear the way for a better and more abundant future. Keep in mind that the power is in you to control your financial future with your own personal Law of Attraction.
Also Read: 50+ Powerful Positive Affirmations For Teachers To Stay Positive