We all appreciate the beauty of a flower just as we spot it, don't we? Its color, the softness of its petals, the details on its nectar, the butterflies swirling around, and everything else about it. But does a similar appreciation spring within your mind when you look at the mirror spontaneously?
That's precisely what self-worth is all about, and iterating affirmations for self worth helps you get there. You must value and appreciate yourself for all that you are. You must recognize that you are a good person and that you deserve to be treated with respect.
It keeps you from looking down upon yourself as compared to anyone else in the room. Knowing that you deserve all good also adds manifolds to your confidence while remarkably slashing down your stress levels. Most essentially, acknowledging the purity of your intentions and actions allows you to stay at peace, even in adverse situations.
That said, acquiring self-worth isn't necessarily easy-peasy. While some are born with a high dose of self-esteem, others need to learn with time. In the following sections, we shall discuss how you can achieve the feeling of self-worth over time with the help of affirmations for self worth.
What Are Affirmations for Self-Worth?
As the term suggests, positive affirmations entail reiterating positive thoughts and feelings while fully discarding any negative connotations.
They lay a strong emphasis on the positive result that you are looking to achieve rather than the negative thoughts that bog you down.
It helps you rewire your subconscious mind freshly and optimistically, thus enabling you to eliminate the emotions of low self-esteem or self-defeat.
Positive affirmations for self worth are known to significantly reduce the stress levels in your body. However, you must follow them religiously in order to grasp their long-term benefits.
Consider repeating the affirmations over and over every morning, and it will eventually lead you to develop a strong belief in those words.
Positive Affirmations for Self Worth
I value myself unconditionally.
I deserve kindness in every situation.
I shall always be kind to myself
I enjoy my own company.
I choose to preserve my dignity before others.
I respect the journey that I've had.
I am powerful and capable of tackling every challenge on my own.
I value my physical well-being.
My mental health is my topmost priority.
I love every aspect of my personality.
Self-love makes me feel at peace.
I am unique in my own beautiful ways.
I trust my caliber.
I have strong faith in myself.
I will attract positivity and prosperity.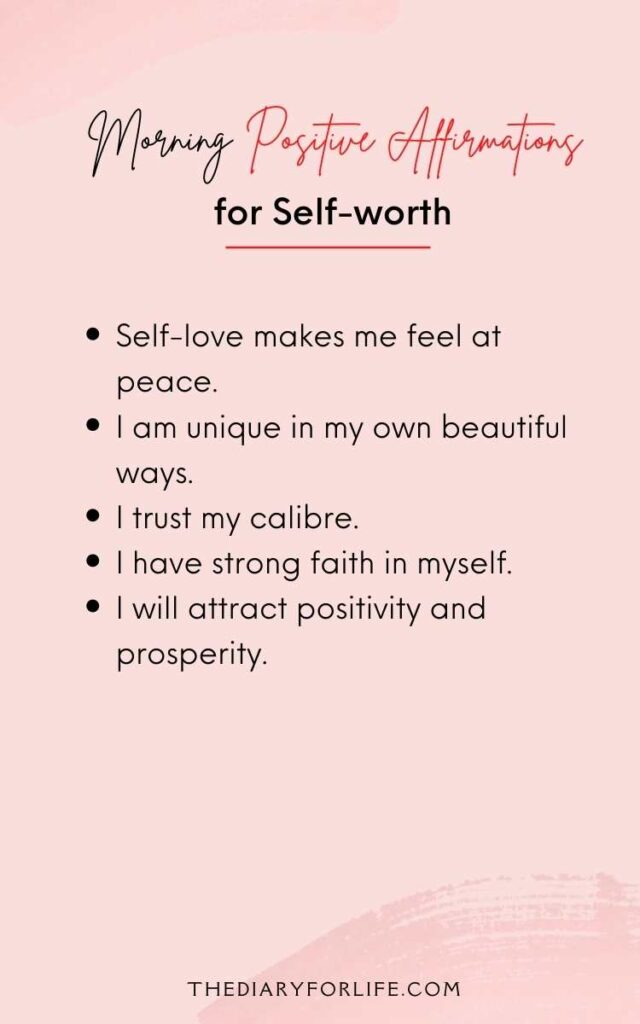 I will succeed every step of the way.
I love the way I am.
I am at my physical best.
I am at my emotional best.
I feel blissful every day.
Affirmations for Worthiness
I am proud of what and where I am today.
I adore myself.
I prioritize my well-being.
Patience is my virtue.
Self-worth is my key to joy.
I am rejuvenating every moment.
My plans will work out.
I look radiant.
I feel confident.
I am grateful to nature.
I am calm around others.
I radiate positivity within and around.
I focus on the present.
I embrace my beauty.
I hear only positive things around me.
I shine through the darkness.
I am willing to further improve my life.
I let light inside me.
I shield myself from negativity.
I am kind to myself and others.
Affirmations for Self Belief and Self Worth
Resilience is my greatest strength.
I am abundant.
I respond only where I am heard.
I have complete faith in my intuition.
Time has bestowed me with a great future.
I flourish, even in adversities.
I ward off all the worries.
I can speak up for myself.
I can conquer anger.
Only I have the power to touch my self-worth.
I firmly voice my opinions.
I lead my life.
Self-love is my guiding light.
I value myself regardless of successes and failures.
Better opportunities are coming.
I am trying my level best.
Life is fair to me.
I love the skin I was born with.
I hold the reins of my life.
I am in charge of my career.
Positive Affirmations Self Worth
I am wholesome.
I am grateful for everything I have.
I expect the least from others.
My self-worth is my responsibility.
Self-worth is my way of living.
Adoring myself gives me pleasure.
I dare to protect my worth.
I feel serene with every breath I inhale.
I shed stress and anger with every breath I exhale.
My self-worth is beyond my physical appearance.
My dignity is more than my professional status.
I choose harmony.
I am like the calm and tranquil waters.
I fuel growth every day.
I seek joy within myself.
My happiness is beyond materialistic pleasures.
I am confident about my skills.
I deserve positive relationships.
I empathize with myself and others.
I share positive vibes.
Best Affirmations for Self Worth
Self-love heals me.
My needs are important.
I am loved by my near and dear ones.
I nurture my soul.
I put my head and heart into everything that I do, and that's all that matters.
I have a beautiful smile.
I cherish good memories and let go of bad ones.
I have a positive outlook on life.
I bloom through challenges.
I am trustworthy and dependable.
I have a genuine heart.
I cherish my personality.
My smile mirrors my peaceful soul.
My happiness is my responsibility rather than theirs.
I love without expectations.
I walk away from people who make me feel less.
I translate my dreams into beautiful realities.
I wish good for myself and others.
I am nature.
Seeking help is a part of self-worth.
I am aware of my strengths and weaknesses.
I am wise and conscious.
I am heard.
My words change my life.
Every day is a new chance.
There is light every night.
Every passing moment is healing me.
I shape my life the way I like.
I adapt seamlessly to every situation.
I have limitless opportunities.
Frequently Asked Questions About Self-Worth
Q.1 Is It Necessary To Say Affirmations For Self-Worth Aloud?
No, it is not necessary to voice your affirmations for self-worth as such. You can surely say it in your mind. However, it is advisable to say it aloud. When you hear those Positive statements from yourself, it instills a deep sense of confidence and reshapes your perception to believe that you are certainly capable of achieving the goals you are mentioning.
Besides, when you hear yourself affirming the positive and powerful words or phrases for a specific duration on a daily basis, you imbibe the art of self-worth in such a way that it pays out in the long run.
Q2. Can Self-Worth Affirmations Bring A Positive Change In My Personality?
Certainly! The goal of practicing self-worth affirmations is not just to build confidence on a superficial level but to ensure that it becomes deep-rooted, letting you positively and patiently deal with the lowest points in your life.
Affirmations are best known to yield great results even with the most draconian challenges that humanity faces. Establishing a firm belief in self-worth is still just the beginning.
Q3. How Do Self-Worth Affirmations Help Your Relationship To Grow?
Self-worth is the crux of peaceful and healthy living. Affirmations of worthiness help you preserve your dignity and individuality, no matter whether you're single or in a relationship. However, in a broader sense, it is more than important to hold your self-worth to heart in order to keep all the toxicity (humiliation, hurt, abuse) at bay.
It is equally crucial to helping your partner inculcate self-worth within themselves. So, make your partner feel positive about themselves as much as possible. Maybe you could praise them for the way they look, care for you, work hard, etc.
Q4. How Long Does It Take Affirmations To Work?
Just as pearls take time to form, affirmations do take some time to work. Similarly, just as pearls become the utmost beautiful once they are formed, self-worth affirmations also yield splendid results. The duration, however, varies from person to person. Studies suggest that it takes about 30 days for affirmations to show significant results. Interestingly, if you possess a strong belief system, it may take shorter. Regardless of that, you must practice saying those aloud regularly, no matter how lazy or dizzy you feel!
Q5. Can Young Teenagers Practice Affirmations For Self-Belief And Self-Worth?
Why not! In fact, it is highly beneficial for growing adults. During the early teenage years, adolescents typically go through a roller coaster ride of emotions. They often feel vulnerable and under-confident about their appearances, career, and even academic performance.
Positive affirmations for self-worth will boost their self-esteem and help their personalities bloom. It helps them tackle stress, anxiety, depression, addiction, and anger issues, significantly improving their mental health and enabling them to build strong careers for themselves.
Winding Down
Developing a positive attitude and a firm foundation of self-worth does not always necessitate long hours of counseling.
Simple and effective actions, such as practicing self-worth affirmations every day for about 20 minutes every morning and during bedtime, can bring excellent results. It helps you recognize that positivity can be learned and that no one else but you have the power to carve your self-worth.
Also read: 70 One Word Positive Affirmations To Kick-Start Your Day