We all want to grow in life. But sometimes along the way to our growth we need someone or something to uplift ourselves. Men are no exception, they also need something that can help them to boost their growth. There are different types of positive affirmations for men, and every man can use these positive affirmations to achieve success and fulfil his dreams.
Positive affirmations are more powerful than you think. If you choose the right affirmations and use them in the right way then it can make a big difference. Always choose the affirmations according to the areas in which you are not doing well.
What is a positive affirmation statement?
Positive affirmations include no NOs in the sentence. Positive affirmations focus on the positive result that you wish to achieve. Even if you want to avoid some things, the affirmations are focused not on avoiding but on attending something more useful. So Positive affirmations are the statements in which you replace negative thoughts with powerful and positive ones which help you to reprogram your subconscious mind and get rid of self-defeating beliefs.
If you are looking for the best positive affirmations for men, here are the 61 most powerful positive affirmations for men.
20 Daily Positive Affirmations For Men:
1) I am strong and resilient, I can handle every situation.
2) I am in the process of becoming the best version of myself.
3) My strongest desires are being fulfilled now.
4) My world changes with my mindset and thoughts.
5) I am enough talented and I know how to sell my talent
6) I won't let people take advantage of me.
7) I am not controlled by the opinion of others.
8) I am confident and powerful.
9) I know how to be confident in social situations.
10) I am satisfied with what I have and I'll keep working for what I want.
11) I am very smart and good at my job.
12) People enjoy my company.
13) I am confident about my body and look.
14) I am growing stronger every day.
15) I am very close to achieving my goals.
16) I am worthy of wealth and Peace.
17) I always fight for my beliefs.
18) I am getting more confident about myself with every new challenge.
19) I am sexy and attractive and I radiate good vibes.
20) I don't fake my identity to impress people.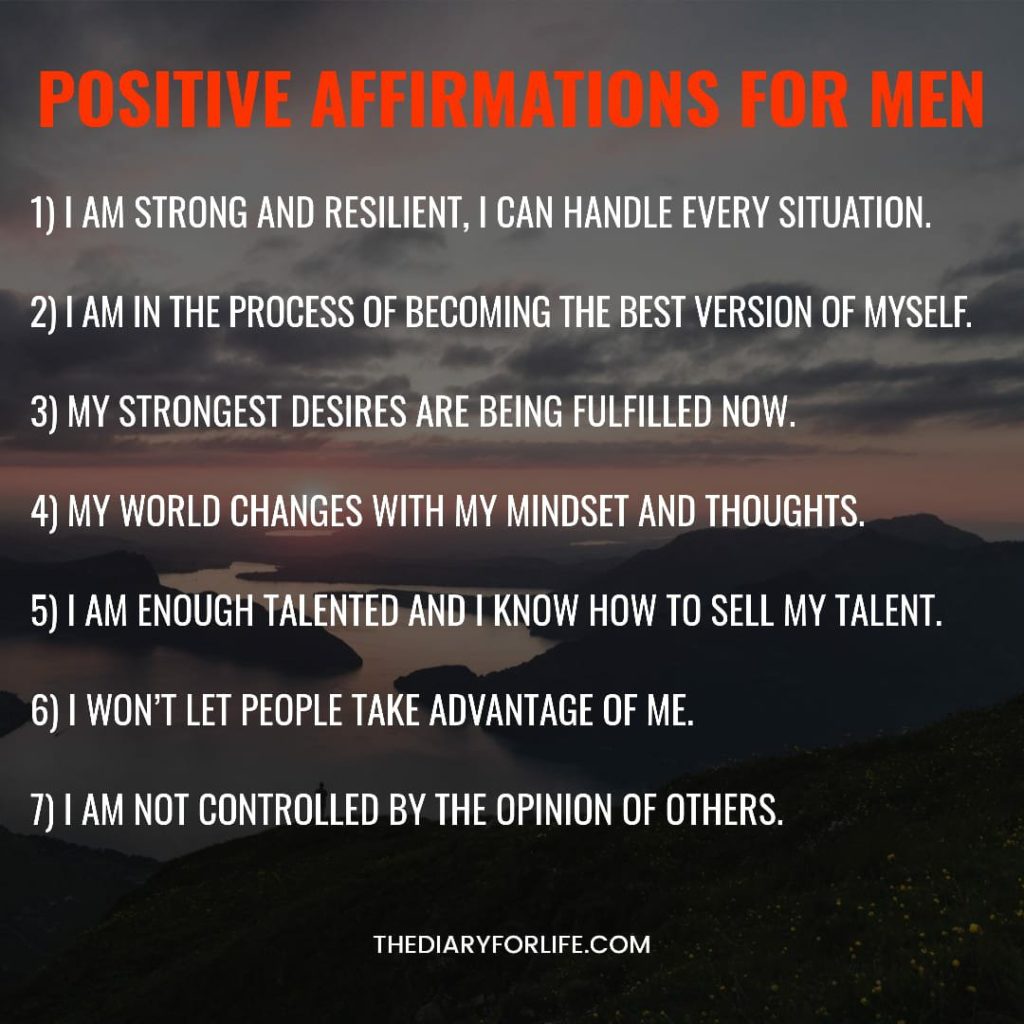 17 Positive Affirmations For Men to Boost Self-Esteem:
21) I am proud of who I am becoming.
22) I like who I am.
23) I value my worth.
24) I am worthy of love, peace and happiness.
25) I deserve to be successful.
26) I am worthy of love and a lot of people value me.
27) If you don't respect me, you don't have a place in my life.
28) I'll never give anyone a right or power to destroy my self-esteem.
29) I can speak up for myself.
30) I attract wealth and successful people.
31) I believe in myself.
32) I am attractive and good looking
33) I am witty and smart.
34) I see myself as a strong and confident man.
35) I am a leader and I always focus on my goals and desires.
36) I embrace my masculinity.
37) I am in love with my true self.

14 Powerful Positive Affirmations For Men:
38) I keep my words to myself and others.
39) I am an alpha male.
40) I surround myself with other strong and capable men.
41) I am a magnet to new opportunities.
42) I understand that my actions become habits so I will always do the right things.
43) I am courageous and fearless.
44) I am not a victim of my circumstances.
45) I have strong willpower.
46) I am focused and disciplined.
47) I have a vision and I work for it every day.
48) I am in peace with myself.
49) I am generous and I help those who need my help.
50) I live with grace and ease.
51) I always make good choices for myself.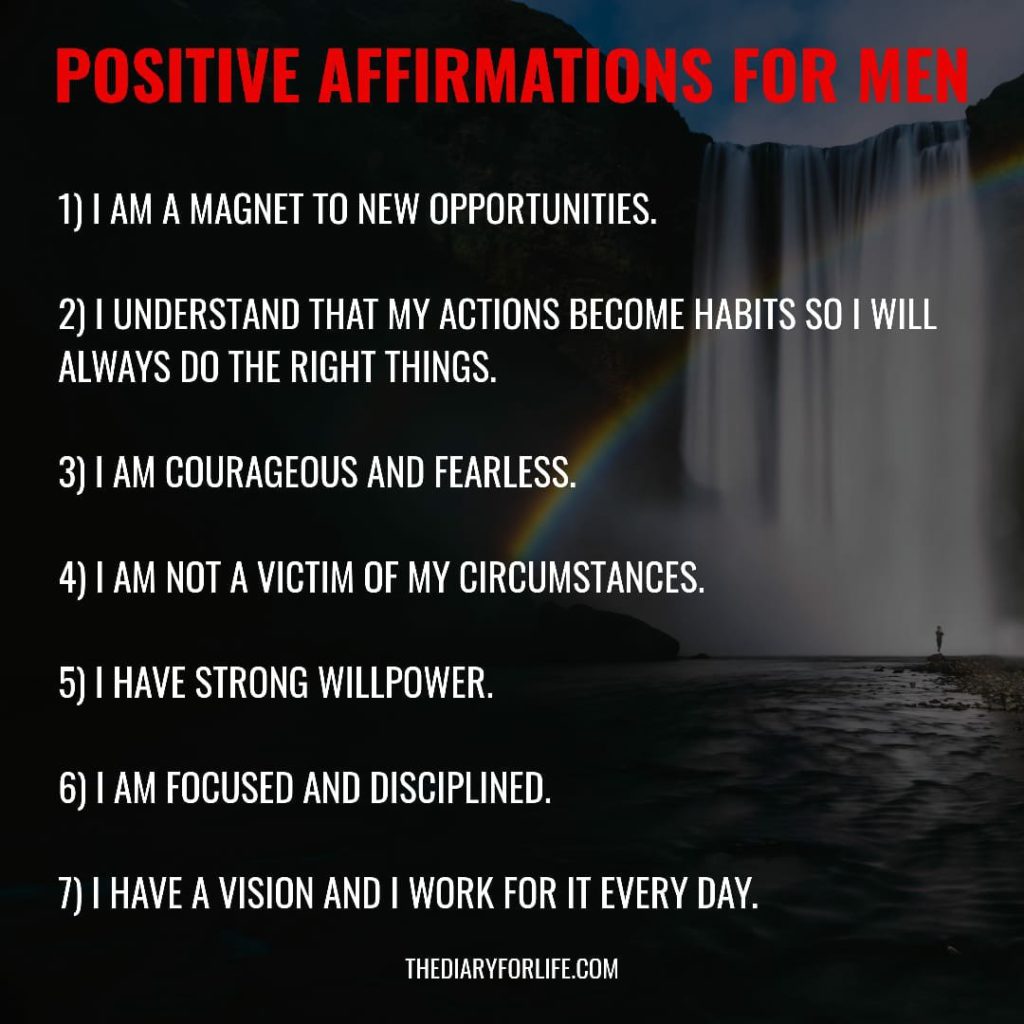 Also read: 70+ Positive Affirmations For Teens From Parents
How many times a day should you say affirmations?
Affirmations should be said to yourself at least 5 times a day for better results. If repeating the affirmations 5 times a day is not possible for you. At least practice these positive affirmations when you wake up, before going to bed and anytime in between.
It is not necessary that while listening to the affirmations, you must be aware. You can listen to them while doing your daily chore too. Even when you are deep asleep, the affirmations work well for you.
If possible, create a list of affirmations that will be played when you are sleeping. This will work better than you think. And moreover, the time consumed for listening affirmation will not be really consumed as you listen to them while sleeping.
How do I affirm my boyfriend?
He may or may not ask you to praise him but being in a relationship, it is your responsibility to appreciate him and make him feel positive and strong. Affirmations are one of the best ways to appreciate your partner, especially for men.
Here are some examples of positive affirmations for men that you can use to affirm your boyfriend:
I believe in your ability to handle tough situations.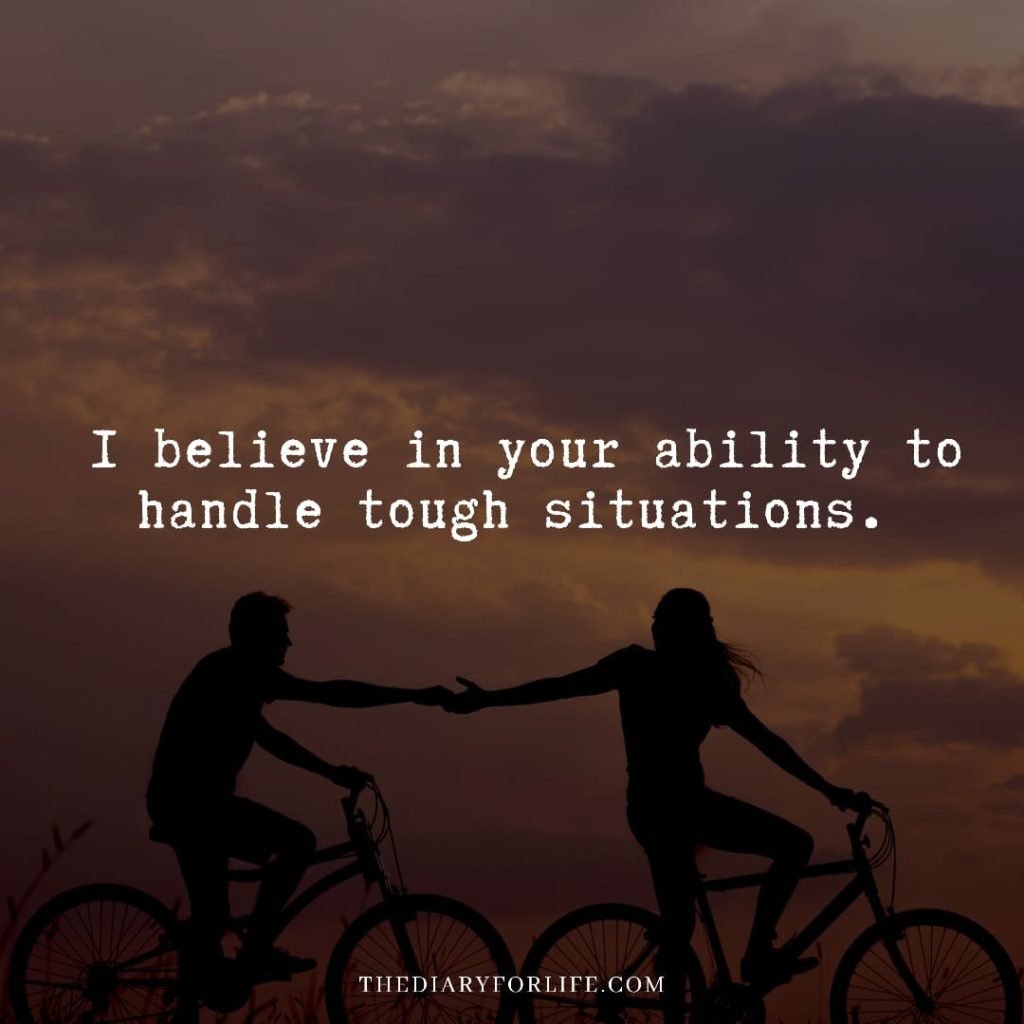 You are my greatest blessing and I am so lucky to be with you.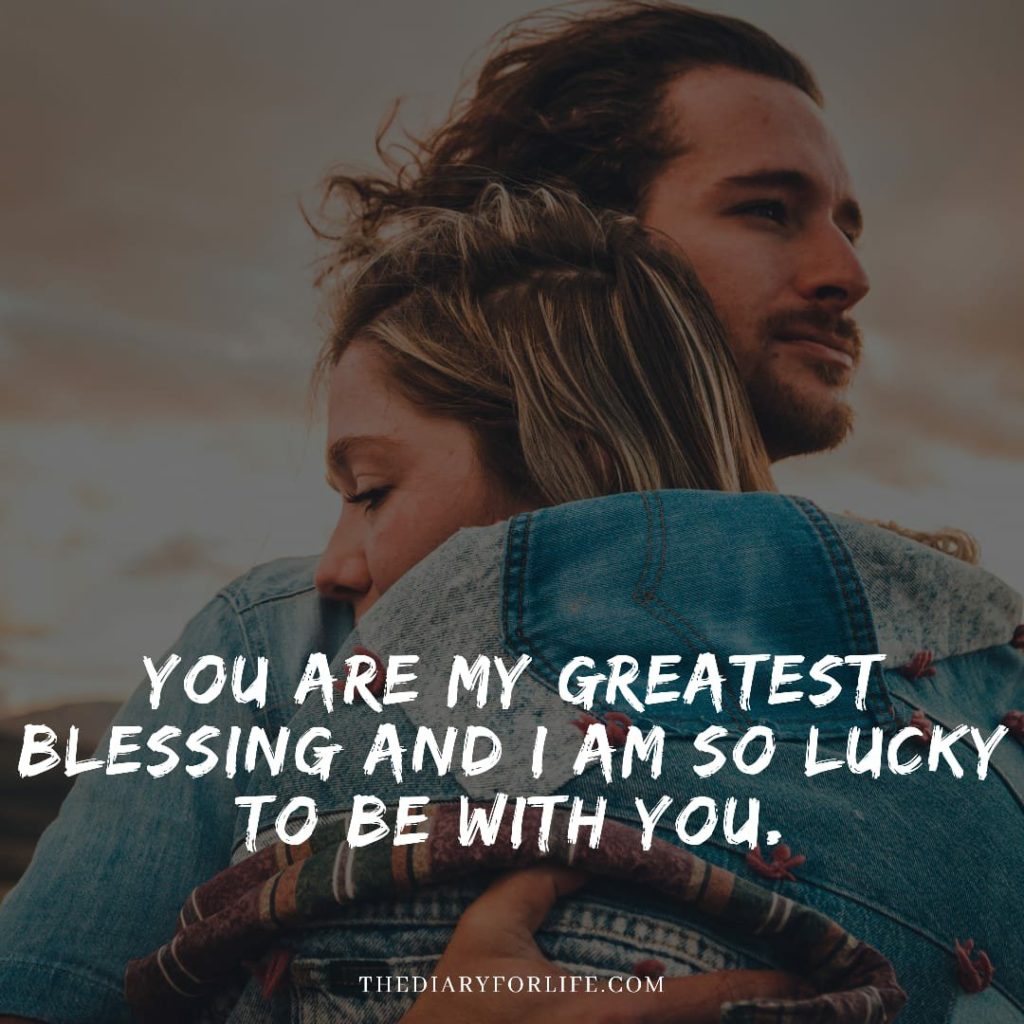 You are very strong and smart.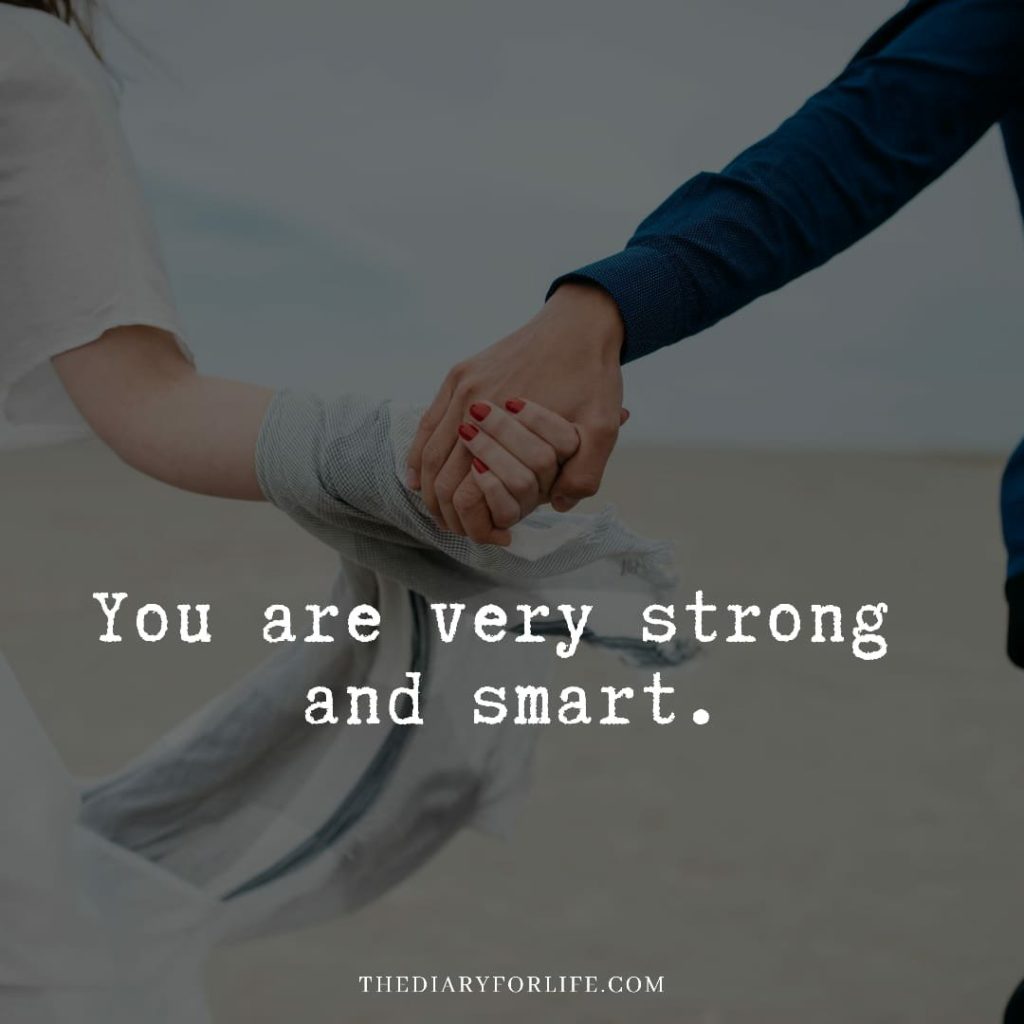 We are so much better together!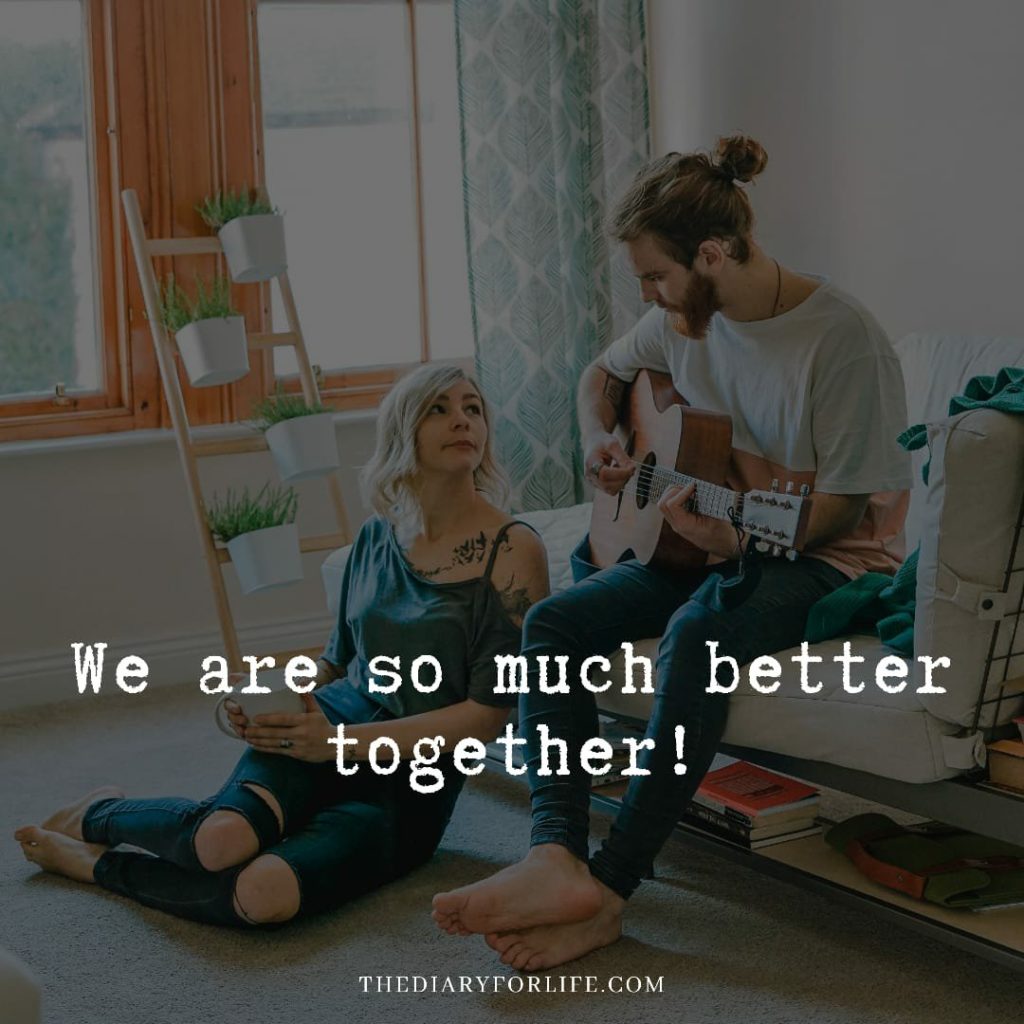 I believe in you and thank you for always believing in me.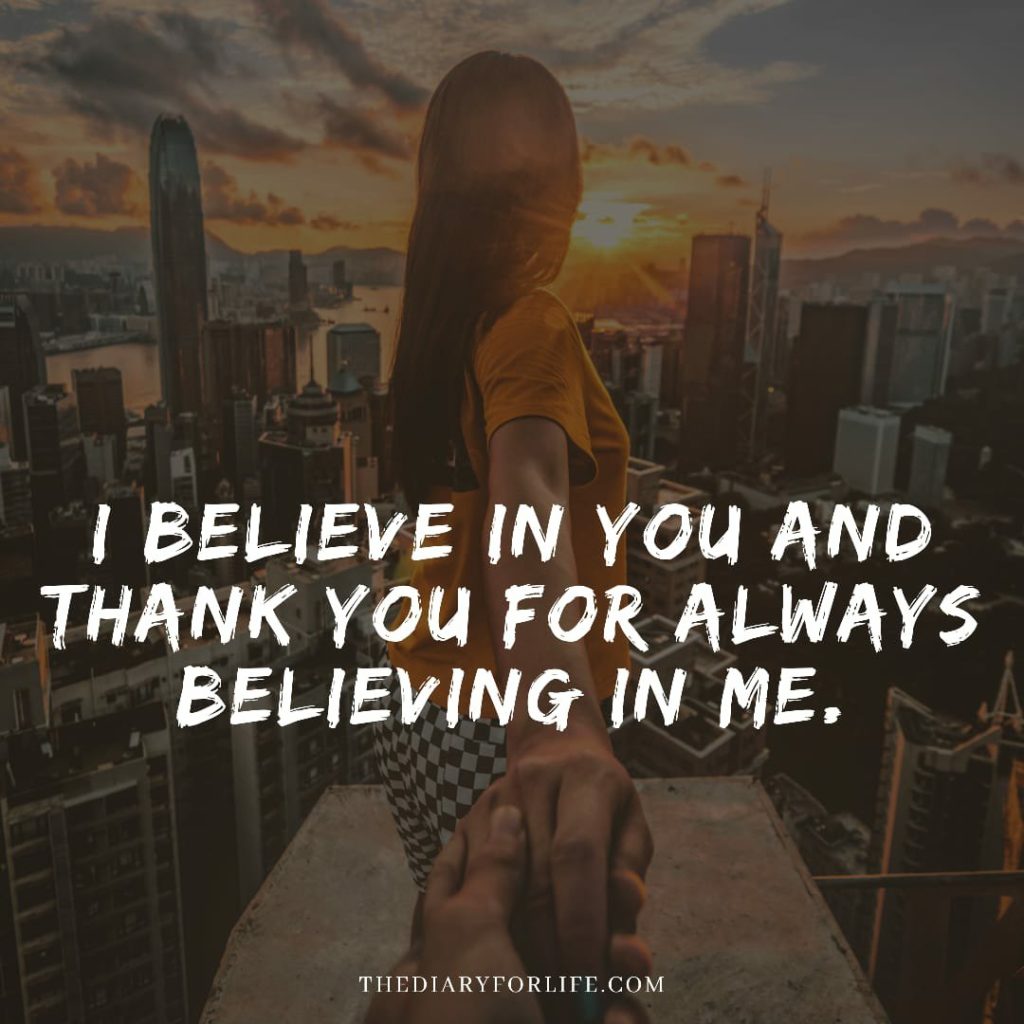 I really like the feeling when we are together.
I am always here for you.
You always inspire me to become a better person.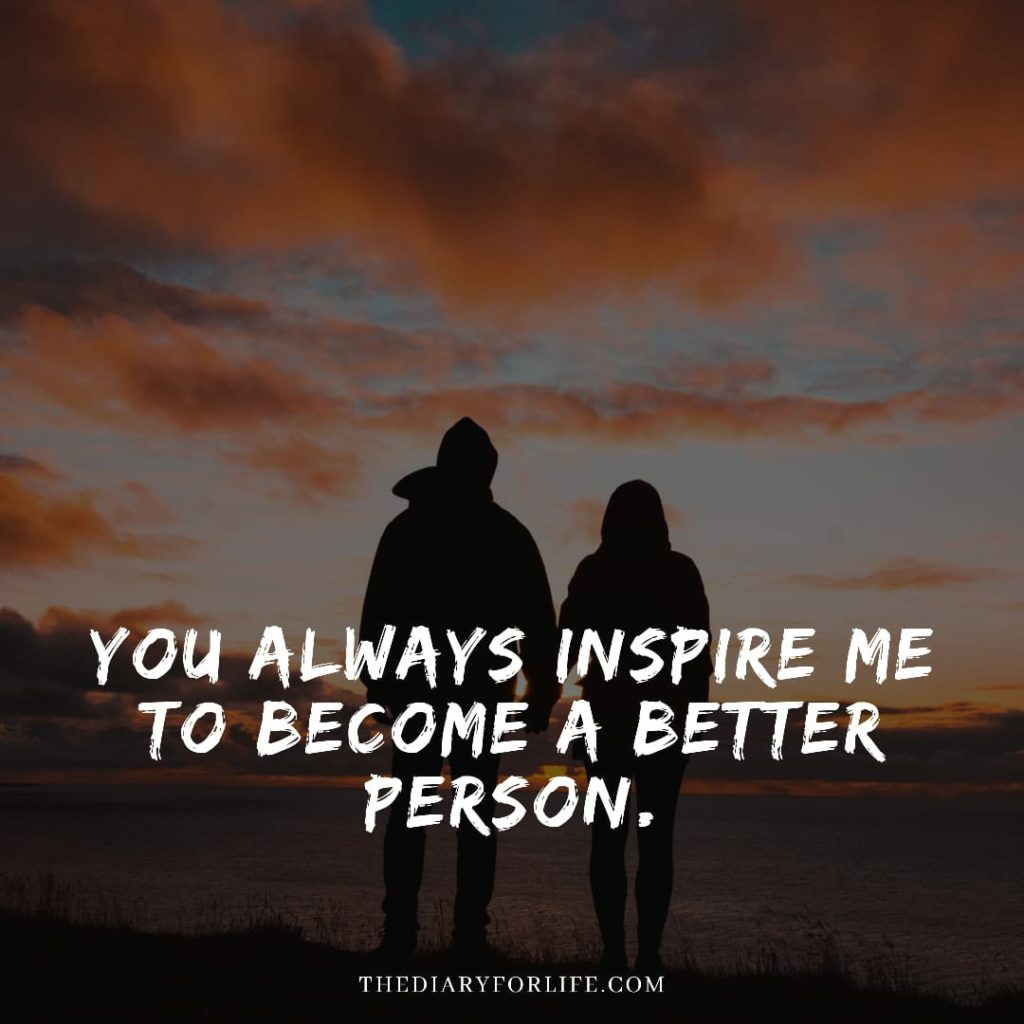 I feel safe with you.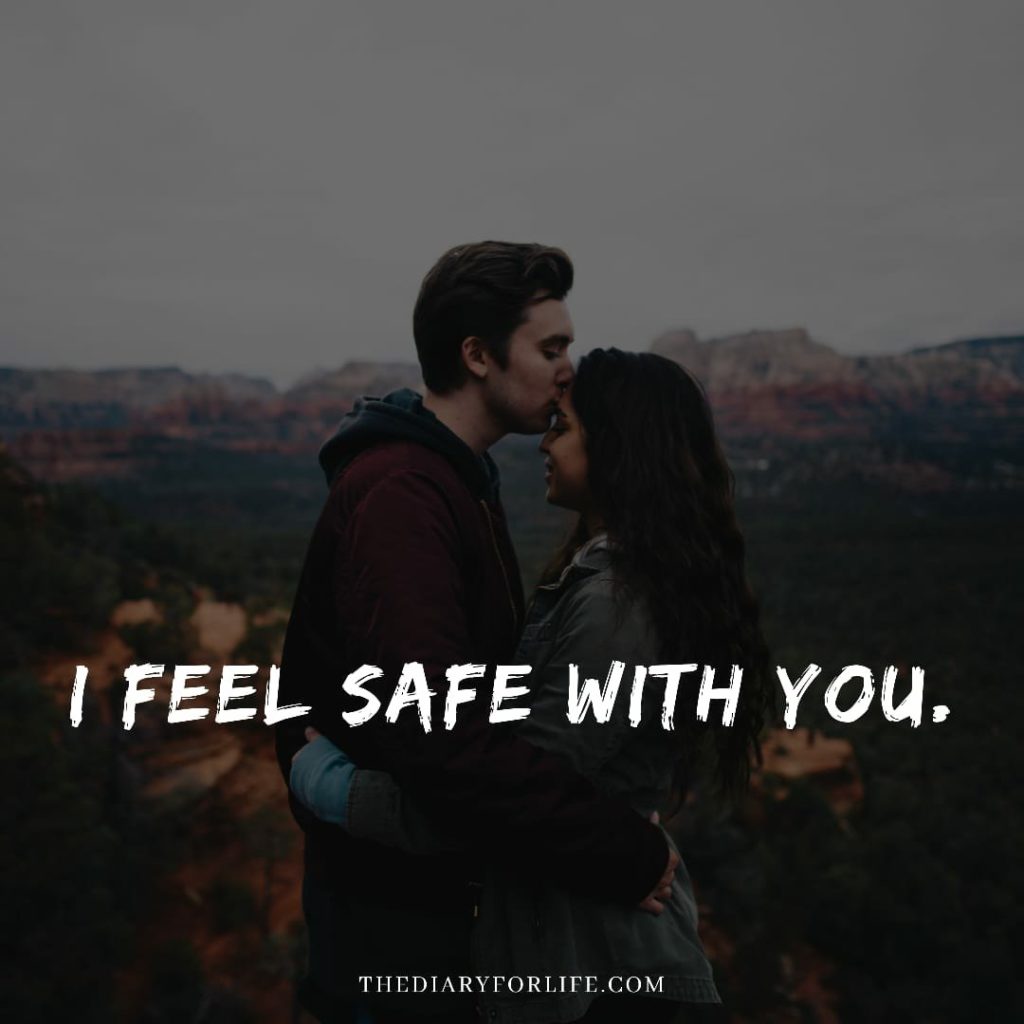 I respect you and appreciate all the little things that you do for me.
As the affirmations work well subconsciously, you can also affirm your partner using the affirmations in the form of music or in any other way that make sense to him.
Affirmations have direct contact with your subconscious mind and it changes the programming of your subconscious mind. Hence, you can make anyone listen to them when they are sleeping or you can play background music even when they are awake and busy in their other activities.
Also read: 70+ Powerful Positive Affirmations For Husband
How long does it take affirmations to work?
It actually depends on the individual and varies from person to person. However, depending on the surveys taken, on average it takes 30 days to work. That said, you can actually start noticing the results within 30 days of practising positive affirmations.
If your belief system is strong, the results may even occur at the earliest. Also, it is very important to feel and visualize the positive affirmations in order to make them work effectively for you.
Can affirmations change your life?
Yes, it surely does. Affirmations have made the impossible things possible. Where science has given up, affirmations have seen working perfectly cool. There are affirmations almost for everything.
Positive affirmations for Men work cent per cent. And these affirmations can make your life change drastically. People around you, and you yourself will start noticing the positive change with time.
Do affirmations actually work?
Yes, affirmations do work. There are many Actors, sportsperson, and successful businessmen, who are practising the positive affirmations for Men on a daily basis. And it has proven to be working for almost all of them. So yes, affirmations work as they are designed to reprogram your subconscious.
3 Meaningful Quotes For Men:
Courage is resistance to fear, mastery of fear – not absence of fear.

Mark Twain
Too many of us are not living our dreams because we are living our fears.

Les Brown
Do the thing you fear most and the death of fear is certain.


Mark Twain

Final words:
So these are some best and most positive affirmations for men. Choose the positive affirmations that make sense to you according to the areas in which you want to grow in life. You can always modify these affirmations and make some new affirmations according to your condition. These modified affirmations can also work best for you. Repeat these affirmations every day for 10 to 15 minutes when you wake up, before going to bed and anytime in between to get benefited. Also, share these affirmations with your loved ones.

Also read:- 71 Powerful affirmations for self-love.