We've always learnt that the human body is intelligent. It understands and reacts to what you feed it with or subject it to – not only in terms of foods and habits but also thoughts.
In that sense, daily affirmations for healing can help you achieve better mental and physical health.
However, you may wonder how thoughts can contribute to your physical being. Let us help you understand.
How Do Thoughts and Emotions Impact Your Health?
Physical and emotional health are intricately linked, and the connection is popularly termed the mind-body connection.
Our body's chemical and biological processes significantly impact hormonal interaction, which is directly related to stress, anxiety, and overall mental health.
The continuous flow of negative thoughts and experiencing helplessness and hopelessness can result in chronic stress, which degrades the body's hormone balance and weakens the immune system.
It also exhausts the chemicals in the brain responsible for creating the feeling of happiness.
Research also suggests that chronic stress can make one vulnerable to cardiovascular diseases.
You may now be able to acknowledge how daily affirmations for healing or perfect health affirmations can become your roadmap to healthy and happy living.
Reciting these affirmations every morning can help you improve your confidence levels and manage disturbing emotions, such as impatience, anger, nervousness, and frustration.
They also help boost your productivity, fight anxiety and depression, and manifest an abundant and prosperous Life for yourself.
Daily Positive Affirmations for Healing
I have the power to heal my health.
I am willing to improve my health.
My body is capable of sustaining any condition.
I am always working to improve and maintain my health.
My body is healing, and so is my mind.
I am worthy of a happy and healthy life.
My body attracts positive energy into my life.
I let go of bad habits that keep my body from becoming healthier.
I am grateful for my physical and mental well-being.
My body deserves care.
I am confident about my improvement.
My physical state is improving with every passing day.
I love and respect my body unconditionally.
I am finding better ways to stay healthy.
I create my reality through my thoughts, words, and actions.
My body has endless potential to survive, heal, and sustain.
I am responsible for my well-being.
I treasure my health and Know how to preserve it.
My body is linked to the entire universe.
I prioritise my health over everything else.
I am enjoying the journey of improving my health.
My habits make me healthy.
I inhale positivity and exhale pain and dullness.
My body feels blissful.
My thoughts heal my health.
Perfect Health Affirmations
I am strong and healthy and shall always be.
I trust my intuition, and it is my guiding light.
My family and friends support me unconditionally.
My patience helps me heal.
I am in the process of attaining serenity.
My body is releasing all the stress.
I choose to heal myself.
I possess the natural power of healing my health.
I choose to be kind to myself and forgive myself for my past mistakes.
I am learning new ways to stay fit.
Positive thoughts help my body heal faster.
My body is open to new changes.
It is okay to feel a little low on some days.
I am grateful for my well-being.
I am designing a healthy life for myself.
I feed my body with nutritious food.
Exercising regularly keeps my body and mind sound.
I am proud of how my body appears and am trying my best to keep it fit.
My body is detoxing itself slowly and calmly.
My body is responding positively to the treatment.
Affirmations for Good Health
My body and mind heal faster when I surround myself with positive energy.
Sleeping gives my body the rest it deserves.
My immunity is growing stronger with every nutritious meal I have.
Hydrating deeply heals my body.
I appreciate the state of my health.
I give adequate rest to my mind and body.
I am steadily recovering from the mental, emotional, and physical strain.
I am happy from within, and it reflects on my health and skin.
I am glowing with a soulful radiance.
A calm walk helps my body rejuvenate.
The greenery around is soothing my soul.
My appetite is in my control.
I am distancing myself from everything that inflicts pain.
I am constantly practising healthy habits.
Mental peace is of utmost importance to me.
Self Healing Affirmations
I am responsible for my happiness and health.
I am thankful for my unique physical characteristics.
I acknowledge that nutritious food is more important than tasty food.
My surroundings are helping my body heal.
My immunity and overall health are becoming more resilient every day.
My body is responding positively to my self-care practices.
I recognise that healing takes time.
I love indulging in self-care routines.
I am deeply connected with nature.
I practise a healthy and sustainable lifestyle.
I Am Healing Affirmations
I am becoming more aware of my mind and body.
I reflect energy and strength.
My body is continuously discarding all the toxins and negativity.
Positive thoughts help me feel at my best.
I enjoy staying physically active.
My body is becoming pure inside out.
My muscles are strengthening and becoming more flexible.
I eat only as much as my body needs.
I always choose love.
I create loving and healthy relationships.
Positive Affirmations for Health and Healing
Blessings and prosperity flow freely into and throughout my life.
Every inch of my skin is healing itself and glowing differently.
All of the cells of my body are working together to heal.
I believe that happiness and prosperity follow good health.
The universe is listening to me, and it is responding.
Every day is a new beginning and an opportunity to prosper, flourish, and smile.
My body lives a meaningful life, and my mind is steering it in fruitful directions.
I believe that compassion and kindness are the keys to a happier and more peaceful world.
I can contribute to someone's health while also looking after myself.
I am inspiring my family and friends to stay healthy.
Health Manifestation Affirmations
I attract good health along with mental and emotional strength.
I always distance myself from toxic addictions at all costs.
Life is becoming better and brighter.
My soul is becoming infinite, and my horizons are expanding.
Sunshine nurtures my body, and the breeze kisses my soul.
My body looks forward to all the seasons, and it is capable of sustaining the change.
On any given day, health is more important than appearance.
My bones are becoming stronger as I age.
It is okay to feel uncomfortable on some days.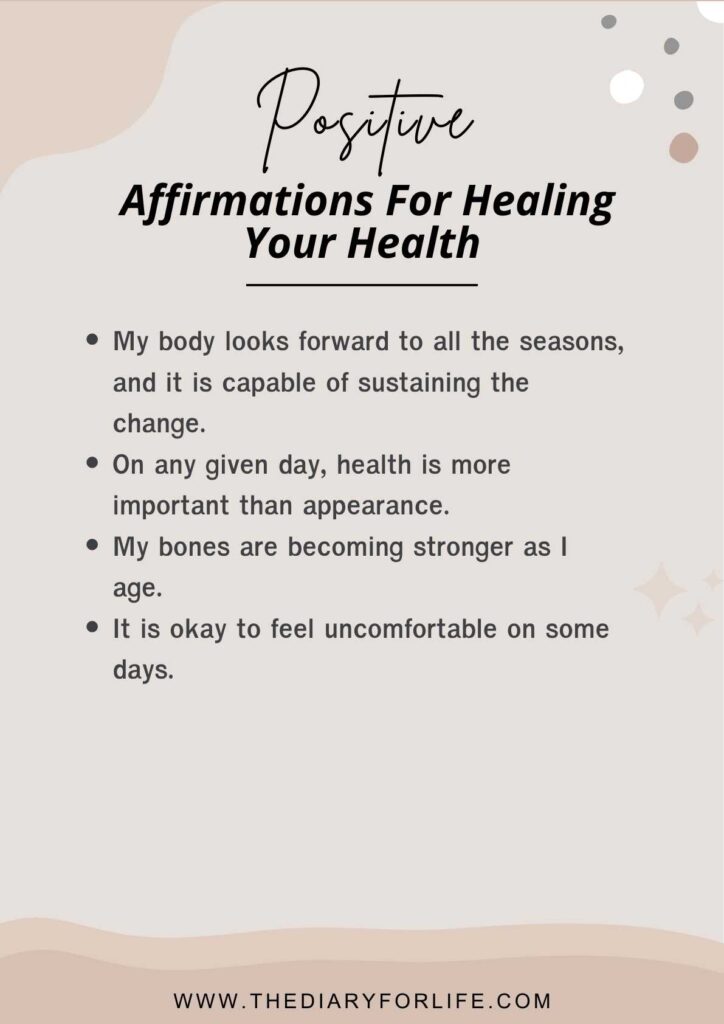 Positive Affirmations for Emotional Healing
I have the unique willpower to heal myself.
I believe that I can overcome every challenge with my deep sense of patience.
I choose realities over wishful thinking.
I choose to place my health over anything materialistic in the world.
My physical, mental, and moral needs are being truly satisfied.
Affirmations for Good Health and Healing
My body is safe, and it is destined to be so.
Illnesses are just a sign that I must take better care of myself.
I sleep only as much as my body requires.
I respect others' health as much as I respect mine.
I fully control my physical and emotional space, and no one can intrude on it.
I understand the silver lining between love and obsession.
I recognise that happiness lies within myself, and only I can protect and nurture it.
I attract positive and long-lasting relationships in my life.
I am shielded from all the pessimism in the world.
Final Thoughts on Daily Affirmations for Healing
The human brain is wired to design experiences like what you think, believe, and perceive.
If you fill it with dark thoughts, it will find ways to see negativity in and around.
Similarly, if you feed it with positive thoughts and bliss, it will find ways to perceive the same in everything, regardless of how challenging the times are.
By repeating daily affirmations for healing, we redirect our brains towards a better and brighter way of thinking, perceiving, and ultimately experiencing positive changes within ourselves and our surroundings.
Frequently Asked Questions (FAQs)
Can Positive Affirmations For Health And Healing Heal The Body?
Yes, daily affirmations for healing helps improve your health conditions, including obesity, hair loss, diabetes, autoimmune disorders, and cancer.
It also helps you cope with illnesses more effectively and allow you to experience a marked improvement in your overall health.
Why Are Self-Healing Affirmations Important In Recovering From Illnesses?
Mental well-being is equally important as physical health during a person's recovery. Health manifestation affirmations help the patient stay positive while they are undergoing treatment.
It helps them fight issues, such as stress, anxiety, and depression, thus allowing their body to respond more effectively and heal faster.
It also helps them develop a new zeal for life and boosts their coping mechanism.
How Do I Repair My Mental Health Post-Recovery?
Recite I am healing affirmations regularly, especially before you start your day, because it will help you boost your enthusiasm to accomplish your goals for the day.
You must also strongly consider repeating those aloud right before you sleep. This will help beat anxiety and prevent negative thoughts from flooding your mind.
Apart from that, follow a healthy diet, express your emotions to your close friend or family, and consume mood-light content, whether it is in the form of a book or any digital content.
What Happens When You Repeat Affirmations For Good Health?
Repeating affirmations for good health and healing triggers and rewires the subconscious mind into positive action.
It grooms your mind to find and experience goodness even in challenging conditions, and this improves the overall quotient of your mental, emotional, and physical well-being.
Also read: 100+ Morning Positive Affirmations For Self Worth