Twenty-One! *A deep long sigh*
Twenty-one seems like a long time ago to me. I still remember my twenty-first Birthday like the sky today—clear, vibrant, and blue. I could feel a whirlwind of emotions rising inside me.
I was excited to step into adulthood, but that ebb and flow of excitement were mixed with anticipation for the future, leaving behind a hint of nostalgia with every flow, like an aftertaste.
I was also grateful for the opportunities that came my way, the experiences that shaped me, and the relationships that nurtured and sculpted me.
Turning twenty-one is a momentous occasion for anyone. It signifies the beginning of new adventures, opportunities, and possibilities. You set goals, envision dreams, and chart paths for yourself. If you are also standing at the threshold of adulthood, Congratulations! You've made it!
You are embarking on a new chapter and simultaneously feel exhilarated and daunted. Which is fine because it is here when things take an interesting turn in your life. Truly interesting. I mean, it's now legal to buy and consume alcoholic beverages, go out to clubs, and partake in casino gambling. 21 gives you a lot of freedom to do whatever you want.
Furthermore, you are now legally an adult. However, at the age of 21, you cannot become more lawful, correct? You are most likely organizing the grandest of grand birthday celebrations because of this. For the upcoming 21st birthday celebrations, you'll probably need an excellent caption for your Instagram post.
Go through this article and choose your favorite. Simply select one from this list of Instagram captions for 21st Birthday.
Instagram Captions For 21st Birthday
Another year older.
21 years wiser!
Happy Birthday to me!
Go ahead and wish me.
Here for the cake and gifts.
Can I take all the gifts and still remain the same age?
I have mixed drinks about turning 21.
Hugs and kisses and lots of 21st birthday wishes!
Established [birth year].
Shine bright like a diamond.
I doubt tequila is the answer, but it's worth a shot.
Dear bar people, you know I'm 21, right? You can check my ID today!
Hello, sweet and struggling 20's.
20's struggles begin.
Finally, legal — after all these beers!
Cheers and beers to 21 years.
Bye-bye 20.
Another year, another candle, another birthday.
Everything that shines isn't diamond but g(old) sometimes.
Patting my back for completing two decades on this earth.
Savage 21st Birthday Captions
Bye-bye teens, hello twenties.
21 has arrived! It's time to thrive.
Legally 21, but mentally still five.
Age is just a number, but uh-oh, a big one came up today.
Cheers to 21 scares!
Hakuna ma-vodka: It means no worries on your 21st Birthday.
Crossed the hurdle no. 21 in the race of life.
Dear 21 yo self, Proceed with caution.
Hello, adulthood!
Twenty-one years of being fabulous!
21? Who cares? I just want cake.
Greetings from the Roaring 20s!
Simply taking in my beautiful day.
To me, a happy beer-th day.
Till further notice, the remaining 21.
Short 21st Birthday Captions
Don't worry, just have fun.
Let's toast to 21 years.
21: Free and wild.
Deliver the bottle.
This wonderful result took 21 years to achieve.
Siri, please count the candles.
The fun will be had at Sweet 21!
Pretending you've never had a shot before is number 21.
I don't get older. In better shape now.
Instead of counting the years, I'm making them count.
Fostering greater aspirations in 21.
Chapter 21 feels like a start-over.
I am experiencing a solid 21 on a scale of 1 to 10.
having a birthday that is pitcher-perfect.
I'm grateful to have another year.
21 and still a Dancing Queen.
I think my age looks really nice.
Serving both cake and decor.
Captions For 21st Birthday
Let's make some pour decisions at 21.
Here's to the fun day I'll never forget and the night I'll never remember!
My funny bones have turned 21.
Every day I sparkle, but 21 made me a princess.
That 21st birthday glow hits differently.
Chapter 21, Page 1.
Season 21, Episode 1.
My Birthday is today, but that doesn't mean I won't accept presents tomorrow.
My clan is more excited about my Birthday than I am.
Twenty years of prayers have been answered at this moment.
Birthday candles aren't the only things getting lit this weekend.
I've been 21 for the last three years, but today, I'm feeling it.
Kidnapping my inner child on my 21st Birthday to keep me young.
I'm Gonna party….like it's my Birthday… 'cause it is.
Excited for Chapter 21.
Black bottoming my way into 21.
Twenty-one tastes sweet and sour.
21 hits different with a martini and two olives.
Twenty-one sure feels good.
Dear traffic policeman, Don't ticket me. It's my Birthday today.
21st Birthday Quotes For Instagram
21 years, I love everyone.

– TobyMac
At twenty-one, so many things appear solid, permanent, untenable.

– Orson Welles
The way I see it, you should live every day like it's your birthday.

– Paris Hilton
All the world is a birthday cake, so take a piece, but not too much.

– George Harrison
A birthday is just the first day of another 365-day journey around the sun. Enjoy the trip.

– Unknown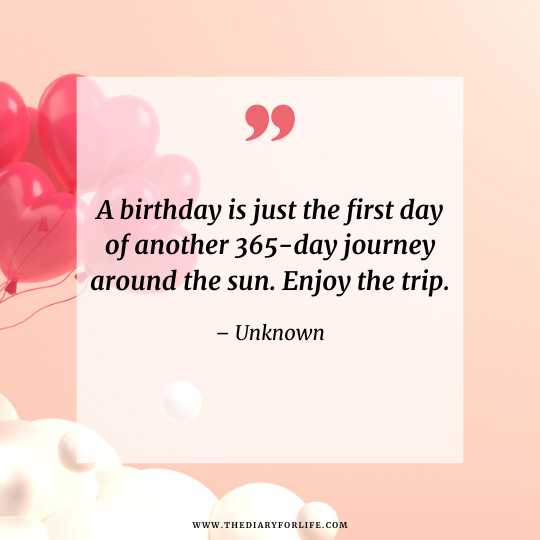 I intend to live forever. So far, so good.

– Steven Wright
Growing old is mandatory; growing up is optional.

– Chili Davis
Go shawty, it's your birthday.

– 50 Cent
You are only young once, but you can stay immature indefinitely.

– Ogden Nash
The best birthdays of all are those that haven't arrived yet.

– Robert Orben
The older you get the better you get, unless you are a banana.

– Betty White
At the age of twenty, we don't care what the world thinks of us; at thirty, we worry about what it is thinking of us; at forty, we discover that it wasn't thinking of us at all.

– Unknown
Count your age by friends, not years. Count your life by smiles, not tears.

– John Lennon
Don't just count your years, make your years count.

– George Meredith
When a man is tired of life on his 21st birthday it indicates that he is rather tired of something in himself.

– F. Scott Fitzgerald
So what we get drunk. So what we don't sleep. We're just having fun.

– Snoop Dogg and Wiz Khalifa
Put candles in a cake, it's a birthday cake. Put candles in a pie, and somebody's drunk in the kitchen.

– Jim Gaffigan
Youth is happy because it has the ability to see beauty. Anyone who keeps the ability to see beauty never grows old.

– Franz Kafka
You know you are getting old when the candles cost more than the cake.

– Bob Hope
Twenty-one and strong as I can be. I know what freedom means to me.

– Eagles, 'Twenty-One'
Young, Wild & Free

– Snoop Dogg and Wiz Khalifa
Why is a birthday cake the only food you can blow on and spit on and everybody rushes to get a piece?

– Bobby Kelton
The party don't start till I walk in.

– Kesha
So you can vote… you can drink…take a wife… get a life!

– Unknown
The 21st breakthrough is so much more than an age. It's about great moments, lots of fun, and the impatience to all the wonderful things that are about to come.

– Unknown
Turned my birthday into a lifestyle.

– Drake
You don't get older, you get better.

– Shirley Bassey
Live as if you were to die tomorrow, learn as if you were to live forever.

– Mahatma Gandhi
Woah, 21 and invincible. Woah, can't wait to screw this up.

– Something Corporate, '21 and Invincible'
The more you praise and celebrate your life, the more there is in life to celebrate.

– Oprah Winfrey
The Parting Words
Partying and instagramming is all good, but take it from an older person, you would want to spend some time with your loved ones. Looking back you won't regret not spending your precious day with your family. Let us know in the comments below how you liked reading this article.
Also read: 50+ Meaningful Inspirational Birthday Quotes