A lawyer's life is not simple. The world is rife with problems, but there aren't enough excellent lawyers to settle them.
We sometimes distrust the credibility of lawyers but nevertheless rely on them to resolve our issues.
It is certain that the good lawyer has been through a lot of practice before what he stands as today. As a result, they have earned genuine respect for their efforts and strategies.
We must understand that a lawyer plays a crucial part in society. The cornerstones of justice, lawyers, make sure that no crime goes unpunished.
They defend our rights in court and play a great role in a person's misery. Most of the time, who wins a case is determined by who has the best lawyer.
This is because a skilled lawyer can ensure that his client receives justice in every way imaginable. Hence, we must choose our lawyers wisely.
The quotes that follow emphasize the significance of law and offer some insights into its nature. If you are a law student or own a firm, these quotes would certainly motivate you along your journey.
You may want to share these lawyer quotes with your friends who are lawyers, serving justice to the world out there.
Quotes About Lawyers That Always Hold True
A good lawyer can create a tunnel from hell to heaven.
The lawyer who thinks is the lawyer who wins.
A lawyer can fight from the side of your opponent as strong as he fought yours.
The lawyer who can't see beyond the case is handicapped.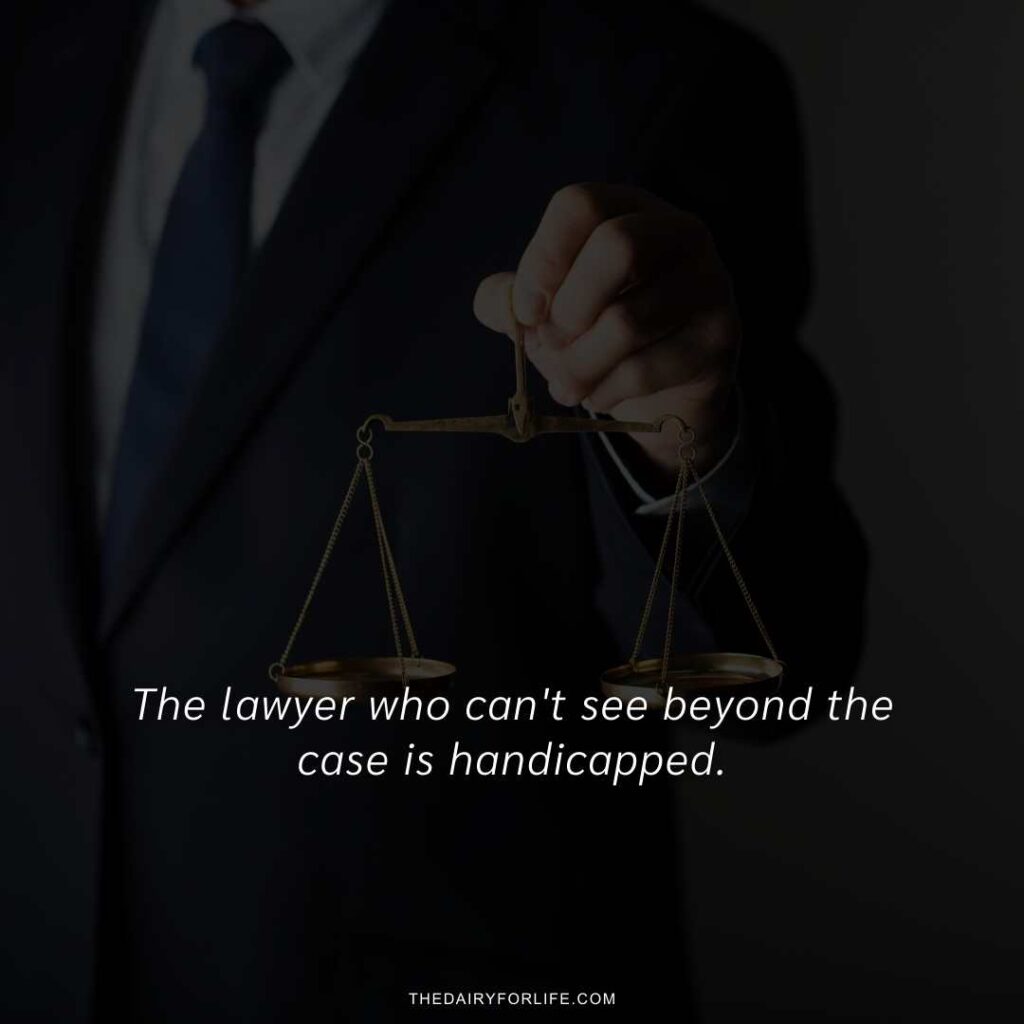 The best lawyer fights the case as if it's his own.
A lawyer sees facts above people.
When a lawyer, you don't need to be as wise as you need to be witty.
Wit is the watch that lawyers wear all the time.
Lawyers don't make both ends meet. They take one end as far as they can from the other.
You can't doubt the credibility of a lawyer.
Nobody asks you to be their judge, but they might ask you to be their lawyer.
A lawyer can do everything possible to win a case and still lose, but this doesn't stop him from fighting another.
Obsolete lawyers are poisonous for cases.
The power of a lawyer is his tongue.
All lawyers are sometimes liars.
Choose a witty lawyer over a wise one.
Lawyer Saying & Quotes To Prove That Law Shapes Your Character
Your personality depends on the kind of laws you breach.
If you don't follow it yourself, you don't keep hope from the law.
What began one day must end someday.
Your mindset becomes law for your body.
Your decisions influence the lives of ten people you know and millions of people you don't know.
A person is as defensive as he is offensive.
Judge a person by the thinking hat he wears most of the time.
When we fight for others, it's assistance, but when we fight for ourselves, it's resistance.
Settlement is the cheapest lawyer.
You can't be a good judge if you aren't a good lawyer for others.
Know how many cases your lawyer lost before knowing how many he won.
A lawyer can conceal the darkest secret of a person.
Law Quotes That Are Universal and Timeless
Few rules followed are better than a book of principles unfollowed.
Not all battles are legally won, and not all are illegally lost.
A law that doesn't change with time is a timeless curse upon humanity.
Sometimes it's neither legal nor illegal. It's just confusion.
Being legal won't make you the best man on earth.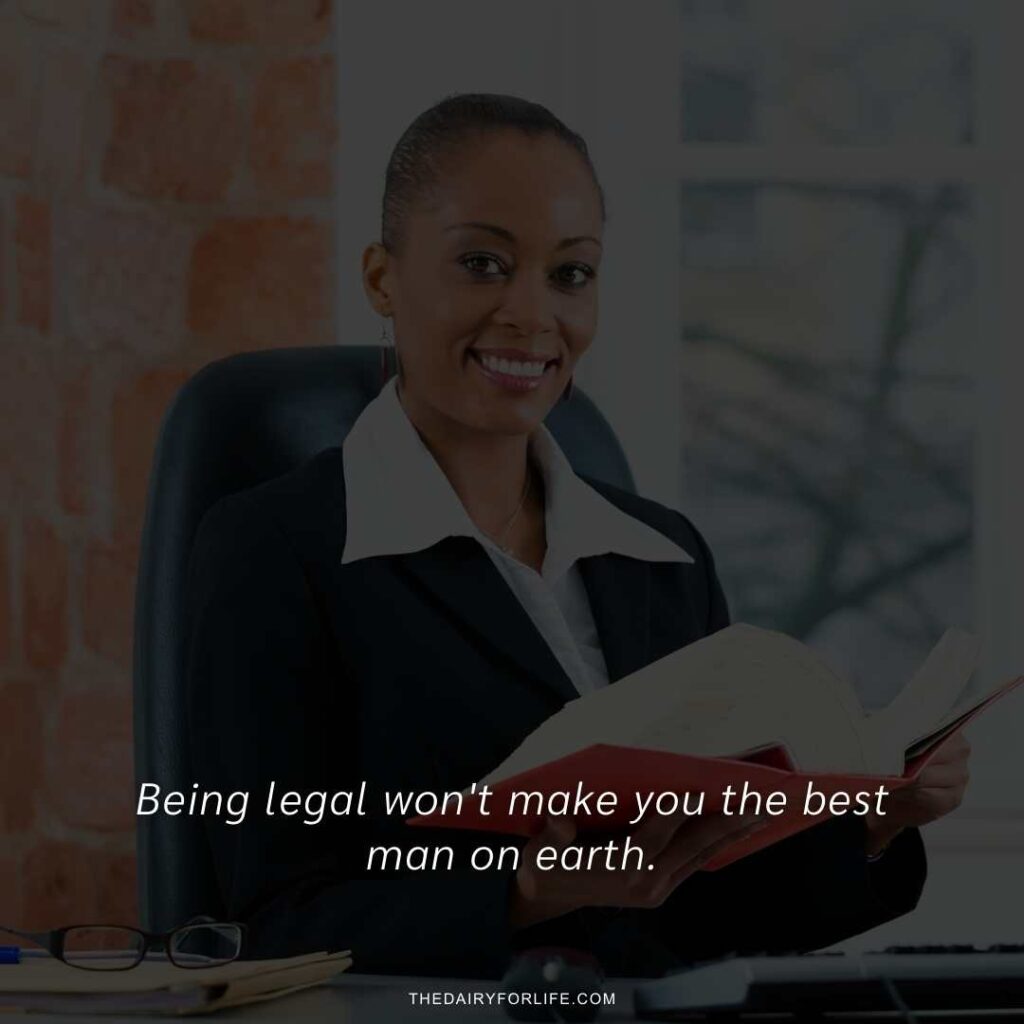 The beauty of law is the flexibility that a lawyer gives it.
We never have a choice. It is just a pinch of tension in our story before what's planned happens.
Some days don't justify as others. But that's life.
If the earth is Warfield where battles are fought, heaven is where the audience sits, and hell is the place to ensure that battle continues.
We always don't know the whole truth but only a few traces of it.
Laws passed without considering the emotions of their followers are sure to create disturbances.
Talking at the wrong time is never a good substitute for being silent at the right time.
You shouldn't hesitate to challenge a law if you can prove it obsolete.
The world would be chaotic without lawyers.
Quotes About The True Nature Of Law
It's because the law exists that you persist.
Being at the right place at the right time is the most right thing you'll be doing on this earth.
There is always a thin line of compromise between legal and illegal.
Between the battles won and lost, there are so many unfought struggles.
It isn't you who defines the law. It's the law that defines you.
Justice is the ultimate aim of the law.
Laws are made not to break but to shape.
Law is legally blind. But it got ears to listen.
Law is never loud; it's wise and sound.
Whether you follow it or not, you must bear the consequences duly.
Justice can be served. But you need to order it first.
We got all our lawyers within ourselves, fighting the battles every day. People name it ego.
We all are trapped in an endless loop of time that mandates some conventions to survive.
If you follow the right law, you don't need to follow anyone else.
We are so surrounded by the falsehood that the truth seems to be untrue.
Popular Quotes About Law And Justice
If there were no bad people there would be no good lawyers.

— Charles Dickena
A lawyer without books would be like a workman without tools.

— Thomas Jefferson
The power of the lawyer is in the uncertainty of the law.

— Jeremy Bentham
A lawyer without history or literature is a mechanic, a mere working mason; if he possesses some knowledge of these, he may venture to call himself an architect.

— Sir Walter Scott
When you have no basis for an argument, abuse the plaintiff.

— Cicero
In England, justice is open to all—like the Ritz Hotel.

— Sir James Mathew
You are remembered for the rules you break.

— Douglas MacArthur
Don't misinform your Doctor nor your Lawyer.

— Benjamin Franklin
The lawyer's truth is not Truth, but consistency or a consistent expediency.

— Henry David Thoreau
A lawyer with a briefcase can steal more than a thousand men with guns.

— Mario Puzo
Final Words
Most of the time, lawyers are not recognised for their efforts and are viewed as robbing individuals in their hour of need. But not all attorneys are the same. It is undeniable that lawyers play a critical role. However, lawyers are not always needed in court.
We must have an internal advocate who defends our actions. To overcome all the challenges of the day, we must be strong and steadfast in our judgments. We must never be ignorant of the facts and chase all the possibilities.
Practice will undoubtedly make you the finest lawyer. You need to spend your time properly and make the right connections. Although the obstacles in your way are out of your control, you can pick the route you want to travel. Be sure to tell your legal pals about your favourite quotes.
Also read: 50 Quotes About Finding Yourself Again And Regain Self-Worth