Christmas is the most beautiful time of the year. It is that time of year when we make beautiful memories and cherish all the important people in our lives. Though everyone celebrates Christmas in their own way, some people go out and host parties and some people celebrate at home with their family and friends.
No matter how you celebrate your Christmas, it is always filled with love and kindness. Here are the 50+ Merry Christmas quotes and images that will help you spread joy to your friends, family, and, yes, across social media.
Here are the 50+ beautiful Merry Christmas quotes and images:
Short Merry Christmas Quotes And Images
Christmas is the day that holds all time together.

– Alexander Smith
Christmas is doing a little something extra for someone.

– Charles Schulz
At Christmas, all roads lead home.

— Marjorie Holmes
Christmas is a stocking stuffed with sugary goodness.

– Mo Rocca
A good conscience is a continual Christmas.

– Benjamin Franklin
Christmas isn't a season. It's a feeling.

– Edna Ferber
Love the giver more than the gift.

– Brigham Young
The smells of Christmas are the smells of childhood.

– Richard Paul Evans
Christmas is not a story of hope. It is hope.

— Craig D. Lounsbrough
There's nothing cozier than a Christmas tree all lit up.

— Jenny Han
Beautiful Merry Christmas Quotes And Images
Christmas gives us the opportunity to pause and reflect on the important things around us.

— David Cameron
Christmas is the keeping-place for memories of our innocence.

— Joan Mills
The Christmas spirit is a spirit of giving and forgiving.

— James Cash Penney
Let us keep Christmas beautiful without a thought of greed.

– Ann Garnett Schultz
It's not how much we give but how much love we put into giving.

— Mother Theresa
The joy of brightening other lives becomes for us the magic of the holidays.

— W. C. Jones
Christmas is a time when you get homesick — even when you're home.

— Carol Nelson
Unless we make Christmas an occasion to share our blessings, all the snow in Alaska won't make it 'white.

– Bing Crosby
Christmas will always be as long as we stand heart to heart and hand in hand.

— Dr. Seuss
Christmas works like glue, it keeps us all sticking together.

— Rosie Thomas
Inspirational Merry Christmas Quotes And Images
When we recall Christmas past, we usually find that the simplest things—not the great occasions—give off the greatest glow of happiness.

– Bob Hope
I don't think Christmas is necessarily about things. It's about being good to one another.

– Carrie Fisher
I will honour Christmas in my heart, and try to keep it all the year.

– Charles Dickens
There has to be at least one day of the year to remind us that we're here for something else besides ourselves.

– Eric Sevareid
My idea of Christmas, whether old-fashioned or modern, is very simple: loving others.

– Bob Hope
Christmas waves a magic wand over this world, and behold, everything is softer and more beautiful.

– Norman Vincent Peale
Every gift which is given, even though it be small, is in reality great, if it is given with affection.

– Pindar
Gifts of time and love are surely the basic ingredients of a truly merry Christmas.

– Peg Bracken
Christmas is a necessity. There has to be at least one day of the year to remind us that we're here for something else besides ourselves.

— Eric Severeid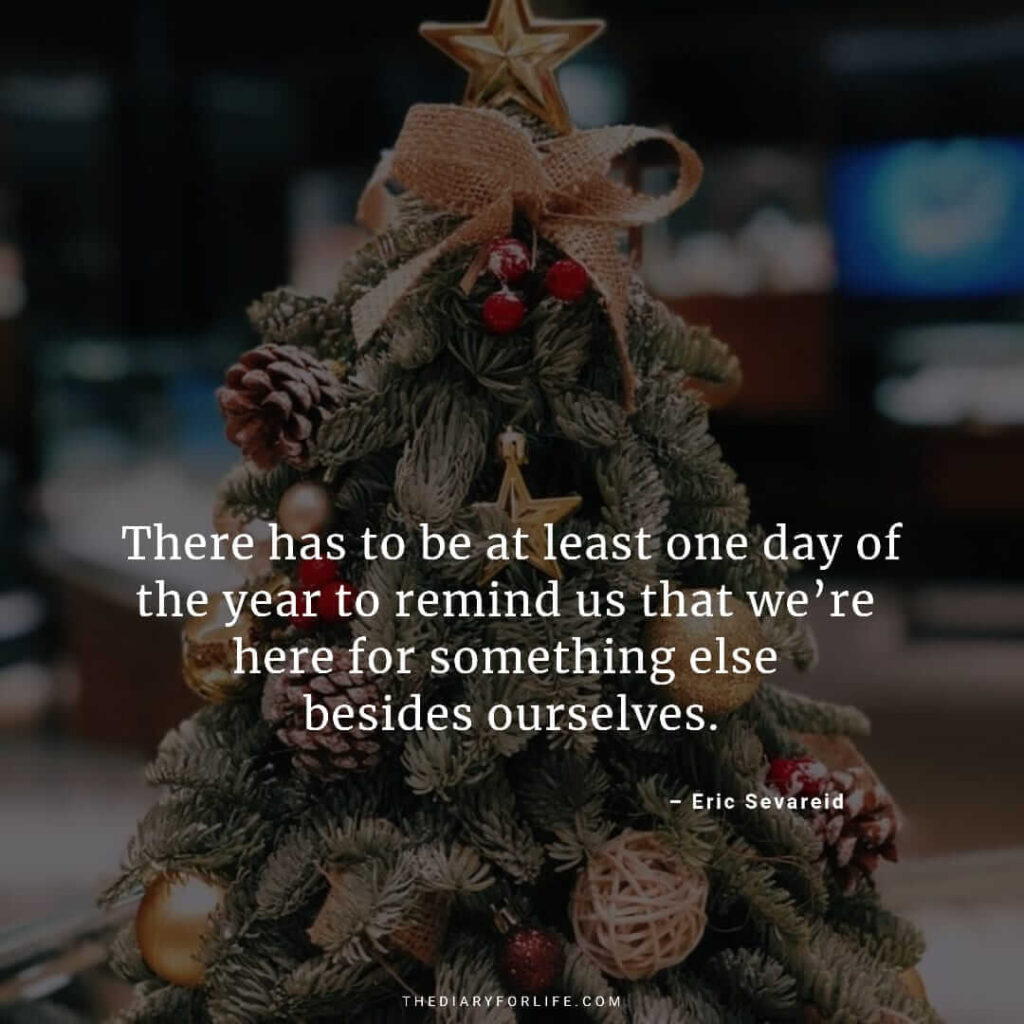 Best Merry Christmas Images And Quotes
I stopped believing in Santa Claus when I was six. Mother took me to see him in a department store and he asked for my autograph.

– Shirley Temple
Christmas is a day of meaning and traditions, a special day spent in the warm circle of family and friends.

– Margaret Thatcher
Christmas is a time when everybody wants his past forgotten and his present remembered."

– Phyllis Diller
Just remember, the true spirit of Christmas lies in your heart.

– The Polar Express
I wish we could put up some of the Christmas spirit in jars and open a jar of it every month.

– Harlan Miller
One of the most glorious messes in the world is the mess created in the living room on Christmas Day. Don't clean it up too quickly.

– Andy Rooney
Christmas is the season for kindling the fire of hospitality.

— Washington Irving
The best of all gifts around any Christmas tree: the presence of a happy family all wrapped up in each other.

— Burton Hills
He who has not Christmas in his heart will never find it under a tree.

– Roy L. Smith
Blessed is the season which engages the whole world in a conspiracy of love.

– Hamilton Wright Mabie
Also read: 5 Best Self Care Products To Buy For Christmas 2020
Merry Christmas Quotes And Images For Friends
Christmas is about spending time with your loved ones and making memories that will last a lifetime. Merry Christmas to you and your family!
Let's Celebrate the Wonder and the Joy of the Festive Season. Merry Christmas
I hope Santa gives you the best gift because you deserve the best. Merry Christmas, my friend!
May this season find you among those you love, sharing in the twin glories of generosity and gratitude.

– Oprah Winfrey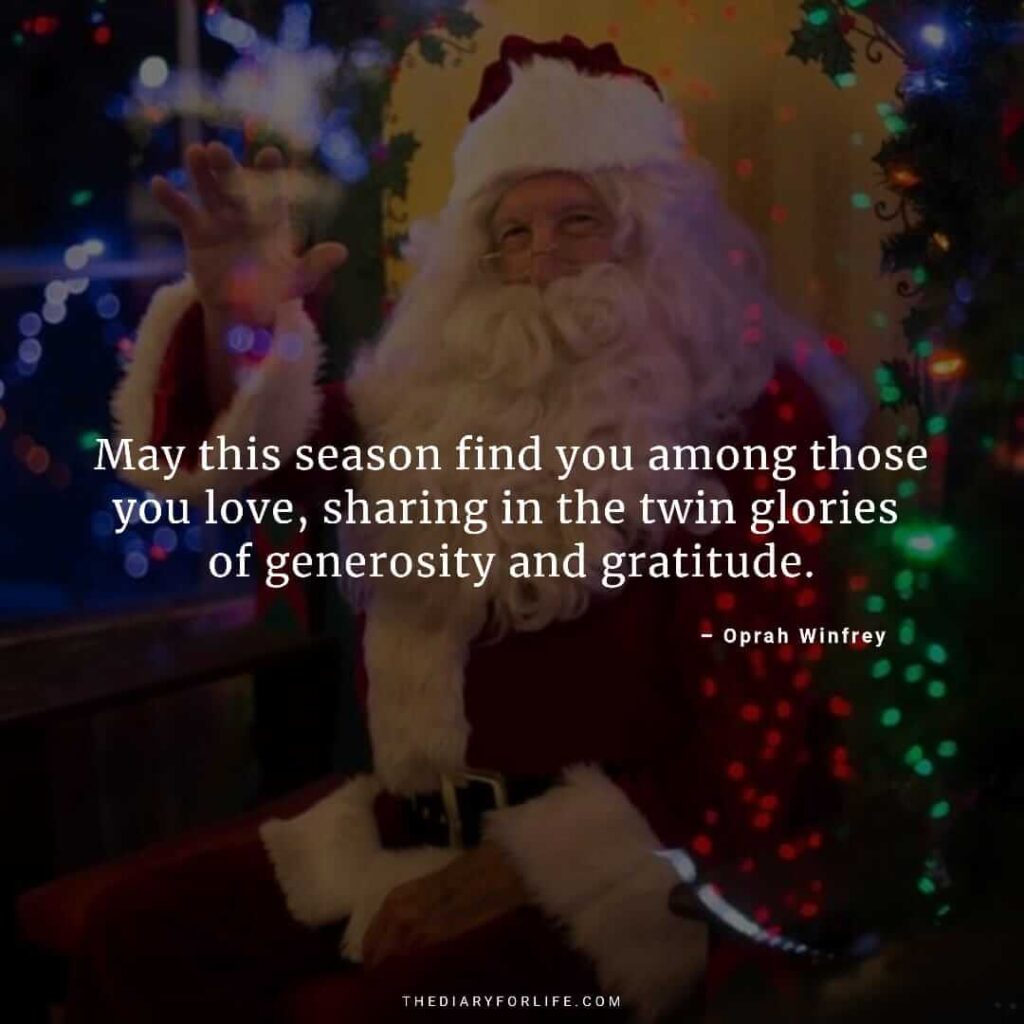 May the true spirit of Christmas shine in your heart and light your path.

– Spirit of Christmas
Wishing you a season that's merry and bright with the light of God's love.
May this season fill you and your family with light and laughter.
Some Christmas tree ornaments do more than glitter and glow, they represent a gift of love given a long time ago.

– Tom Baker
And that, of course, is the message of Christmas. We are never alone.

– Taylor Caldwell
Merry Christmas Quotes And Images For Someone Special
I must have done something right because my wish to celebrate Christmas with you has come true. Merry Christmas to the most special person in my life!
You have brought happiness to my days and filled my heart with so much love. So this Christmas, I just want you to know that you mean the world to me.
I couldn't have asked for a better gift this Christmas because your love is the best gift. May your Christmas be filled with all the great things you desire forever. Merry Christmas, honey!
Christmas reminds us about love, happiness, goodwill, and the amazing things that lie ahead of us. Thank you for bringing so much joy and happiness into my life. Merry Christmas, darling!
You've always been a amazing person to me. Thank you for always being there by my side throughout the troubles and joys. I appreciate all these and more. Here's me, wishing you a Christmas as fantastic as you. Cheers!
Your presence make my Christmas more special. May our love be always strong!
My favourite part of the Christmas is celebrating it with you.
Share these Merry Christmas quotes and images with your loved ones to spread love and happiness.
Also read: 60+ You Are Amazing Quotes To Empower Your Loved Ones