Black boards, chalks, dusters and canes;
Apples on the desk; those wistful window panes…
Math and science and history and complains;
Flying in the web of time, like memories on a paper plane… (Taniya's 2 Bits)
Memories of our academic life are incomplete without our teachers. In my experience, every individual educator in my formative years has had an influence in aiding self-discovery.
Some still hold the throne of role models that have given us the best of years packed with action, drama, adventure and tons of hilarious moments that form the crux of all our reunions.
Teaching is, for all good reasons, a super profession. And, super professions come with their share of kryptonite. After all, shaping minds and inculcating relevant knowledge and skills that would go a long way to fortify a student's future is seldom easy.
As per statistics, around 60% of teachers have expressed experiencing extreme stress and burnout in the present-day academic environment, which has eventually caused their performance, motivation and ability to make positive impacts in the progress of their students to plummet.
Even though educators usually have a very high emotional quotient, there are times they require urgent pick-me-ups too.
These are moments when positive affirmations for teachers can come as miraculous remedies.
Affirmations are simple yet powerful. They are insanely easy to implement yet, are proven effective in the short and long run. They are non-intrusive, yet they make a difference for a lifetime.
Who Can Use Affirmations For Teachers?
Anyone! If you are a teacher, a student or someone who is closely connected with a teacher at a personal / social level, these powerful positive affirmations are for you to convey as and when you please; because, every time these phrases are read, spoken or even recalled in the head, they produce positive vibes that can instantly boost mood, motivation and energy.
Need to boost the spirit of a worthy teacher, you know? Take a look at this carefully curated list of teacher positive affirmations that are sure to work their magic!
Daily Affirmations For Teachers
If you are a teacher on the brink of burnout, include these affirmations in your morning routine to rekindle a positive spirit, motivation, and productive energy that can last through the day and beyond.
I am an inspiration to my students.
Teaching is my passion.
I learn more so that I can teach better.
I do my best to make learning fun!
My students feel motivated by my presence.
I always encourage questions.
No questions are ever too silly to ask.
I am calm, patient, and in control of my feelings.
My presence makes a difference in my students' lives.
I am worthy, I am important, and I am deserving.
My purpose in life is to empower young minds. Knowledge and wisdom are my tools.
Being a teacher is a blessing.
I'm looking forward to an eventful day.
I'm the happiest when I teach.
I am my best when in my classroom.
Students never stress me out.
I'm skilled enough to shape young minds.
I'm grateful for the opportunity to teach.
I enter my classroom with perfect clarity of mind.
Teaching is my therapy.
I have excellent communication skills.
Teaching is challenging, but it's equally rewarding.
I grow as I teach.
I'm grateful for supporting fellow teachers.
My academic environment promotes my well-being.
Affirmations For Students From Teachers
The law of attraction often states that you should give what you wish to receive. So, when you instill positive energy in your students with these affirmations for students from teachers, you will feel a burst of positive energy in you too!
Today is good, and tomorrow will be better. At all
You've done your best today.
Be proud of how far you've come.
You have the right to grow at your pace.
Learning happens outside classrooms too.
You are a brilliant sportsman! That compensates for the C+ in History. 😊
Never compare yourself with other students.
You are brilliant in your own way.
As you learn for me, I learn from you too.
Focus on your strengths and never your weaknesses.
Being your teacher is a privilege.
Straight A's don't define your future; Kindness, Compassion, Creativity, and Willpower Does.
I'm proud of your grit, determination, and efforts to do better.
Everything happens in their own time.
Learn for the sake of learning. Not for the sake of competing.
You are doing great; Keep going!
You are naturally gifted to be great at something.
Your creativity inspires us all.
Grades don't impress as much as manners, respect, and politeness.
You have tried your best; that's all that matters.
Repeat-After-Me Affirmations
These are affirmations that your students can repeat after you before starting with the lessons for the day. Speak them out loud and watch the difference.
I'm excited to learn something new today.
Learning is always fun.
I have 100% focus and attention on my lessons.
I am prepared for my tests.
I respect my teachers and classmates, and they respect me too.
I am my only competitor.
I am ready to do better than yesterday.
Online or offline, I am always calm, composed, and relaxed while in class.
The harder I try, the easier things get.
I am grateful for the opportunity to learn.
Affirmations For Teachers From Students
Inspire those that inspire you with these characteristically motivational positive affirmations for teachers.
Thank you for believing in me.
You help me shape my universe.
I trust you, and I respect your presence in my life.
I'm grateful to you for always being there for me.
Thank you for not giving up on me.
Your inspiration makes me try harder to become better.
I believe in myself because you believe in me.
I'm sorry for the times I disrespected your care.
I apologize for all the times I didn't listen to you.
Thank you for letting me ask all I want to ask.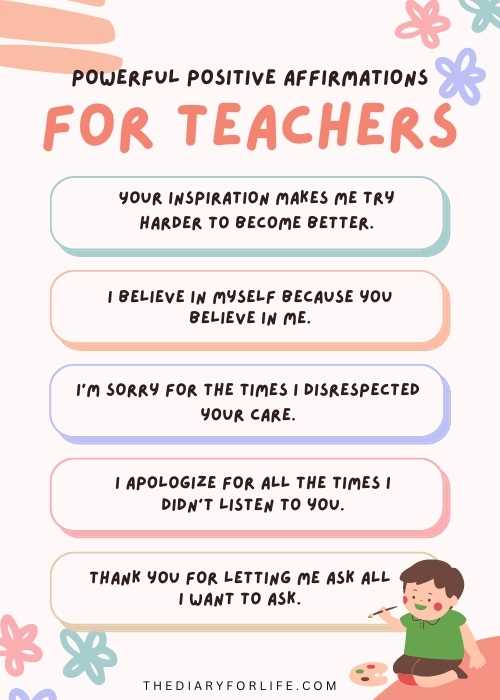 Positive Affirmations for Pre-school Teachers
So, how exactly do you teach Alphabet to a group of 3-year-olds that are yet to learn how to sit still for 30 straight seconds?
Believe it or not, preschool teaching can be very stressful. It takes an incredibly high level of patience, responsibility, creativity, enthusiasm, and most importantly, energy to connect with the toddling geniuses, leave alone imparting lessons on alphabets, counting from 1 to 20, shapes, and more.
Save the stress and prevent burnout with these positive affirmations for preschool teachers.
I'm grateful for the opportunity to shape little minds.
Every minute spent with children is rewarding.
I can understand and communicate with preschool kids very easily.
Preschool kids are always happy and energetic around me.
I love my job.
Being around little children fills me with positive energy.
I'm ready for an exciting and fun-filled day.
Teaching pre-schoolers is not a job; it's a noble mission.
I'm an expert in teaching new things to children in a fun way.
Moments spent with pre-schoolers are moments I get to unleash my inner child.
I am motivated. I am creative. I am energetic. I am enthusiastic. I'm perfect for preschool teaching.
I am responsible; I can keep children safe and happy.
I help develop healthy habits in children.
Parents trust me with their precious little ones.
Thank you for making me feel smart, confident, and important.
Motivating The Motivators
Let's not forget teachers are humans too. They have their own lives, problems, challenges, emotional burdens, financial worries, families to take care of, medical conditions to navigate, and so much more.
How brave are these brilliant minds with a noble purpose to leave their load behind only to enter their classroom with a brilliant smile, an inspiring aura, and the intent to make an impactful difference in the lives of young learners?
Reach out to teachers with your love, support, and empathy with these powerful daily affirmations for teachers. Let's keep the smiles on these brilliant minds intact forever.
Also read: 50+ Powerful Positive Affirmations For Exams