Integrity is doing the right thing, even when no one is watching.

– C. S. Lewis
Integrity itself means having a set of strong ethical values and not compromising yourself. It's about doing the right thing rather than doing what's easy. We read inspirational books and quotes about doing the right thing, but very few of us actually practise it in our real lives.
Integrity is about being honest, incorruptible, telling the truth in any situation, doing the right thing even when it's hard and mainly, doing all these things when you are alone, and no one is around to see it.
The route of integrity is hard but less crowded. Although it's quite difficult to describe integrity in a few words, we have collected 40+ inspirational quotes about doing the right thing. Read these quotes and take some time to introspect and reflect on your actions.
Inspirational Quotes About Doing The Right Thing
Knowing what is righteous is in the parallel universe to do what it takes.
In every moment, we have two options either to do what is needed or to run away from it. The right thing means nothing but to do what is necessary and feels right to us, by keeping consequences in mind. If you do the right things just because someone is going to reward you, it may make doing the right thing a selfish thing.
No matter what situation you are in, you should always do what is right. Doing the right thing only for gaining attention and publicity is unethical. Irrespective of results or benefits, believe in the process, and do the right thing, give justice. Doing the right is itself a reward.
Whenever you know what is right, you must also know the courage that it demands.
Every war demands blood, but in the end, the blood which inspires others is the blood that wins the war. Your efforts are never wasted; people will always learn from the right things you did. We live in such a world that if you do the right thing often, people will be surprised every time.
Doing the right thing is one of the most positive and powerful things to do. It will always make you feel good and proud. It is an excellent opportunity to do something for the world. Always be kind and forgiving to others. Doing the right thing is always satisfying.
Tit for tat is not the right law, and it never was.
We are often inspired by people. If the majority of people are doing a thing, we too follow them blindly. But, the right thing is not about doing what most people do. It is essential to do what is right, even most people don't do it. It is okay to be inspired by most people, but it is not okay to make bad decisions under the influence of others.
When you are doing the right thing, you are becoming an inspiration to the world and inspiring yourself too. When you don't do the right thing, you always have guilt in your chest and never feel good about yourself. You might end up in an endless loop of negative thoughts and low self-esteem.
The right thing may be thrilling at times, but always peaceful in its consequences.
Our human intelligence is made in such a way that we can make complex things simple. Today we have messed up in such a way that our intelligence is making simple things complicated. The right thing is always the simplest thing to do, but it is never the expected thing.
When you do the right thing, you feel good about yourself, and you try to give this feeling to the people surrounding yourself. There is nothing wrong with getting or giving positive vibes to other people. You are doing the necessary for society.
Life is about knowing right and doing the same. No matter how.
If you make the right plan, it will give you motion, but when you execute the plan, it will be the right action.
You are never known by your plans but by your actions. We all know what to do, but very few actually do it just like we all know the importance of fitness, but very few exercise every day.
By doing the right thing, you focus on creating a better society, also you become focused on what is important to you as well as for the community.
Right thinking alone can never change anyone, it may initiate you but will never change anyone. Only the right actions have the power to create an impact on society. Children will never listen to what you say, but they will replicate what you do.
Educate yourself to seek and intersect the righteousness in every aspect.
The right thing is only counted when you do it at the right time. There is no point in admitting the patient after he is dead. The only difference between a smart man and a foolish man is that intelligent man knows how to utilize his time in doing the right things.
When you help others and become sincere in the process, they will also have the urge to help you and value your teachings. Postponing anything is not going to help, it will only increase your Bourdain. Even if it is difficult and time-consuming to perform, it is highly important to do the right thing at the right time.
Nature is always playing its part in the law of nature, which is ultimately the law of right. Are you returning the act?
You are always shaped by your environment. Environment and actions are always interconnected. Change your environment to do the right thing or do the right thing to change your environment.
If you are living in such a way that you have to think many times or ask permission to do the right things, you have to think about whether you need such an environment or not. To die as a free man is always better than living the rest of the life tied in ropes.
When you know what is right, you don't get into any sort of dilemma thereafter.
You will face a lot of challenges in doing what is right. It is always difficult to stand out and do the right thing. But you always have to do the right thing no matter how much time and effort it takes to complete. Goodness is an investment, and it will never fail.
Famous Quotes About Doing The Right Thing
Integrity is the most valuable and respected quality of leadership. Always keep your word.

— Brian Tracy
Doing the right thing for someone else was like a tonic for me; it was like some magic ointment that made a wound disappear.

– Susie Bright

Image is what people think we are; integrity is what we really are.

— John C Maxwell
With integrity, you have nothing to fear, since you have nothing to hide.

— Zig Ziglar
Try not to become a man of success but rather try to become a man of value.

– Albert Einstein

Everyone makes mistakes, but only a person with integrity owns up to them.

— Nicole Guillaume
Sometimes the cost of integrity is the loss of a friend.

— Jack McDevitt
The supreme quality of leadership is integrity.

— Dwight D. Eisenhower
You have to do the right thing… You may never know what results come from your action. But if you do nothing, there will be no result.

– Mohandas K. Gandhi

Remember not only to say the right thing in the right place but far more difficult still, to leave unsaid the wrong thing at the tempting moment.

– Benjamin Franklin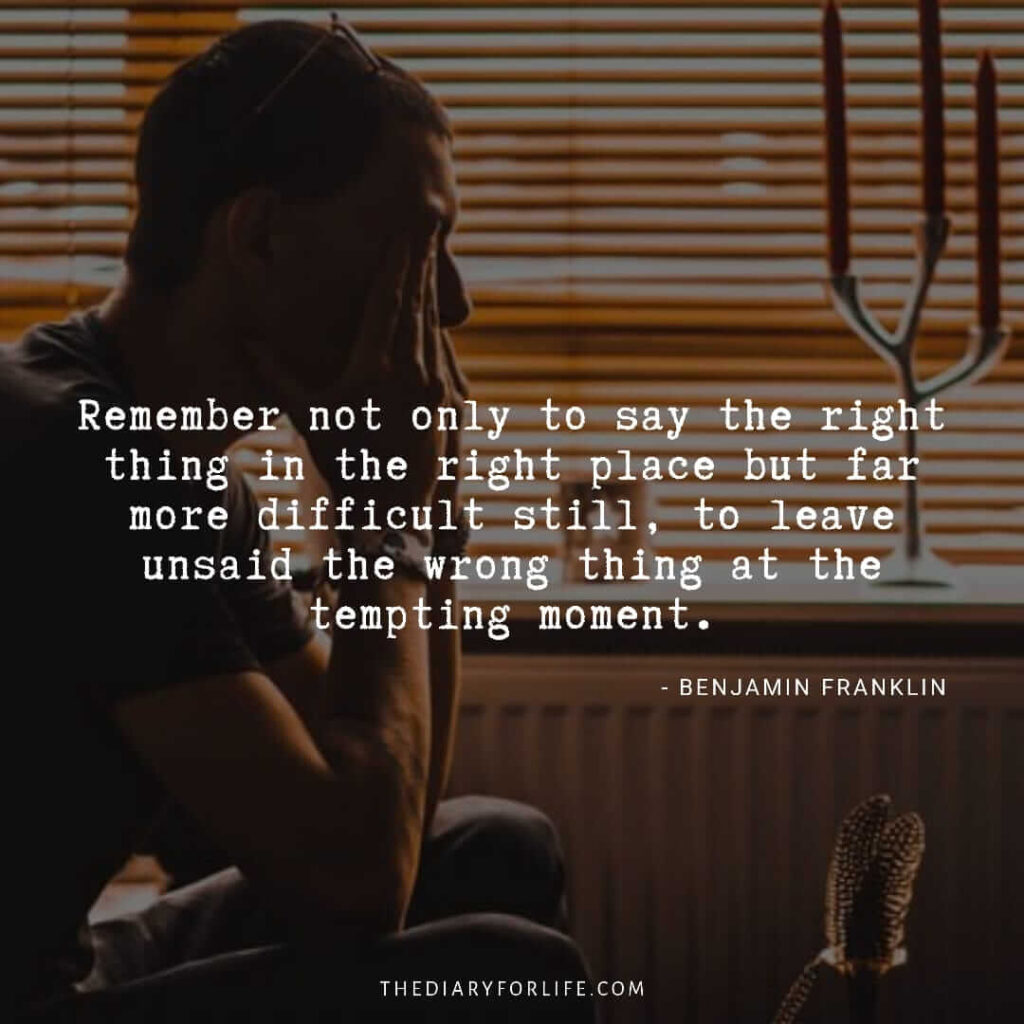 The time is always right to do what is right

– Martin Luther King, Jr.

When I do good, I feel good. When I do bad, I feel bad. That's my religion.

– Abraham Lincoln

The right way is not always the popular and easy way. Standing for right when it is unpopular is a true test of moral character.

– Margaret Chase Smith

Do what you feel in your heart to be right – for you'll be criticized anyway.

– Eleanor Roosevelt

Happiness is when what you think, what you say, and what you do are in harmony

– Gandhi
Next to doing the right thing, the most important thing is to let people know you are doing the right thing.

– John D. Rockefeller
Happiness and personal fulfilment are the natural consequences of doing the right thing.

– Epictetus
Doing the right thing is more important than doing the thing right.

– Peter F. Drucker

We must not allow ourselves to become like the system we oppose.

– Desmond Tutu

People will always try to stop you from doing the right thing if it is unconventional.

– Warren Buffett

Mark Twain Quotes About Doing The Right Thing
It is never wrong to do the right thing.

– Mark Twain

Always do right – this will gratify some and astonish the rest.

– Mark Twain
A man cannot be comfortable without his own approval.

– Mark Twain
Bible Quotes About Doing The Right Thing
Therefore, to one who knows the right thing to do and does not do it, to him it is sin.
But when you give to the poor, do not let your left hand know what your right hand is doing,
Little children, let no one deceive you. Whoever practices righteousness is righteous, as he is righteous.
And let us not grow weary of doing good, for in due season we will reap, if we do not give up.
I can do all things through him who strengthens me.
Whatever you do, work heartily, as for the Lord and not for men.
But be doers of the word, and not hearers only, deceiving yourselves.
But if anyone has the world's goods and sees his brother in need, yet closes his heart against him, how does God's love abide in him?
The Almighty—we cannot find him; he is great in power; justice and abundant righteousness he will not violate.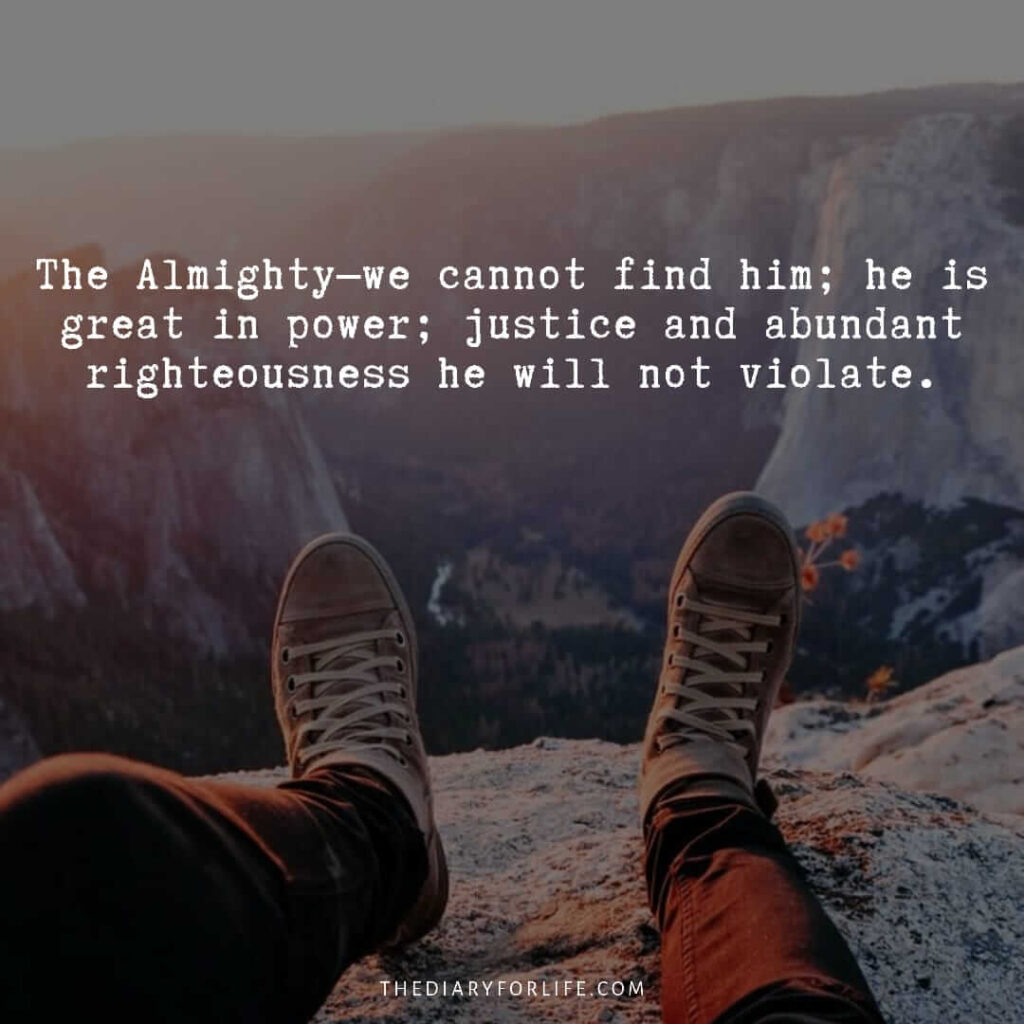 Bottom Line
Doing the right thing is not easy in every situation. But when you do what's right, it builds your character and make you feel good about yourself.
If you do good things, the universe will bless you. Don't wait for the moment to be right, make the moment right.