Hello, fellow Krishna Bhakts and social media bugs. If you are also looking for quotes to post on your social media on the occasion of Janmashtami, we'd like to welcome you to our blog, where we believe in building confidence and sparking your creativity with the power of words.
In this particular blog, we'll discuss the famous Indian Hindu festival, Krishna Janmashtami- an event that is a hit with people of all backgrounds across the globe. While we look into the essence of devotion, and the transformative power of quotations, prepare to feel inspired by 50 inspirational quotes about Krishna Janmashtami that capture the essence of this joyful occasion.
Who Is Krishna?
Krishna is the symbol of love, wisdom, and joy and is the avatar of the god Lord Vishnu in Hindu mythology. Krishna's life story, lessons, and adventures are described in the sacred text referred to by the name of Bhagavad Gita. The most well-known for their captivating flute music and constant presence. He offered comfort to animals as well as humans. His message unites us all.
What Is The Story and History Behind the Celebration of Krishna Janmashtami?
Krishna Janmashtami is the day of the birth of Lord Krishna, which is celebrated with great enthusiasm and love. Born in Mathura, His purpose in life was to eradicate evil and establish the path of dharma (righteousness). According to mythology and folklore, he was born in difficult circumstances. Krishna's mother was put in jail by his own maternal uncle for fear of bringing his fall. He finally fled difficult circumstances to cast a light on the world. This celebration serves as a reminder that even in the darkest of circumstances, good triumphs.
How To Celebrate Krishna Janmashtami?
Krishna Janmashtami usually involves prayer, fasting, and fun celebrations. People who are devoted to the Lord participate in devotional music, dancing, reenactments, and dances of Krishna's life's occasions. Elaborate decorations, referred to in the tradition of jhankis, adorn temples and houses. The day is concluded with the midnight hour, which is believed to be the hour of Krishna's birth. This is celebrated with fervent celebrations and prayers.
Quotes About Krishna Janmashtami
In the heart where Krishna resides, love blooms like a radiant lotus.
Krishna's flute carries melodies of love that soothe even the weariest souls.
Embrace Krishna's wisdom, and let your heart dance to the rhythm of his teachings.
Krishna's birth teaches us that light emerges from the womb of darkness.
Just as Krishna lifted the Govardhan Hill, let faith lift the burdens from your heart.
Like a peacock dance in the rain, let your soul rejoice in Krishna's grace.
Krishna's love is an eternal river; let it quench the thirst of your soul.
In Krishna's embrace, find the solace that the world often fails to provide.
Krishna's laughter echoes in the playful ripples of life.
As Krishna defeated Kansa, let courage triumph over your fears.
Krishna's friendship is a sanctuary where you can reveal your true self.
Krishna's guidance steers the chariot of our lives toward righteousness.
In Krishna's enchanting eyes, discover the universe of boundless compassion.
Krishna's love story with Radha teaches us the divine dance of love and devotion.
Krishna's journey is a path from ignorance to enlightenment.
In Krishna's wisdom, find the answers to life's deepest questions.
Krishna's blessings rain down like a monsoon, nurturing the fields of our dreams.
As Krishna played his flute, let your heart resonate with the music of the cosmos.
Best Quotes For Janmashtami
Janmashtami: A celestial birthday that touches hearts across oceans.
As the world celebrates Janmashtami, let unity bloom like a field of flowers.
Janmashtami whispers that devotion bridges the gap between human and divine.
Let Janmashtami remind us that faith can move mountains of adversity.
Janmashtami's starlit sky carries the promise of a new dawn of hope.
On Janmashtami, we unwrap the gift of Krishna's teachings for our souls.
Janmashtami's cradle symbolizes the birth of possibility in our lives.
In the echoes of Janmashtami, hear the symphony of devotion.
As Janmashtami unites hearts, let love's fragrance spread like incense.
Janmashtami's divine lullaby lulls us into the embrace of spiritual awakening.
Janmashtami's lanterns guide us through the labyrinth of life.
Let Janmashtami's blessings shower you like rain from the heavens.
Janmashtami's moonlit night ignites the lamps of gratitude in our hearts.
On Janmashtami, the universe celebrates the birth of love in human form.
Let Janmashtami's joyous dance resonate in the rhythm of your life.
Janmashtami is about devotional stories that inspire souls all over the world.
Quotes On The Importance Of Janmashtami
Janmashtami reminds us that the divine resides within and around us.
Celebrate Janmashtami as a bridge connecting cultures in a tapestry of devotion.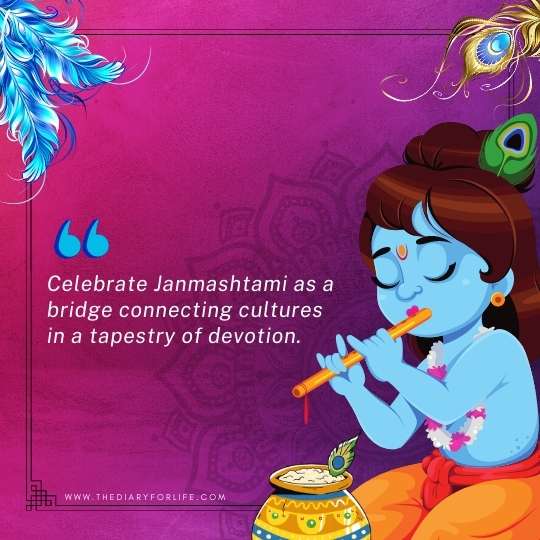 To the timeless lessons of Krishna.
Janmashtami's essence teaches us that faith is a compass in life's journey.
Through Janmashtami, we learn that devotion is a language understood by the heart.
Janmashtami: A reminder that every birth is a chance for a new beginning.
Celebrate Janmashtami as a tribute to the eternal light of Krishna's love.
In Janmashtami's festivities, find the colors of unity painting humanity's canvas.
Janmashtami's celebration echoes the heartbeat of a compassionate universe.
As we celebrate Janmashtami, let its lessons sow seeds of kindness.
Short Quotes About Krishna Janmashtami
Janmashtami's legacy reminds us that love conquers all across time and space.
Celebrate Janmashtami to awaken the dormant devotion within your soul.
Let's honor the sacred bond between creation and creator this Janmashtami.
To rekindle the flame of spirituality in our modern lives.
Through Janmashtami, embrace the oneness that transcends borders and beliefs.
Celebrate Janmashtami as a symphony of devotion.
The Bottom Line
I hope these 50 inspirational quotes about Krishna Janmashtami guide you to do better in life. I hope they urge you to live the wisdom of love, joy, and devotion that Krishna represents. As Krishna's flute harmonies have echoed throughout the years, let these words echo through your heart, strengthening your confidence and stimulating your imagination on this wonderful adventure of life.
Also read: 50+ Buddha Quotes About Inner Peace