We've quickly moved past a world that preached compassion, love, and service into one that consistently glorifies being selfish. Often hidden under the labels of self-love, a vast majority of them seem to feel proud about thinking of and living for just themselves.
While it is not wrong to put oneself before others, we as humans must recognise the power of kindness: kindness in thoughts, actions, and words.
If you've been struggling with the toxicity of extreme selfishness taking different shapes and sizes around you, take a deep breath, you are not alone. Shared below are a bunch of powerful selfish world quotes that can help shape our thoughts and actions to make this world a better place. We're sure you will relate!
'World is Full of Selfish People Quotes
In a world that is becoming increasingly selfish, I choose to love myself.
I believed life was not just about loving oneself.
People like to love themselves more than they would ever like you.
Everyone is losing sight of the silver lining between self-love and self-obsession.
Don't lose yourself in the dark and selfish world.
Know your worth but don't be selfish.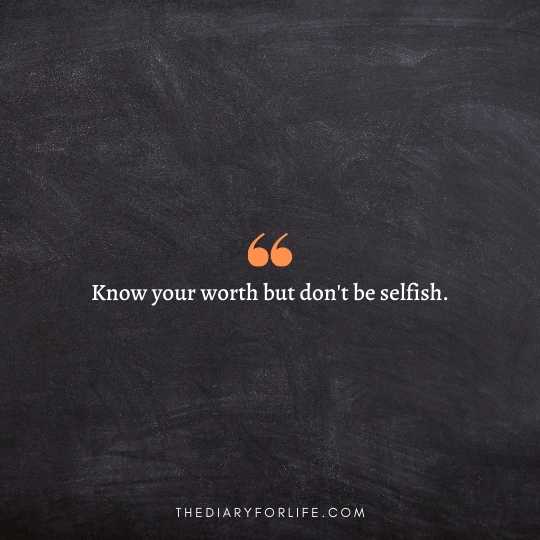 While the world is at the peak of its selfishness, I still believe in the magic of living for others.
Keep your intentions pious in a world so selfish.
Don't add to the number of selfish people in the world, be the fresh air of kindness.
Don't lose grip of the ground in a self-centered and sky-high world.
The world has lost purpose at large. Now, it's only about people living to fill their own carts by crumbling others.
Rising above the world's selfish tendencies, shine through the gray.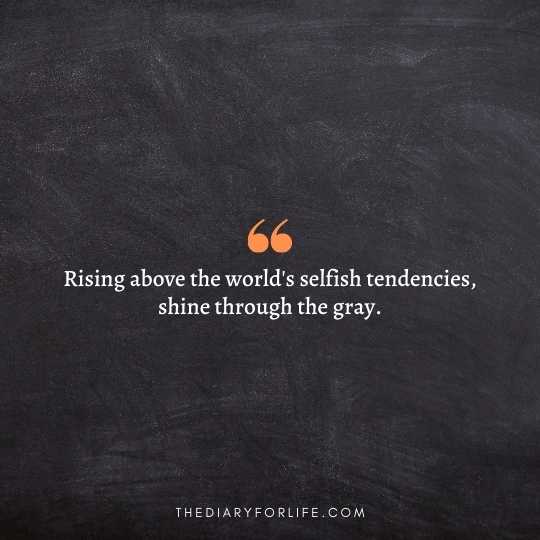 Put yourself before others, but keep some room for others in the row.
Is being selfish the only way to survive?
Even in a world so selfish, belief in the magic of giving.
We need to take care of ourselves to be able to care for others. That's not being selfish.
Self-consumed, but never consumed by them.
The world's selfish, but my heart isn't for sale.
A selfless heart in a selfish world is like a priceless drop of water in a drought-struck land.
Let's not become the selfishness we see.
'Everyone is Selfish in This World' Quotes
Play your part, but don't lose the vision of the world around you.
I am someone with limitless compassion in a selfish world.
I choose to empathise with others in a world full of selfishness.
An act of kindness in a world of self-centeredness is like a healing touch.
Changing a selfish world, one kind act at a time.
Follow your heart and rise above toxic selfishness.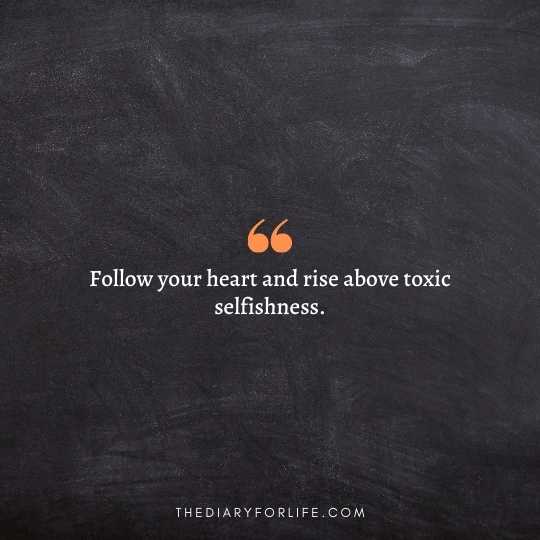 I choose to believe in the power of us in a world full of me.
Would you refuse to dissolve in a selfish society?
Don't drown in the waves of your own darkness.
Meaningful Selfish World Quotes
Selfishness never lets you heal.
Stand tall in a world of sinking selfishness.
They say it's a selfish world, I say let's be the change.
Never allow selfishness to blur your vision.
The world may be selfish, but my soul can never be.
Plant the seeds of kindness in a world of selfishness.
Be the light in a dim, self-struck world.
Learning to embrace self-love without falling prey to selfishness.
It's okay to think of the best for yourself unless you don't think ugly for others.
Don't let self-interest kill your kindness.
Don't let selfishness become your way of life.
We wouldn't enjoy the calm of the shades of the trees if they were selfish.
You may live for yourself, but the true essence of life is in living for others.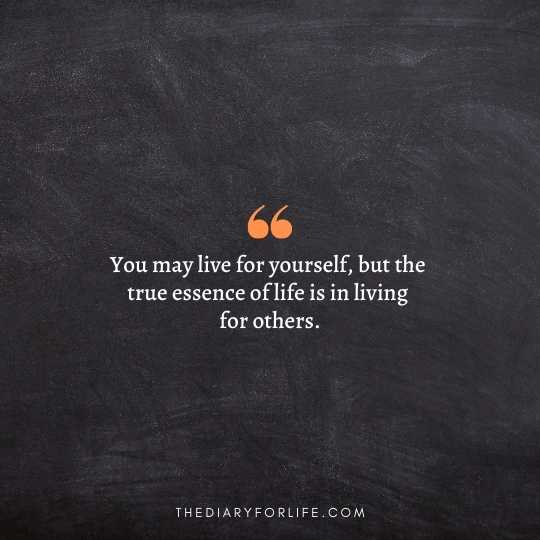 Don't add to the darkness of the selfish world. Be a rainbow instead.
Selfishness burns the joy of living.
Live a day for someone other than you, see how you heal.
Quotes About Selfish World
Breaking the vast web of worldly selfishness.
I believe in the existence of kindness for that's exactly why the world is
Thriving without clinging to selfish ambition.
An island of compassion in a sea of selfishness.
Radiating the warmth of love in a world gone cold.
It's a selfish world, but we can always choose to not be one of them.
Cracking opens the mold of self-centered living.
Believe in the power of goodness, and give the world a reason to do so.
Being kind makes you feel better, and golden from within.
Don't be wooed by the selfishness around you.
No matter how selfish the world gets, compassion will always triumph.
Stay soft, but don't let the world crush you.
Short Selfish World Quotes
I am free from the shackles of selfishness.
Refusing to be another selfish story.
Is selfishness a new normal?
Rebuilding what selfishness has broken.
Setting an example of selflessness.
They say it's a selfish world, let's prove them wrong.
Don't let the world's selfishness shape your persona.
Depths of selflessness in a shallow world…Do you hear the echoes of compassion from the ocean bed?
Pulling the curtains of selfishness to let the light in.
In a selfish world, my heart chooses generosity, without a hitch.
Planting seeds of love in a self-serving world.
Flaunting the armor of kindness in a selfish world.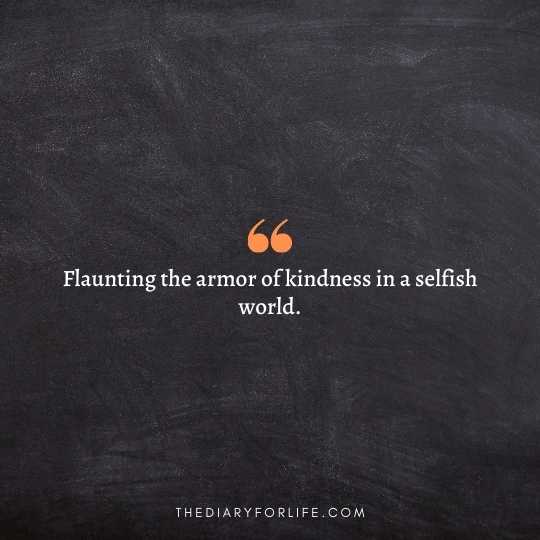 It's a selfish world, maybe you should walk your own path.
Finding the nest of faith in a forest full of people lost in themselves.
The world is getting greedier each day. Let's sprinkle the power of peace.
A selfish world kissed by endless acts of kindness.
Choosing the path of affection and compassion in a selfish world.
Explore the world beyond the borders of selfishness; it's beautiful.
Final Thoughts on Selfish World Quotes
The above-mentioned selfish world quotes should help you realise that there's always a better way to perceive the world and live rather than adopting selfishness as our only virtue.
Pick kindness, empathy, and generosity over selfishness, and begin to reshape our world for the better, and unlock the magic of goodness. We're sure these quotes will stay close to your heart and always gently remind you that every act of compassion is a beautiful catalyst for change.