We all aspire for a brighter future but facing the daily trials of life most of the time we become disheartened if nothing in our life takes us ahead on the road of success.

There are many times in life when we need that extra push to move on. In this article, we'll share some inspirational quotes about the progress that will give you that extra push during tough times to help you keep going.
Progress in life can be seen in many aspects of one's life, which can make you happy and motivate you furthermore to move ahead in life. Progress can be growth in any personal relationship, business success, scoring well in studies, improvement in your health, and so on.
There can be many facets in life that lead us to progress, no matter how small it is, but moving forward on the road of progress is what keeps us going.
Here are some inspirational quotes about progress in different facets of life. Hope these quotes inspire you to be the best version of yourself.
Inspirational Quotes About Progress for Girls
Tough girls choose tough paths to start the journey of progress.
Relationships that know no struggle will also know no progress.
Life storms are God's secret messages to tell you that he has your back keeps standing and moving on.
The cruelty of society critics can make or break your path of success. Choose wisely and make the path of success.
Drift further away with the wanderlust desire in you, as girls need to travel different roads to see where they take them.
Be somebody's dreamcatcher to see your dreams come to life.
The progress of a woman will always lead to the progress of society.
The strength of women can be seen by the journey taken by her on the road to success.
Inspirational Quotes About Progress for Teens
Each small talk with an angry friend, every half mark increase in an exam is the mark of progress.
Value your self-worth more than valuing the worth given to you by your successful friends to achieve success.
Celebrate all your small wins in life to attain the bigger wins in life.
Don't be scared to shed tears on the road of progress as you are only watering the seeds of the tress of growth.
Judging friends and relations are the roadblocks to be avoided when you are running.
Life will never be kind and fair. It is time to grow up and meet your responsibilities.
Meet the challenges in life with confidence to overcome those hurdles to finish the race first.
Inspirational Quotes About Progress for Self
I, myself, am the biggest inspiration for me to always get up whenever I fall back.
The only constant in my past, present, and future is me. So, I cannot stop or get tired.
Struggles are the best teacher in my journey of life from which lessons I have learned are meant to be taken forward.
Good times and bad times keep coming and going, but you should not stop on the way to success.
Dreams are meant to be chased for them to come true.
A small step towards the inner growth of a human mindset can make a big change for the outer world.
Tune your willpower to the strongest to see the result in your life to the fullest.
Stagnant water can cause smell around the place, so no matter how slow you move on the path of growth, don't become stagnant. Fresh ideas will develop in fresh surroundings.
Inspirational Quotes About Progress With Images
Sunrises in the morning with a purpose to shine. Similarly, find your purpose to shine in your life.
Be the butterfly in the garden of your life and attract all the attention of success towards you.
Success waits around the corner, do not stop for a breath of fresh air.
The growth of a human being depends upon the desire to succeed. Keep the desire burning to achieve your goals.
Distractions and demotivating factors are always around, ignore and move on with strong motivation to the road of success.
The changes in weather and seasons should not alter the course of your hard work and labor on your journey of life.
The cloud looks still but keeps moving and transforming into something bigger same way we keep moving at our own pace to become bigger.
Best Inspirational Quotes About Progress
Childhood habits of labor and hard work will not let an individual get tired and break with age.
Every small step, every small move has taken towards growth is important for overall success in life.
Do not let failures in life takeover your self-worth, as your accomplishments and failures are part of you but do not constitute you. Nobody can break or stop you from your path till the time you realize your self-worth.
Remember your goals in the end, as the journey in between will be full of bitter and sweet experiences, but its worth will be attained only at reaching these goals.
Never compare two different journeys of life. We all can take different roads to one journey of success.
Progressive minds bring about revolutions as proven by time.
There are no accidents or good fortunes in life to achieve your goals but only daily work on yourself.
Famous Inspirational Quotes About Progress
Without deviation from the norm, progress is not possible.

– Frank Zappa
There can be no progress without head-on confrontation.

– Christopher Hitchens
Push your boundaries beyond the ordinary; be that Extra in Extraordinary.

– Roy T. Bennett
Honest differences are often a healthy sign of progress.

– Mahatma Gandhi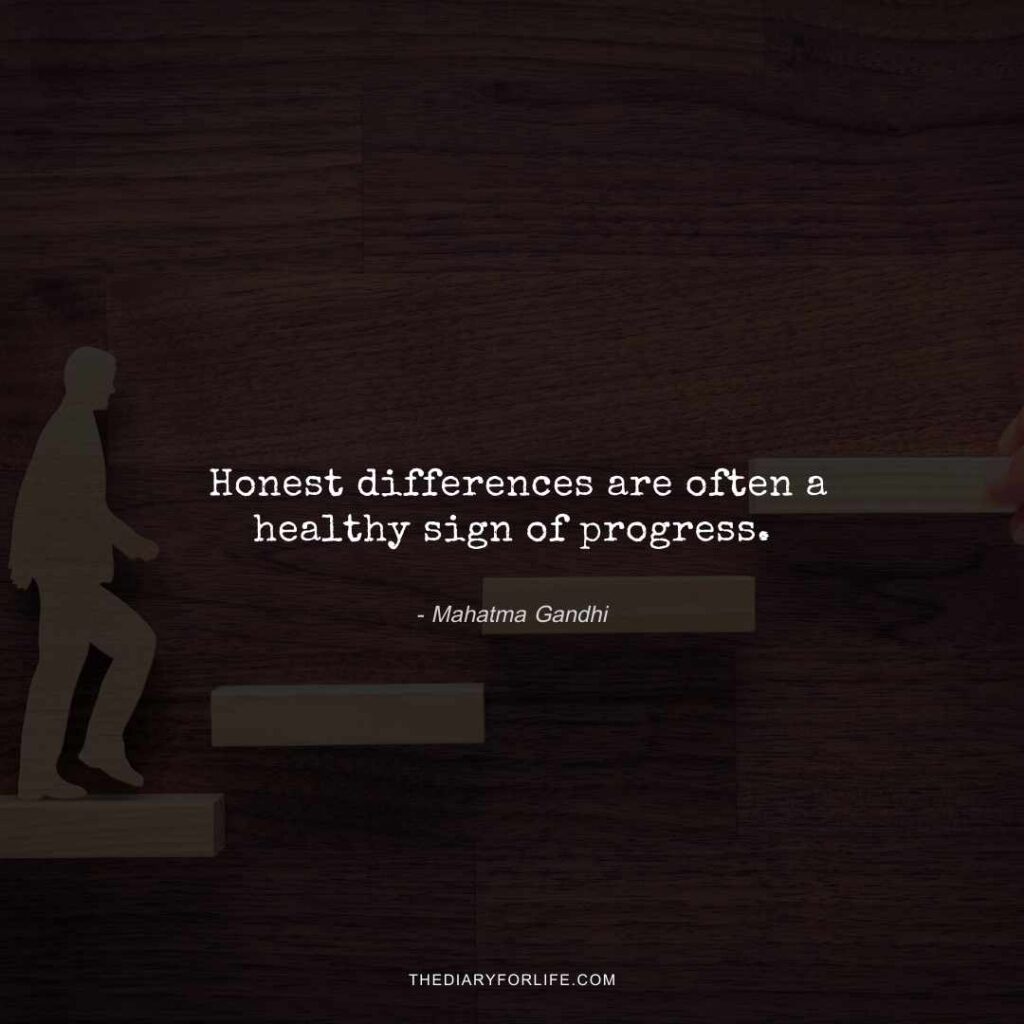 Progress is not an illusion, it happens, but it is slow and invariably disappointing.

– George Orwell
There is no progress or accomplishment without sacrifice.

– Idowu Koyenikan
The purpose of fear is to raise your awareness not to stop your progress.

– Steve Maraboli
The only real progress lies in learning to be wrong all alone.

– Albert Camus
Change is the parent of progress.

– Steve Maraboli
A person who makes few mistakes makes little progress.

– Bryant McGill
Progress is what happens when impossibility yields to necessity.

– Arnold H. Glasow
Changes and progress very rarely are gifts from above. They come out of struggles from below.

– Noam Chomsky
Discontent is the first necessity of progress.

– Thomas A. Edison
Progress comes to those who train and train, reliance on secret techniques will get you nowhere.

– Morihei Ueshiba
More Inspirational Quotes About Progress
True progress quietly and persistently moves along without notice.

– St. Francis of Assisi
Progress is a nice word. But change is its motivator. And change has its enemies.

– Robert Kennedy
The best road to progress is freedom's road.

– John F. Kennedy
Progress is the attraction that moves humanity.

– Marcus Garvey
Unless you are ambitious, you do not make progress.

– Tony Blair
The concept of progress acts as a protective mechanism to shield us from the terrors of the future.

– Frank Herbert
Progress imposes not only new possibilities for the future but new restrictions.

– Norbert Wiener
Conclusion- Keep growing
The best person to help you in your entire journey of life is you yourself. So never stop working on yourself. Every small step you move and progress will help you reach the pinnacle of success.
Sometimes life gives you difficult decisions and times which can be conquered only by working hard so do not stop and keep growing on the right path.
If you found these inspirational quotes about progress meaningful, don't forget to share these quotes with your loved ones to help them grow better.
Also read: 25+ Most Beautiful Rumi Quotes On Silence