Life is always about finding your Hakuna Matata!
But do you get it for free? Absolutely not!
Each of us harnesses a different definition of our Hakuna Matata in life. With each of our definitions, our struggles differ too. But removing worries from life is not simple at all.
The most defiant battles are often fought within our souls. Our souls experience a lot of difficulties and troubles and quietly endure it all.
Some souls break easily, and others are more resistant to pain. For those souls that die easily, a little inspiration can work wonders.
For daily inspiration, you can always refer to what others have to say about a topic. Since many have lived before us, our struggles might seem similar at times.
Counting on their thoughts is essential since that can often show you a way to live better often or give you that one rare thing many people lose faster than money- Hope.
In this space, you can find some original short inspirational quotes about life and struggles.
Short Inspirational Quotes About Life And Struggles
Each time you face a hurdle and life seems stalled, never stay where you are. Though it seems impossible, be brave and take a small step forward.
You must break all circles if you want to move forward since circles cannot take you on.
Our past has treasures we need to learn from when building our future.
Every situation always has just one solution that follows the middle path- always choose it above others.
Always shred your tears when sad. Crying always lifts the weight from our souls, making us lighter.
Struggles make you stronger only when you let them.
The continuous growth of your soul is a struggle that alone can open the right way for you.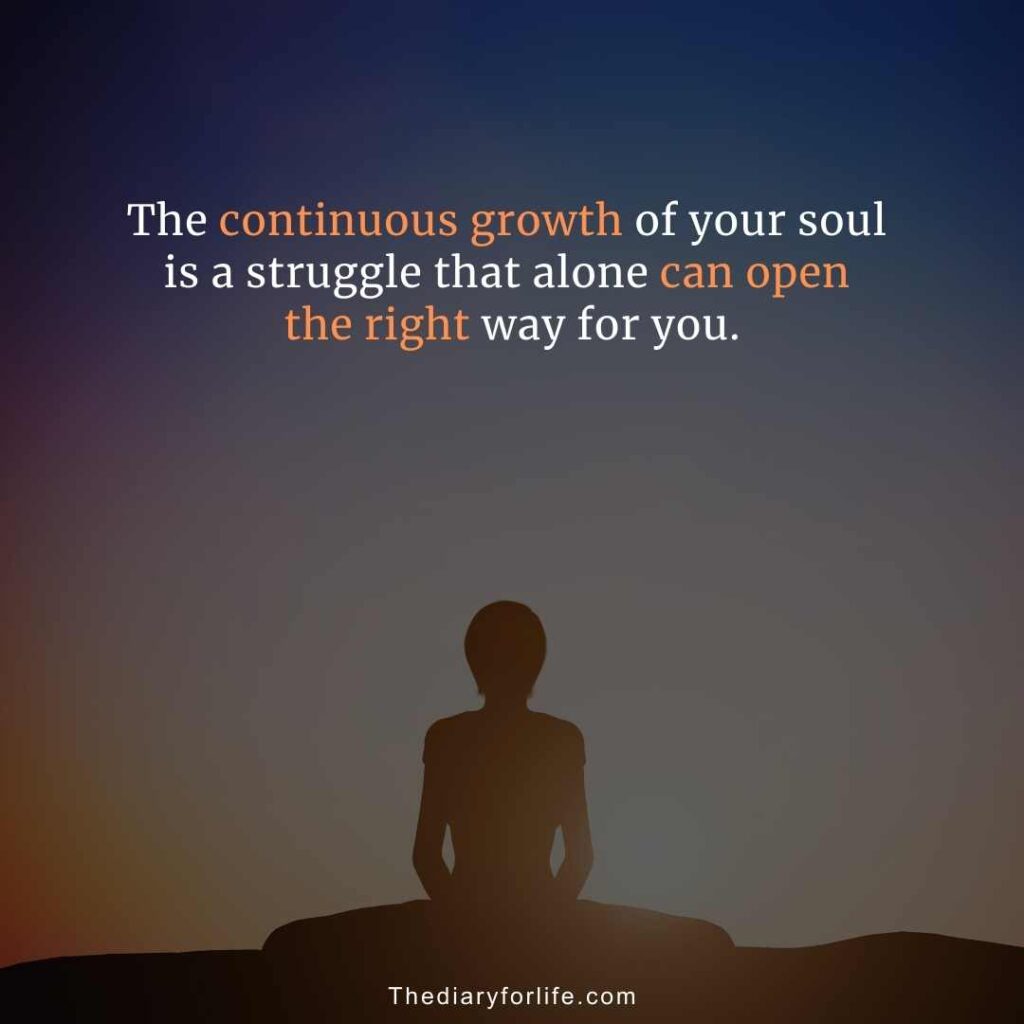 Our struggles are not where we must say. Struggles tell us we need to move forward.
Those days when you're unhappy, mindfully meditate upon your entire day to know the most accurate reason behind your unhappiness in the end.
Unhappiness almost always stems from our egos. Tame your egos to rid yourself of all the unhappiness you feel within.
Struggles never mean a fair tomorrow. It only shows you what you have in store for yourself in the future. Thus, learn well from your struggles when you face them.
Keep turning your eyes between your goals and obstacles now and then. Falling could push your goals further.
Your life is not a coincidence, it is part of the bigger plan, and your soul is here to guide you to your role till your end.
Darkness teaches you the value of light and tells you the process of making your way through the darkness.
When you say one day, it shows your desire, and day one shows your hard work and determination.
Inspirational Quotes About Struggle And Life
Inspirations are hard to get these days since each one of us struggles with a lot of negativities. Each time you have a moment, think of something good rather than what troubles you. Here are some powerful short inspirational quotes about struggles and life to uplift you.
Keep believing yourself even when no one else does, since your journey is not what people think of you but what you think about yourself.
Do what you deem right, do not be good or bad but be right in your head and heart always.
People don't trouble and offend you for your flaws but their own.
Always surrender to something you deem higher than you, and you would never suffer pride and vanity.
The first things that pull us down are the very images we create about ourselves in our head- live lighter, let go of all that is not essential inside you.
Placing yourself first is the best way to practice self-love. If you can't love yourself, you can never love anyone else truly.
Understanding yourself is the most important key to understanding others.
Someone will always be there to stop you, don't waste your time fearing them. Begin looking for the ones who can help you reach where you want to be.
While you struggle through your life, do not forget to snuggle in your arms.
You're here for a purpose, but you do not know it yet. Do not hurry down the lane to reach your purpose since you have the best view not from a train window but while walking down the path.
Life is indeed a stage where most are not aware of who they are or what role they are here to play.
Broken people can always be more flexible only if they want than those who have never been broken.
See the world with your colors and light. Never borrow them from anyone else.
Let people mock you, for they often mock themselves and their weaknesses without their knowledge.
Never lie to yourself, and never let yourself down. Always have faith in your inner self.
If you can't understand others' battles, do not make it tough by mocking them.
Each time life pushes you back, breathe till it hurts your lungs. Fill in your emptiness with oxygen. It is free and soothes your nerves better than any medicine.
Best Inspirational Quotes About Life And Struggles
Strength and growth come only through continuous effort and struggle.

– Napoleon Hill
You're imperfect, and you're wired for struggle, but you are worthy of love and belonging

– Brene Brown
The probability that we may fail in the struggle ought not to deter us from the support of a cause we believe to be just.

– Abraham Lincoln
Don't struggle about the struggle. In other words, life's full of ups and downs. So if you're struggling, don't worry, everyone else has or will at some point.

– Sean Covey
What we all need to do is find the wellspring that keeps us going, that gives us the strength and patience to keep up this struggle for a long time.

– Winona LaDuke
Yesterday I dared to struggle. Today I dare to win.

– Bernadette Devlin
I'm not interested in passion and love for their own sake — without the struggle of life, they're just fluff.

– Mira Nair
I'm glad I've had to struggle. It's made me the artist I am now.

– Jessie J
Believe me, the reward is not so great without the struggle.

– Wilma Rudolph
Once all struggle is grasped, miracles are possible.

– Mao Zedong
Famous Quotes About Struggles And Life
Life's struggles are necessary for growth.

– Auliq Ice
Your strength will be found when you stop struggling with yourself, instead of thinking everyone is a struggle worth overcoming. Every obstacle in life is a lesson that teaches us, not others.

– Shannon L. Alder
The triumph can't be had without the struggle.

– Wilma Rudolph
You can't solve anyone else's life for them. But then, if you see someone struggling with a heavy load, isn't it forbidden to walk on without helping them?

– Naomi Alderman
Just because those around you do not constantly tell you what they are going through in their personal life, it does not mean they are living in a fairy tale.

– Auliq Ice
No matter what happens, no matter how far you seem to be away from where you want to be, never stop believing that you will somehow make it.

– Brad Gast
To have striven, to have made the effort, to have been true to certain ideals, this alone is worth the struggle.

– William Osler
A life filled with vicissitudes, uncertainty and hard lessons provides us with skills to better approach new challenges that come along.

– Vivian Eisenecher
Life's battles don't always go to the stronger or faster man. But sooner or later the man who wins, is the man who thinks he can.

– Bruce Lee
The greater the obstacle, the more glory in overcoming it.

– Molière
Difficult roads always lead to beautiful destinations.

– Zig Ziglar
Don't cry to give up, cry to keep going.

– Eric Thomas
If there is no struggle, there is no progress.

– Frederick Douglass
And even though things won't always go your way, I have no doubt that you can overcome.

– Julie Hebert
We don't develop courage by being happy every day. We develop it by surviving difficult times and challenging adversity.

– Barbara De Angelis
We grow because we struggle, we learn and overcome.

– R. C. Allen
Be of good cheer. Do not think of today's failures, but of the success that may come tomorrow. You have set yourself a difficult task, but you will succeed if you persevere; and you will find a joy in overcoming obstacles.

– Helen Keller
In the heart of every struggle lies an opportunity to grow.

– Melanie M. Koulouris
Don't give up in times of difficulty. Persevere on as there will be an end to these.

– Edward Dunedin
Whatever the struggle, continue the climb. It may be only one step to the summit.

– Diane Westlake
The struggle you're in today is developing the strength you need for tomorrow. Don't give up.

– Robert Tew
I have no regrets in my life. I think that everything happens to you for a reason. The hard times that you go through build character, making you a much stronger person.

– Rita Mero
Because some people see a wall, and assume that's the end of their journey. Others see it, and decide it's just the beginning.

– Angeline Trevena
Inspirational Short Quotes On Life Struggle
Life is like photography. You use the negatives to develop.

– Ziad K. Abdelnour
We must accept finite disappointment, but we must never lose infinite hope.

– Martin Luther King
We must meet the challenge rather than wish it were not before us.

– William J. Brennan, Jr.
Problems are not stop signs, they are guidelines.

– Robert Schuller
We must embrace pain and burn it as fuel for our journey.

– Kenji Miyazawa
I am not afraid of storms, for I am learning how to sail my ship.

– Louisa May Alcott
Life is like riding a bicycle. To keep your balance, you must keep moving.

– Albert Einstein
Talent is cheaper than table salt. What separates the talented individual from the successful one is a lot of hard work.

– Stephen King
Hard times always lead to something great.

– Betsey Johnson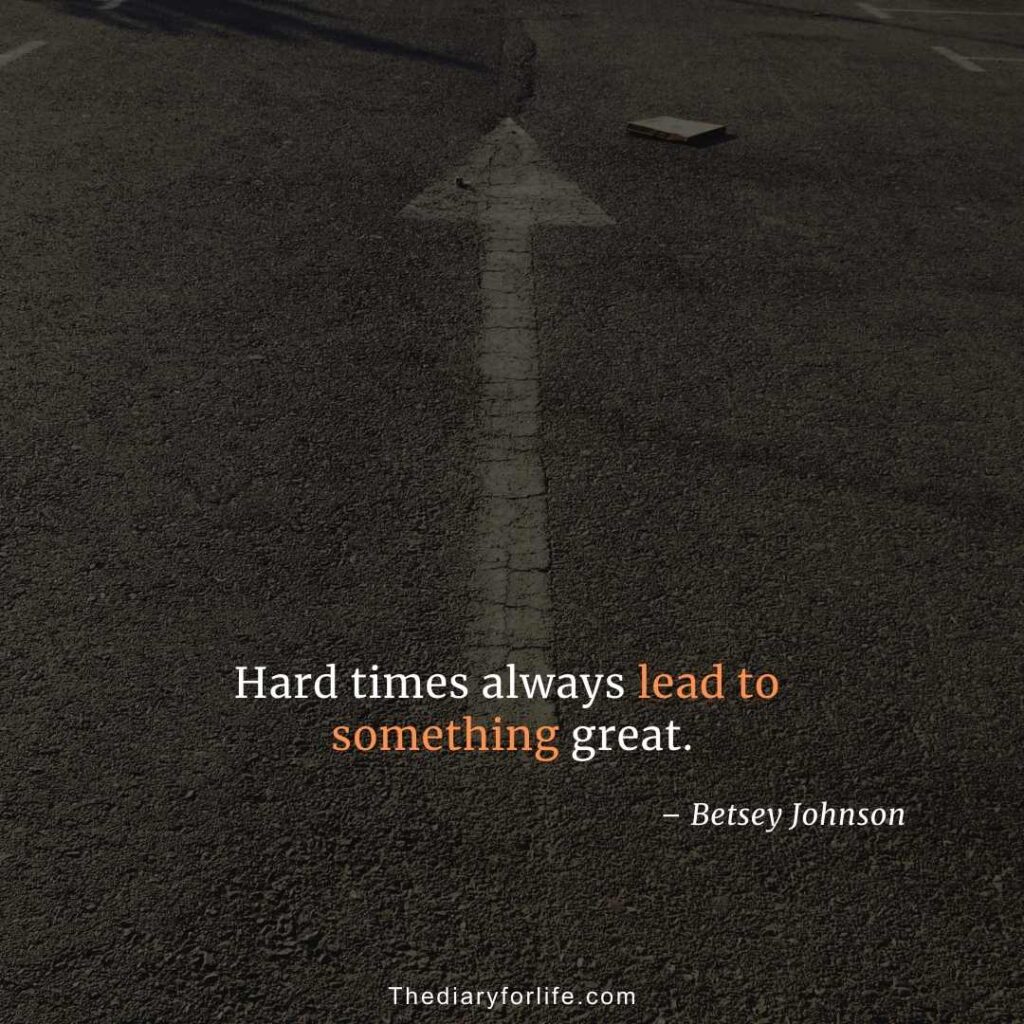 Life keeps throwing me stones. And I keep finding the diamonds…

– Ana Claudia Antunes
When hardships keep coming back, do not take it personal. It's just life.

– Naide P Obiang
Hard times don't create heroes. It is during the hard times when the 'hero' within us is revealed.

– Bob Riley
If you are going through hell, keep going.

– Winston Churchill
The ultimate measure of a man is not where he stands in moments of comfort and convenience, but where he stands at times of challenge and controversy.

– Martin Luther King, Jr.
In the middle of every difficulty lies opportunity.

– Albert Einstein
Inspirational Life struggle Quotes and Sayings
The greatest glory in living lies not in never failing, but in rising every time we fail.

– Nelson Mandela
When the going gets tough, the tough get going.

– Joseph Kennedy
A problem is a chance for you to do your best.

– Duke Ellington
Most of the important things in the world have been accomplished by people who have kept on trying when there seemed to be no hope at all.

– Dale Carnegie
When you come to the end of your rope, tie a knot and hang on.

– Franklin D Roosevelt
It is a blessing to experience hardship. Not because we suffer, but because we learn to endure.

– Saim .A. Cheeda
Thankfully, persistence is a great substitute for talent.

– Steve Martin
Struggle happens when you do something which you don't love.

– Kubra Sait
Life's challenges are not supposed to paralyze you, they're supposed to help you discover who you are.

– Bernice Johnson Reagon
Many of life's failures are people who did not realize how close they were to success when they gave up.

– Thomas Edison
Hard times are like thunder. They make a lot of noise but do little harm. Don't fear hard times.

– Debasish Mridha
Never give up. Things may be hard, but if you quit trying they'll never get better. Stop worrying and start trusting God. It will be worth it.

– Germany Kent
All of life is a test and we all have our challenges to meet.

– Marjory Sheba
More Short Inspirational Quotes About Life And Struggles
Struggle teaches you a lot of things, and I am happy that I witnessed a roller coaster ride. The journey has improved me as a person and made me more mature.

– Manoj Bajpayee
Inside each of us, there is the seed of both good and evil. It's a constant struggle as to which one will win. And one cannot exist without the other.

– Eric Burdon
Where there is no struggle, there is no strength.

– Oprah Winfrey
Struggle is a never ending process. Freedom is never really won, you earn it and win it in every generation.

– Coretta Scott King
The struggle goes on. The victory is in the struggle, for me. And I accepted that a long time ago.

– Al Lewis
Don't let yesterday take up too much of today.

— Will Rodgers
The only person you should strive to be better than is the person you were yesterday.

— Tony Robbins
You may face defeats in your life, but never let yourself feel defeated.

— Maya Angelou
It is during our darkest moments that we must focus on the light.

— Aristotle
If you want to fly give up everything that weighs you down.

— Toni Morrison
Turn your wounds into wisdom.

– Oprah Winfrey
The mind is not a vessel to be filled but a fire to be ignited.

— Plutarch
A smooth sea never made a skilled sailor.

— Franklin D. Roosevelt
The Bottom Line
Life is not easy, but we often complicate it by living in our heads. Everyone has to go through their part of struggles in order to grow and become a better individual.
So, next time when you find yourself struggling, remember these short inspirational quotes about life and struggles, and tell yourself, this too shall pass.
Also read: 70+ Inspirational Quotes About Taking Chances In Life