Best Happy Friendship Day Images With Quotes:
The moment you start feeling home with a person, you are friends already. That smile which gives you a gig is all that you seek for. Who else than a friend could impart this instant and long-lasting feel of happiness and the real content?
International friendship day is celebrated on July 30 every year. However, In some countries like India, friendship day is celebrated on the first Sunday of August.
Here are some best happy friendship day images with quotes. Share these images and quotes with your near and dear ones to cherish your bond with them.
Happy Friendship Day Images With Quotes
My smile turns to laughter just by seeing you.
Every day, just because you are there, a day gets worth it.
Never before did I laugh on absolutely nothing. Never before was I so shameless and happy.
When I see you, I forget everything. I know, everything will either fall in place, or we will make it fall anywhere and have a good laugh.
To all those days that we spent together, I would call a life lived to the fullest.
Without you by my side, I find an entire life going on vain. Even my important tasks are void without your disturbance.
All the nonsense discussions that we had, gave us life lessons. All the important discussions that we skipped, have an interest in them.
I love how we sort out our preferences of discussing things. I doubt if I could ever discuss the things in the way I discuss and share with you.
After sharing my concerns with you, they become fun. After sharing my happiness with you, it becomes a lunatic joke.
I couldn't explain to you enough, what was I missing without you.
Even before I could realize what I wanted a reasonable relationship to be, you explained it with your gestures.
I so enjoy our cat and rat fights that grow our bond stronger each day.
All those little things are lifetime memories now. To be honest, it is difficult to be with a person like you, but you know what is most difficult, to stay away from you.
If there is something beautiful in life, it is only with you.
I always thought, why do we miss our school and college days maybe because we did all the fun like bunking, eating in class, playing for hours, fighting with each other, and whatnot.
I don't actually miss our college, and school days, I miss, remember and cherish the time spent with you. These special moments would have never happened to me if you were not there.
All days in life are not the same. I would have never experienced this without you.
All my days are alike, it is you who make a difference. A significant difference in my life that taught me to live, to stand up again, and to enjoy everything that life is throwing at me.
Whenever something odd happens to me, its discussion with you is weirder and odder. I am grateful to you for all these.
The days when we were not living the stupidity together, I used to act sane. But narrating it back to you made everything appear normal. I simply can't imagine us both behaving like grown-up ones. I wonder how our logic is still on point, every time.
Real friends are rare, but a friend like you is the rarest.

When you count for best friends, you may not consider me.
When you count close friends, you may not consider me.
But when you really need a friend, you can start from me.
Also Read: 11 Heart Touching Quotes About Friendship
Happy Friendship Day Images With Beautiful Quotes
A best friend is the one who knows what's you are going through with just one Glance of you and such friends are the precious gift among all Gifts.
A real friend is one who walks in when the rest of the world walks out.

– Walter Winchell
A friend who understands the reason behind your tears is much more valuable than a lot of friends who only know the reason behind your smile.
Best friends are the people who make you laugh louder, smile brighter and life better.
A true friend is the one who believes that you are a good egg even though he knows that you are slightly cracked.
A friend is someone who understands your past, believes in your future, and accepts you just the way you are.

– Unknown
Don't make friends who are comfortable to be with. Make friends who will force you to lever yourself up.

– Thomas J. Watson
True friendship comes when the silence between two people is comfortable.

– David Tyson
Friendship is the hardest thing in the world to explain. It's not something you learn in school. But if you haven't learned the meaning of friendship, you really haven't learned anything.

– Muhammad Ali
One's friends are that part of the human race with which one can be human.

George Santayana
Be slow to fall into friendship; but when thou art in, continue firm and constant.

Socrates
Let us be grateful to people who make us happy; they are the charming gardeners who make our souls blossom.

Marcel Proust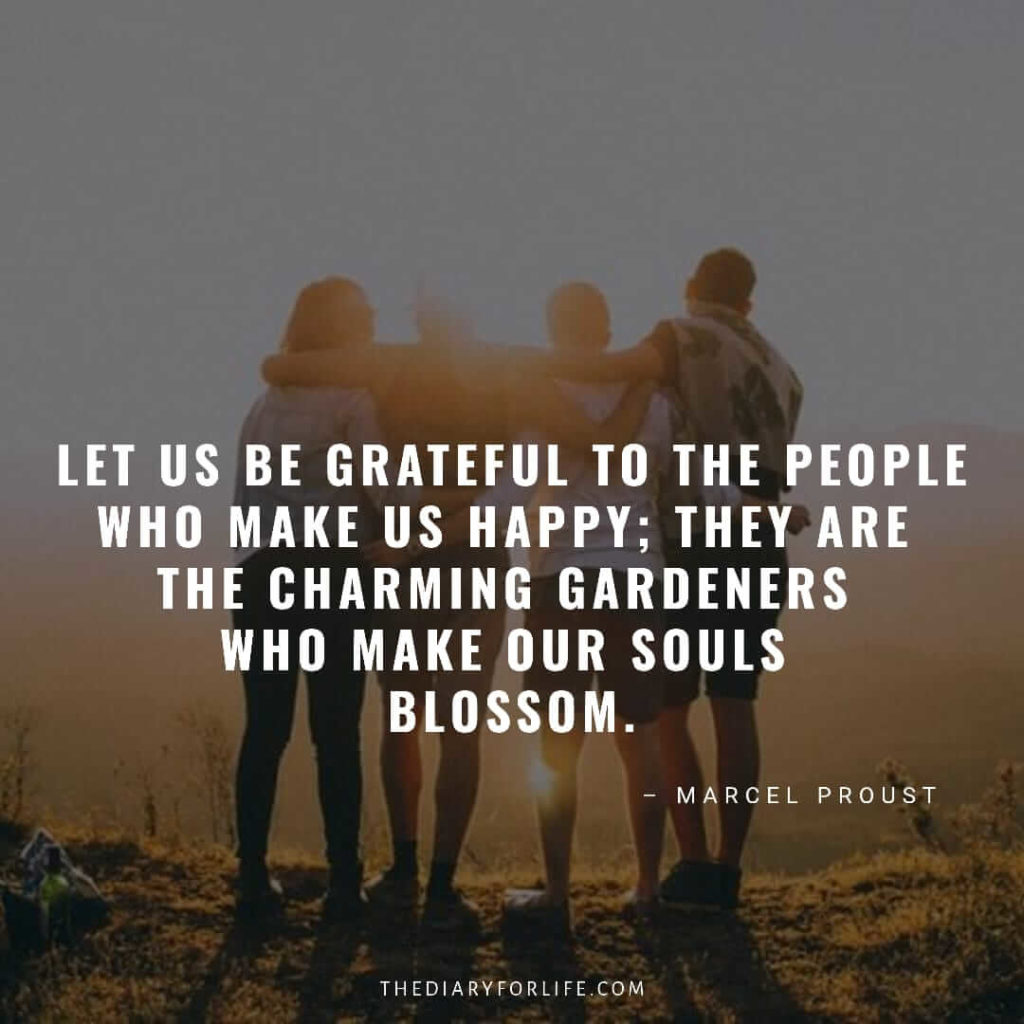 The best time to make friends is before you need them.

– Ethel Barrymore
Truly great friends are hard to find, difficult to leave, and impossible to forget.
There are friends, there is family, and then there are friends that become family.
Good friends are like stars. You don't always see them, but you know they're always there.
On "Friendship Day" we recognize the people we call friends and there is an added incentive to add new friends …..that's the spirit of the day.

– Unknown
Friendship day is the right opportunity to show your friends how much you value your bond with them, don't let this opportunity slip from your hands. Share these happy friendship day images and quotes with your friends now.
Also Read: 50+ Quotes On Ignorance In Love, Friendship And Life