Peace of mind is a spiritual journey that cannot be achieved overnight. The various stress factors around us make us worry more and get restless.
Attaining peace of mind does not mean achieving overnight success. However, it varies from one individual to another.
Are you going through a phase where finding peace of find is a big challenge?
You need to inscribe in your mind these quotations on peace of mind to get relief and energy boost during stressful days. Time to inspire yourself.
Beautiful Quotations on Peace of Mind
The only way to achieve peace of mind is when you listen to your heart.
Nothing external or internal can affect your peace of mind until you allow it.
Success can be measured through a man's happiness and peace of mind.
Hatred and other negative emotions can ruin your peace of mind.
Anger is the ultimate destroyer of peace of mind.
The person who values the soul's health and peace of mind lives the best of the possible lives.
It is important to make peace of mind your priority.
You find your peace when you are at the deepest level, not when you are rearranging the circumstances of life.
Never be in a rush; instead, do everything calmly and quietly. Never lose your inner peace for anything, even if your whole world seems to be crumbling down.
You will never attain peace of mind until you start listening to your heart.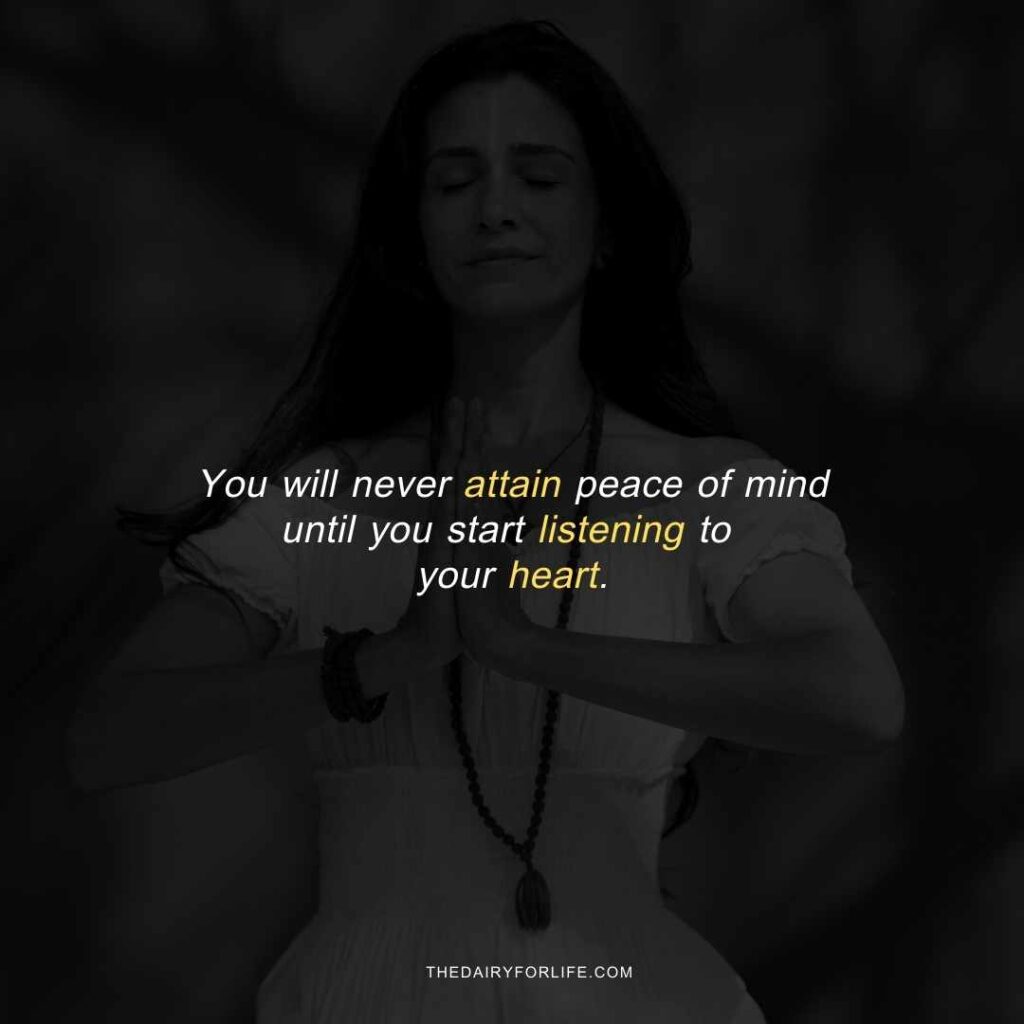 For every minute you remain annoyed and enraged, you are giving up sixty seconds of your peace of mind.
You will attain peace of mind when you forgive rather than seeking revenge.
Quotations On Peace Of Mind That Will Inspire Tranquility
Never let another person's actions ruin your inner peace.
When things inside you change, things around you also endure the change.
Peace of mind, along with love, protects and helps us overcome the problems of life.
The only person that can manifest and bring inner peace is you.
With hate in the heart, one neither finds peace of mind nor enjoys the pleasure and delights.
According to the Mythical law of nature, we crave three things in life – peace of mind, freedom, and happiness.
When you have seen beyond, then may you find that peace of mind is waiting for you.
There is no prize more significant than achieving peace of mind.
The place where you attain peace of mind is your home.
We call it "peace of mind," but have you wondered, maybe, it should be known as "peace from the mind."
Inspiring Quotations On Peace Of Mind
The quotations on peace of mind enlisted below will help inspire you to refrain from activities blocking your peace of mind.
The calmness of the mind is the highest achievement for oneself.
You achieve peace of mind through a go-getter attitude.
Quiet your mind and let your soul do the talking.
No more incredible wealth can replace the luxury of peace of mind.
Inner peace begins when you stop allowing other people to control your life.
Envy prevents you from reaching your peace of mind.
Learning to ignore is one of the biggest and greatest paths to achieve peace of mind.
You achieve your peace of mind not by ignoring mistakes but by solving problems.
The nearer a person comes to achieve a calm mind, the closer they are to strength.
The priority of life is peace of mind, and when you seek it, everything that follows meets the passionate peace.
Buddha Quotes On Peace Of Mind
Do not dwell in the past, do not dream of the future, concentrate the mind on the present moment.

– Buddha
We are shaped by our thoughts; we become what we think. When the mind is pure, joy follows like a shadow that never leaves.

– Buddha
The mind is everything. What you think you become

– Buddha
You cannot travel the path until you have become the path itself.

– Buddha
Peace comes from within. Do not seek it without.

– Buddha
You will not be punished for your anger, you will be punished by your anger.

– Buddha
To conquer oneself is a greater task than conquering others.

– Buddha
No one saves us but ourselves. No one can and no one may. We ourselves must walk the path.

– Buddha
There is nothing so disobedient as an undisciplined mind, and there is nothing so obedient as a disciplined mind.

– Buddha
The only real failure in life is not to be true to the best one knows.

– Buddha
Quotations On Inner Peace Of Mind
Inner harmony can be attained at a deeply satisfying level. These quotes will render you solutions to achieve your inner peace of mind-
Even if your world seems upset, never lose your inner peace for anything.
Stop looking for contentment from others; it's residing within you. Discover it to find ultimate peace.
Sometimes, amid all chaos, you have to calm yourself, breathe, and go on.
Real peace can help you reach heights.
Never cease to remind yourself that positive beliefs are built on the pillars of your inner peace.
Peace of mind starts within your thoughts and slowly extends outward to achieve a peaceful perception of the world.
If you can find peace within yourself first, you don't need to search for it anywhere else.
Inner peace always begins with a smile.
The inner peace of mind is a beautiful feeling; embrace it.
The Bottom Line
Finding your inner peace and achieving tranquillity are the two most significant life accomplishments for anyone. It can be hard to achieve a life of harmony and seek a calm spirit. But not anymore! Always remember these meaningful quotations on peace of mind in difficult times. They can help you render serene thoughts and achieve a state of spiritual peace within yourself.
Also read: 50+ Inspirational Quotes About Progress In Different Aspects Of Life