They say, "A doctor is only as good as his health". We understand what it takes to be a medical professional, doctor, resident, surgeon, or medical student. It doesn't mean only white coats and Stethoscopes.
Every day is long, difficult, demanding and at times is like an unending rollercoaster. But there's a bright side: we're diving into a world of affirmations. In this article, you will find 70 positive affirmations for doctors to increase your confidence and keep you focused throughout every turn and twist.
The Magic of Positive Affirmations For Doctors
Working within the field of medicine isn't a stroll through a rosy garden; and it's a walk through an evergreen forest. It's a marathon of lengthy shifts, complicated cases and emotionally tense roller coasters. Positive affirmations are where they can help.
They're similar to the affirmations you give yourself to yourself in the mirror but with a mystical twist. When you embrace the affirmations, you're not simply making a statement, but you're also rewiring your brain to increase the ability to endure and spark an inner spark of focus and confidence in you.
Positive Affirmations for Doctors
My development is the result of the obstacles I face in my profession.
Each time I face an effort, I am a more experienced healer.
In the pursuit of excellence, I have made some mistakes.
I'm like a bamboo, which is flexible but not breakable.
I am so dedicated only to my passion.
I'm looking forward to being a skilled and compassionate healer.
I listen to my patient's story.
I'm constantly learning through new experiences.
My intuition is more sharp than my morning coffee.
I am a hard-working individual, which I know will pave my path to success.
Every instance can be a learning experience in my rich experiences.
I'm an essential part of my hospital.
Breathe. It is a sign of self-respect.
My commitment to my patients inspires other doctors.
While I am working, I am focused on leaving only a positive effect.
Sometimes I think about the work I do and go, "What a difference I'm making".
I'm as strong as a superhero but as compassionate as a family member.
Resilience is a superpower that doctors have.
The art of learning is a treasure, and I'm currently on an adventure to find it.
I'm rewriting an ideal future for medicine each day.
Positive Affirmations For Physicians
I am a beacon of hope for my patients.
My experience will be my North Star in every decision.
I have a warm heart towards each patient's journey.
My instincts are as accurate as my Stethoscope.
I am an ever-changing encyclopedia of medicine.
Confidence flows through my veins with each heartbeat.
Every physician has a profound impact on countless lives.
I balance my own self-care and caring for patients.
My passion for learning is unmatchable.
My determination is my promise to never quit.
I'm a role model, instilling confidence in everyone around me.
The challenges I face are my playground for creativity and problem-solving.
Self-compassion is my best weapon against burnout.
My presence is a source of comfort for people in need.
Even in the chaos, I'm a beacon of optimism and clarity.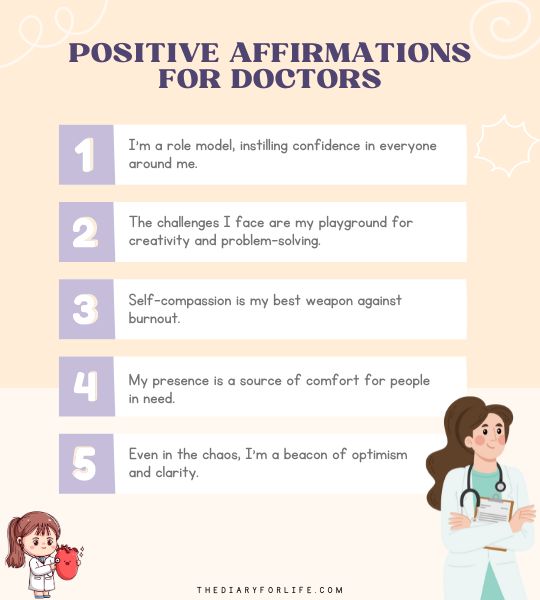 The lives I have changed through my work are my awards.
My strength helps both patients as well as my fellow peers.
A thousand miles begins with my one step.
Each day, my contribution enriches countless lives.
The doctor I'm becoming is someone I am proud of.
Positive Affirmations for Surgeons
I am able to perform surgeries with the utmost precision and with unwavering focus.
When I am in the operating room, my hands are relaxed and confident.
Every surgery offers a chance to become a hero in real life.
My experience is my reliable partner in all of my tasks.
I dance through difficulties and manage them with grace.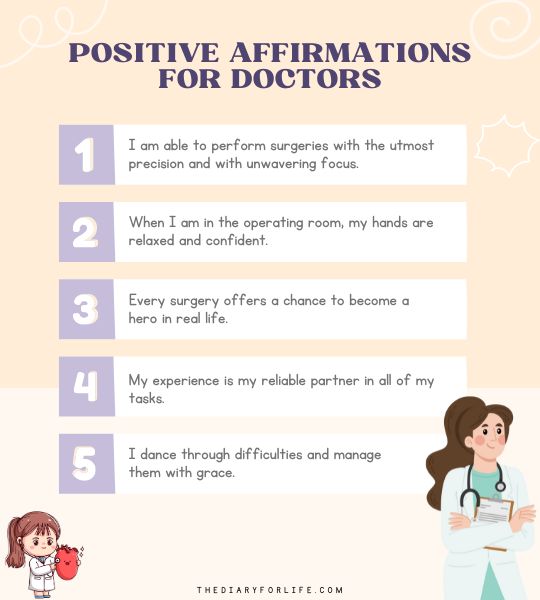 The surgical skills are similar to good wine – they become better with age.
My surgical excellence makes me stand out as a pioneer.
My energy is infectious and inspires my team members to shine.
Every challenge is an opportunity for me to display my capabilities.
My artistic way of expressing healing is through surgery.
I am calm in the chaos of any unexpected twist.
Every person I meet gets a piece of my heart.
I see every surgery as an opportunity to invent.
My downtime is just as important as the time I am up.
The comfort of the OT is a source of confidence for me.
The lives I have changed through my skilful hand are the legacy I leave behind.
The flow of respect and admiration flows easily towards me.
I conduct my surgical orchestra.
I treasure every step on my journey to mastery of surgery.
My work has the power to change lives, one procedure at a time.
Affirmations for Medical Students
The body of mine is a spongy sponge of knowledge from the medical field, and I soak it all in.
Every day, I'm closer to my dream to become a healer.
My drive to learn is driven by my fascination.
My growth spurts are a result of problems encountered on this fantastic excursion.
I am the perfect mix of intelligence and willpower.
The secret to my success is the balance between working hard and taking care of myself.
I'm strong and unshakeable when faced with the inconceivable.
I've demonstrated my dedication to pursuing my dream of being a physician.
I am an investigator, putting together facts to unravel questions.
I am unable to keep my excitement from my impact as a physician in the near future.
The Bottom Line
Consider these 70 positive affirmations for doctors as a daily dose of vitamins for your soul. Make friends with this affirmation through your medical practice. Your passion, dedication and quest for knowledge can change the world. Be strong, focused and committed to the healer in you.
Also read: How To Let Go Of The Past