If the relationship is a tree, positivity is the root of the tree, which makes it stand strong through all storms of negativity and doubts. If a relationship is built on strong positive thoughts, it lasts longer.
Loving and getting love in return is the best feeling in the world. If we love someone with all our heart, we want them to stay with us in all ups and downs of our life.
However, every love story faces a lot of difficulties and challenges. Some love stories stay strong and face challenges, while others fall apart and can't get through difficult situations.
The relationships that stand firm even in the most challenging situations are the ones that are built on positive affirmations and thoughts.
You always need to enlighten your love life with positive affirmations to have a solid and unbreakable bond.
Sometimes, it so happens that we are on cloud nine in our love life; but suddenly, everything starts to fall apart, and our love life gets shattered into pieces. It can be because your relationship may be filled with negative thoughts that keep getting on your nerves and ruin your relationship.
Therefore, every relationship requires positive thoughts and affirmations to stand firm even in the most challenging circumstances.
Positive affirmation is the fuel that keeps your relationship growing with time. It helps your relationship stay young and filled with love forever.
In this article, we will share some of the most powerful positive affirmations for relationships that you can use in your love life to strengthen your relationship. Keep reading to learn some powerful and most effective positive affirmations for relationships.
But, before we discuss the affirmation sentences, we need to know what relationship affirmations are and why they are essential?
What Are Love Affirmations?
Affirmations are those positive sentences or statements that help you achieve your goal in life. With these, you can stay positive, motivated, and focused in different aspects of your life.
Love affirmation statements help you gain inspiration and maintain a healthy relationship with your better half. They make you a better lover and help you gain the attention of your love. Love affirmations also help you stay happier and make your love more comfortable as well. These statements remind you that your love is strong and will stay forever.
Positive affirmations for relationships and love are not only meant to strengthen your relationship with your partner, but these affirmations also help you strengthen your relationship with friends, family, and other people as well.
Below, we have shared a list of some powerful and effective positive affirmations for relationships that will strengthen your relationship. By practising these affirmations regularly, you can get through the dark phases of your relationship.
Powerful Positive Affirmations For Relationship
Here are the most helpful positive affirmations for relationships that you can apply in your love life to strengthen it:
I deserve a long-lasting and loving relationship with my partner.
My partner and I love each other deeply and with all our hearts.
I and my love are in a strong and healthy relationship.
I always find love wherever I go.
My relationship with my love stays strong and young forever.
I love my partner and care for our relationship always and forever.
The love between me and my better half grows healthier and stronger with every passing day.
Love surrounds me; I find it wherever I go.
Everyone around me loves me, and I love them too.
I have got the most caring and loving partner in the world.
Love is the best feeling in the world, and I am grateful for being loved.
The power of love is the greatest in the world, and I have it inside me.
I always attract kind, caring, and loving people into my life.
I always welcome love with a happy face and open arms.
I appreciate and care about all the things and people I have in my life.
My love and I are always loyal to each other.
My partner and I spend quality time with each other and enjoy each other's company.
My partner and I are supportive of each other in every situation.
Our relationship is getting strong and mature each day.
My partner and I feel safe and comfortable when we are around each other.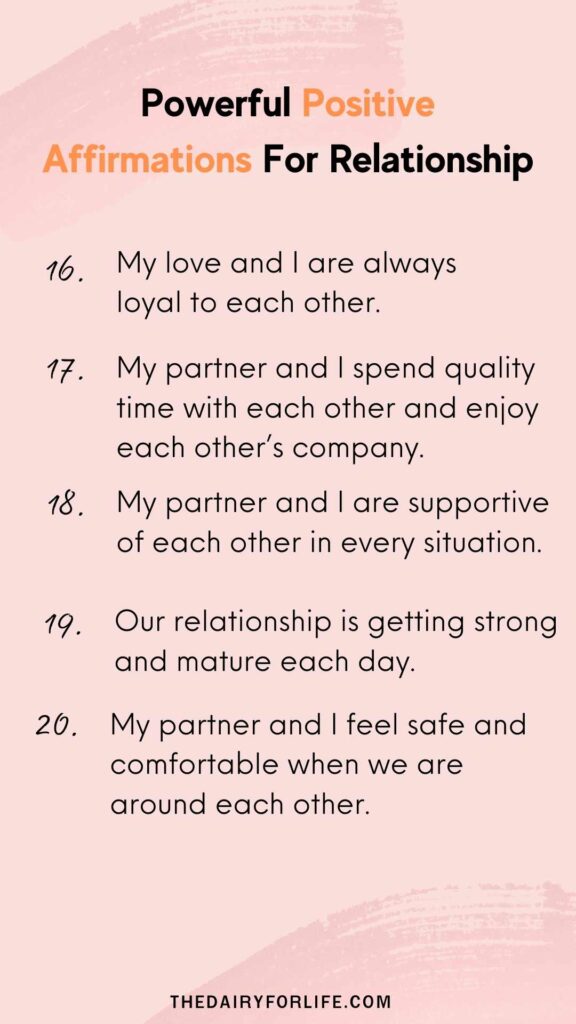 Best Positive Affirmations For Relationships And Love
I find everything in my partner that I have been looking for.
My partner and I make fun and laugh at each other's jokes.
My partner and I share an intimate relationship, and we embrace it.
My partner and I are crazy for each other.
I never let my love down.
My love for my partner is above all the arguments and fights.
I am always ready to receive love and blessings from people around me.
I appreciate and love myself for being a loyal and responsible lover.
I tackle all the challenging situations in life with the support of my partner.
My partner and I are a perfect couple, and we appreciate it wholeheartedly.
I am very grateful to my partner for all he/she does for me.
My partner and I respect each other's privacy.
I truly enjoy my partner's company.
I firmly believe that relationships can be fun and joyful.
My relationship with my partner is trustworthy and harmonious.
Our relationship is built over love, trust, loyalty and respect.
I will spend all my life with my love and live happily forever.
My partner and I communicate every day and share everything.
My partner and I resolve our fights and arguments peacefully.
My partner and I are capable of setting and respecting healthy boundaries in our relationship.
More Positive Affirmations For Love And Relationship
My partner and I are loyal and grateful to each other.
I share my secrents with my partner without worrying.
I make time to identify and fulfil the needs of my partner.
I am worthy of love and deserve to be loved unconditionally.
I express my needs clearly and honestly.
I will always fight for my love.
My partner and I loves and appreciates each other.
I believe in the choices of my partner.
My partner and I act with integrity.
I focus on the positive things in my relationship.
My partner and I respect each other's opinions.
I joyfully give and receive love each day.
My partner is a reflection of me.
I don't focus on things that I can't control in our relationship.
I am in a fantastic relationship with someone who treats me right!
Frequently Asked Questions
Do Affirmations Work For Relationships?
Yes, affirmations do work for relationships; they make relationships grow stronger over time. With affirmations, you will notice that your relationship strengthens with time and improves drastically. You will feel love and affection over time with the help of positive affirmations for relationships and love.
All the aforementioned powerful positive affirmations for relationships can change your view towards love and relationship if practised regularly. It will help if you have faith and belief in the affirmations while saying them to yourself.
Can Affirmations Rewire Your Brain?
Yes, it is scientifically proven that affirmations like prayers and positive statements can rewire the brain on a cellular level. Affirmation statement makes the mind believe the impossible, which is why they are incredible.
However, affirmations only work when you have strong faith and belief in the statements you speak to yourself.
Why Are Affirmations So Powerful?
Affirmation statements are considered powerful as they release people from their fears, negativity, and all kinds of pressure they feel in life. These statements are so powerful that, if repeated again and again can take control of your thoughts and beautifully transform your life.
Affirmations help you deal with negative people and situations with ease. With affirmations, you can stay focused on the positive side of life and achieve your goals.
Wrapping Up
So, above, we discussed some of the most powerful positive affirmations for relationships. These affirmations can help you build a strong relationship with your loved ones.
With these affirmations, you can easily transform yourself into a positive person. You gain all the love from people around you if you practice these affirmations regularly. However, you can modify these affirmations as per your requirements. But, you need to have a strong belief in yourself and these affirmation statements to see results.
You can repeat the affirmations any time during the day for 10-12 minutes for a better and healthier relationship. You can also share these affirmations with your near and dear ones to help them build stronger relationships.
Also read: 71 Powerful Affirmations For Self Love