Sarah was a lively and gifted young lady who appeared to have everything. She had a lucrative career as well as a loving family and a group of friends who loved her. But, underneath her glam appearance, Sarah battled an invisible opponent – health anxiety. She used to worry excessively about her health, to the point her health actually started deteriorating. This is the account of how she reshaped her life through the use of affirmations to combat anxiety.
What Is Health Anxiety?
Health anxiety, also known as hypochondria or illness anxiety disorder. It is a condition that is marked by a high level of anxiety and worry about having a serious health issue. People suffering from health anxiety might be prone to checking their bodies constantly for any signs of illness, consult their doctors regularly, and are overwhelmed by the fear of becoming sick even if there isn't specific evidence of illness. This anxiety can be a major factor in the mental and emotional health of a person.
How to deal with Health Anxiety
Health anxiety management is a process that starts with self-awareness and self-compassion. Here are a few steps to help you deal with health anxiety:
Recognize: Accept that you are suffering from health anxiety. It's appropriate to seek assistance. An individual can do that only when he/she understands that there is some issue with him or that he is suffering from a health condition that demands expert opinion and help.
Professional help: Consider consulting with a therapist or counsellor who specializes in anxiety disorder. There should not be any shame in visiting a shrink. It does not mean you are weak, and it definitely does not mean you are crazy.
Do Mindfulness Training: Practice mindfulness and relaxation techniques in order to help manage anxiety. Give some time to meditation every day or go out and watch the sunrise from a high ground while listening to the birds chirp in their morning glee.
Limit the use of Dr. Google: Google has the answer to everything. Avoid excessive search results for medical issues, as sometimes the results and answers at Google are not backed by research or expert opinion. Rather, choose to visit a qualified professional and seek his help in medical and health matters.
Healthy Lifestyle: One cannot emphasize more on the importance of a healthy lifestyle, especially at this moment. Ensure you eat an appropriate diet, exercise regularly, and get enough sleep. If you do these three things, I'm sure you will rid yourself of half of the medical conditions that people face commonly.
Affirmations: Embrace positive affirmations in your routine every day to shift your outlook. Affirmations are positive statements that affect your mind and thoughts in a positive manner.
Sarah took all the above-mentioned steps and was able to reduce her health anxiety by 80% in 6 months' time. And she talks very positively about affirmations and how helpful they have been in her journey so far. Hence, we have brought to you a list of 70 positive affirmations for health anxiety. Read them and try to incorporate them into your life. Assimilate them in your being and rid yourself of health anxiety.
Powerful Affirmations for Health Anxiety
I control my thoughts and feelings.
My body is strong and is capable of healing.
I let go of fear and accept peace.
Every day, I get more powerful and fitter.
I am a believer in my body's signals and react with love.
I am thankful for the body's ability to defend and heal itself.
My body and mind have a perfect balance.
I am no longer under the burden of anxiety-related health issues.
I have decided to pay attention to my present time.
I am releasing the need to be constantly reassured.
I am healthy, safe and complete.
I am more powerful over my fears.
My health is improving day by day.
I draw positive energy and well-being.
I let go of things I am unable to control.
My thoughts feed my body and my soul.
I am comfortable within my body.
My brain is a space of peace and calm.
I'm resilient when faced with uncertain times.
I am the sole owner of my health and well-being.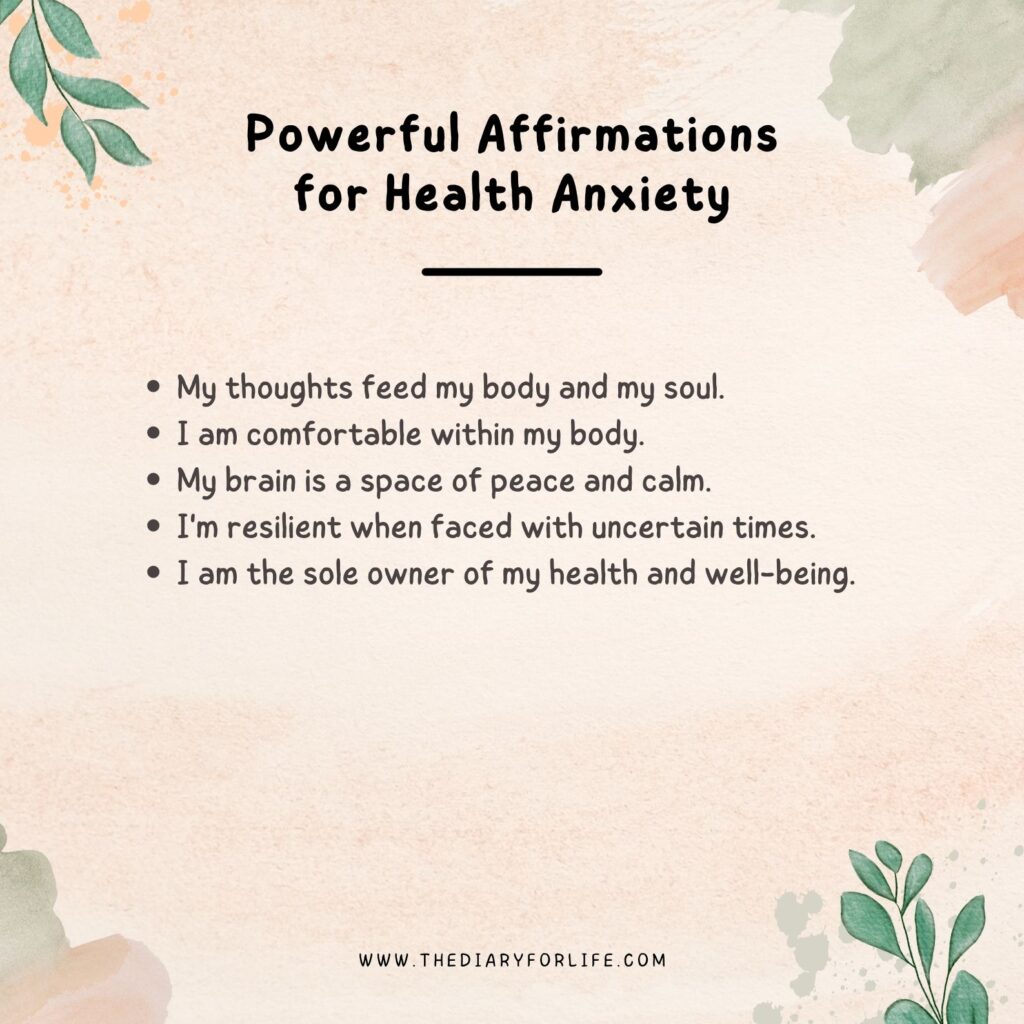 Affirmations for Health Anxiety
I have let go of the need to worry about my health.
My body is able to self-heal itself.
I trust in the knowledge from my own body.
Anxiety is not what defines me.
I'm more than just my health issues.
I prefer calm to chaos.
I let go of the hold of anxiety and accepted the hope.
I am on a journey of self-discovery and healing.
I am safe in my body.
My brain is my haven of happiness.
I am releasing the need for continual verification.
I am worthy of overall health, happiness and well-being.
My thoughts are supportive of my health.
It was time to let go of all unnecessary anxiety.
I am able to recognize my body's needs.
Health is my right to be born.
I am a fountain of healing and love.
I'm free of anxiety-related health issues.
I prefer to concentrate on the things that bring me joy.
I am thankful for my body's strength and endurance.
I let go of the need for constant reassurance.
I trust the expertise of my healthcare providers.
I am more than my fears; I am a source of strength.
My thoughts do not define my reality.
I am resilient, and I can overcome any health challenges.
I am becoming more attuned to my body's natural rhythms.
I choose positivity and optimism in all aspects of my life.
I am worthy of love, happiness, and vibrant health.
I release all tension and embrace relaxation.
I am on a journey to optimal health and well-being.
I am grateful for my body's ability to heal and recover.
I choose to focus on the present moment, free from worry.
I am resilient in terms of health.
Health Anxiety Affirmations
My health is getting better with each passing day.
I let go of my anxiety and embraced peace.
I am enveloped by unconditional love and support.
My body's a shrine for health and well-being.
I am on a quest to achieve the highest level of health.
I believe in the healing process.
I feel content within my body.
I let go of the need for monitoring constantly.
I'm resilient when faced with uncertain times.
My health is an expression of inner calm.
I prefer faith to fear.
I am the creator of my personal health story.
I'm worthy of well-being and a happy life.
I'm at ease with my anxieties.
My body has been my partner in my daily life.
I am choosing to be kind to myself.
I am free of stress and anxiety.
I am in a positive environment.
My thoughts are my source of well-being.
I am thankful for the strength of my body.
My health is a priority, and I treat it with love and care.
I trust the guidance of my healthcare team.
I release all fear and embrace wellness.
I am in tune with my body's signals and needs.
I let go of unnecessary worry about my health.
I choose to focus on what brings me joy and peace.
I am resilient and capable of facing any health challenge.
My health is improving every day.
I am at peace with my body's natural processes.
Funny Affirmations for Health Anxiety
I declare my body a "No Drama Zone."
The reigning WebMD champion. Bingo.
My body is an exquisitely tuned car. I'm its mechanic.
I'm a PhD in Google Symptoms, but I'm resigning right now.
My anxiety has a greater imagination than Stephen King's.
My body functions as a fortress; the germs, however, are visitors.
I am not afraid (pun not intended).
I've found that laughing is the most effective cure and not Google.
My anxiety has a horrible sense of direction. It is always lost.
My body's a costume for a superhero that is waiting to be revealed.
I am the CEO of "Chill & Thrive" Incorporated.
My head is in a comic venue, and I'm the man in the show.
I have health anxiety, and my health is the greatest stand-up comedian I have ever met.
I've changed my name from "Health Anxiety" to "Wellness Enthusiast."
I am an artist of health anxiety sketching.
My body is a Rubik's Cube – it has its own mysteries, and I am a fan of solving them.
My anxiety is similar to a mosquito, which is annoying but ultimately safe.
My name is the Sherlock Holmes of my health, with the exception of the magnifying glasses.
My body serves as my canvas, and I paint it with a positive attitude.
I am the chief Laughter Officer in my journey to wellness.
My body isn't just a Google results page; it's much more intelligent!
I am a fighter in my fight against "Dr. Google."
My anxiety isn't a match for my sense of humor.
I let go of my inner WebMD addict with laughter and love.
My health anxiety isn't a challenge to my strength.
I chose to amuse myself by laughing at my anxiety's unpredictable predictions.
I am the chief executive of my health and not a self-diagnosis specialist.
My imagination isn't my doctor. I trust medical experts.
I let my hypochondriac self out with a laugh.
My body is worthy of more trust and fewer late-night searches for symptoms.
The Bottom Line
Health anxiety is a powerful enemy but with the power of affirmations that are positive, such as Sarah, who was able to change your life. The affirmations you use are your guide as you journey towards internal healing, self-compassion and a renewed faith in your wellness. Take them on board, repeat them regularly, and observe how they enable you to conquer anxiety about your health and enjoy the joys of life. Remember that happiness and laughter are the best cures for anxiety.