Change is the only constant in every individual's life, and the desire to change the mundane world seems too grandiose and insurmountable.
Even a small transient thought of self-doubt and self-distrust can crash your dreams to bring a valuable change in the world.
This article presents you with some beautiful words of wisdom and quotes about being true to yourself that will make a difference and change the way you think about yourself.
These quotes might inspire you and mold you to move on and accept you as a better version of yourself.
Inspirational Quotes About Being True To Yourself
Be passionate about yourself, do not sacrifice anything, and have fun. Always remember to remain true and real to yourself.
Whatever happens and whatever you do, never let anybody talk about the way you are and look, ever.
Always remember to be true to yourself as life is just too beautiful by what we choose to live with.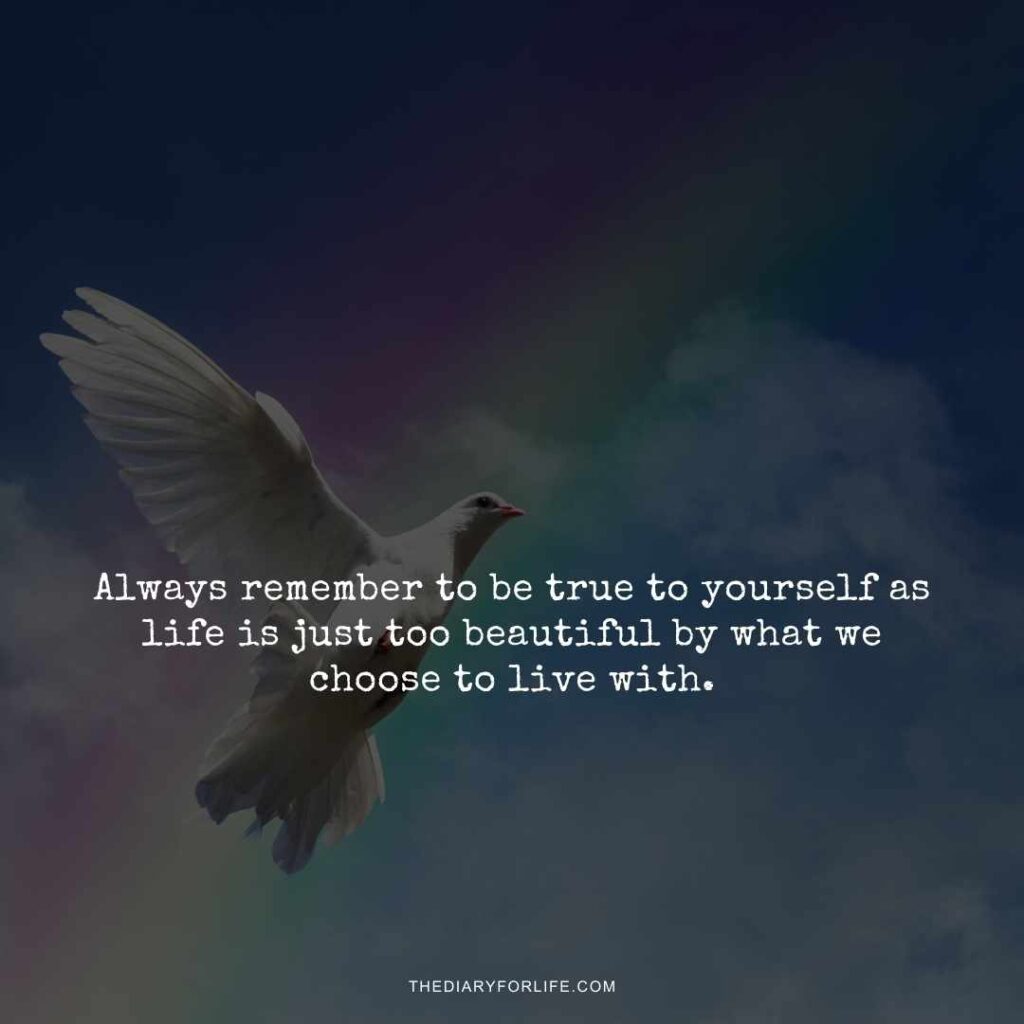 Listen to yourself. Know what you want to be, and always be true about what you do.
It takes immense courage to be honest and true to yourself.
Always remember that your ideal life is the reality. Therefore, be true to yourself and honor your preferences.
Always stay true to yourself as you are the only one who matters the most.
Be true enough to reveal your unique feelings, beauty, and perceptions about yourself.
Everything will fall in place when we remain true to ourselves.
Kind Quotes About Being True To Yourself
It may seem hard, but great people throughout history have struggled to find their identities, too. Here are a few quotes that will help you remain kind to yourself
Stay true to yourself and never let anyone rob you of yourself.
Be yourself as everyone around you is already taken.
Remember to follow your inner moonlight to shine with brightness and refrain from hiding the madness.
To remain true to yourself in a world that keeps trying to change you constantly is a great and brave accomplishment.
Say what you feel and be who you are because those who mind your presence don't matter, and those who matter never mind.
Being true to yourself in a constantly changing world trying to make you something else is the greatest accomplishment in life.
Be yourself but also be your best and a better self.
Always be yourself as at the end of the day, that's all you've got.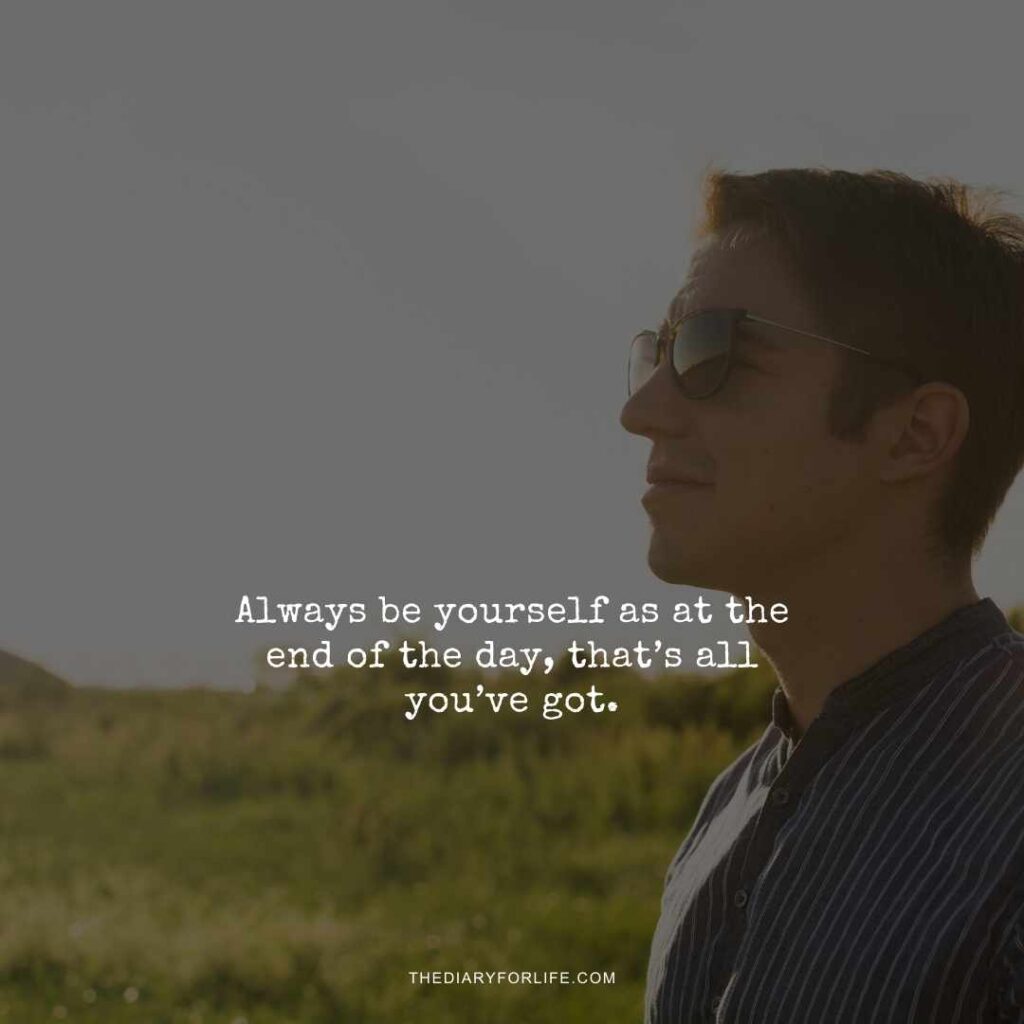 Always remember that you are the only person you've got, so always remain true to yourself.
Just be yourself and remember no one is better than you.
To shine the brightest light and remain as the brightest star, you need who you truly are.
All you need to be true to yourself and be courageous and be with full confidence.
Never be bothered about what others tell you, be yourself, say what you want to say with reverence and respect.
To be yourself is to be original because there is no one like you.
You can change yourself by just being yourself.
Best Quotes About Being True To Yourself
No matter how far you run away from yourself, there is always a path that leads you right back.
You don't need permission to be yourself. The universe has already permitted you.
Be yourself, be unique, not the person someone else wants you to be.
Being yourself is all it takes to impress someone.
Do not let another person define you to be who you indeed are.
The reward for conformity is that every other individual acknowledges and likes you but yourself.
By being yourself, you become a better version of yourself.
By being true to yourself, you give something beautiful and rare to the world that never existed before.
It is better to be loathed and detested for the person you are than to be loved and admired for the person you are not.
As simple as it sounds, if you just remain true to yourself, you're different from anyone else.
Famous quotes About Being True to Yourself
Be yourself, don't take anything from anyone, and never let them take you alive.

– Gerard Way
Be who you are and say what you feel, because those who mind don't matter, and those who matter don't mind.

– Bernard M. Maruch

Follow your inner moonlight; don't hide the madness.

– Allen Ginsberg

You cannot change what you are, only what you do.

– Philip Pullman
You are you. Now, isn't that pleasant?

– Dr. Seuss
I will not let anyone walk through my mind with their dirty feet.

– Mahatma Gandhi
Find out who you are and do it on purpose.

– Dolly Parton
It is better to be hated for what you are than to be loved for something you are not.

– Andre Gide
More Quotes About Being True To Yourself And Others
Always be yourself, express yourself, have faith in yourself, do not go out and look for a successful personality and duplicate it.

– Bruce Lee
The secret to success is to be true to yourself.

-S Sreeasant
Accept no one's definition of your life, but define yourself.

– Harvey Fierstein
Our time is limited, so don't waste it living someone else's life.

– Steve Jobs
No one ever made a difference by being like everyone else.

– Buckminster Fuller
Don't let other people decide who you are.

– Bob Goff
I pay no attention whatsoever to anybody's praise or blame. I simply follow my own feelings.

– Wolfgang Amadeus Mozart
The Bottom Line
There are multiple reasons why people try to hide their identity or hide the truths about themselves.
However, when you are not yourself, you end up draining your heart, mind, and soul. Never let anyone else influence you, and learn to stand strong and be true to yourself.
We hope that these Quotes About Being True To Yourself help or inspire you to be true and real about yourself.
Also read: 30 Motivational Quotes About Keeping Your Head Up And Staying Strong