It is not easy to let go of old friends, especially since they are the same people you have known for years. But some feelings and pursuits immediately lead to resentment, accusations, and indifference.
People often forget what friendship really is, and when they think that they have a genuine friend, they end up hurting one of them because they don't change their priorities or can't picture a life without their friend in it.
It takes time to build everything you need in your life so that friendship becomes no longer important to you.
It is essential to understand that there is always a cost to pay for everything in life. Life changes, even if we want it or not. The best way is to accept the change and move on with it.
In the memories of such friendship, here are some quotes about losing friends and moving on.
These quotes will definitely bring back all the memories and will make you realize how far you have come in your life. So here are the top quotes about lost friendships and moving on.
Quotes About Losing Friends And Moving On In Life
Memories of friendship will always have a special place in your heart. The best thing you can do is to smile and let it go.
Don't think goodbyes are the last meets. It is always the last frame of your face that will be printed in my memories. Make sure you smile and not cry for that frame.
When life throws different things at me, I realized it was my friends that taught me to smile in every situation.
Maturity is when you realize being apart and still being best friends can be possible.
If you are the person that was with me in my worst time. Then no matter where you are, there will always be a string attached to you.
Our friendship was more beautiful when we decided to let each other go.
Even if you are not with me, I still wish all the success and happiness for you. After all, we were best of friends at a time. No matter what, I cannot hate you.
I meet many people daily, and I forget many people daily, but there is something about you that will remain with me forever. Maybe that is the power of friendship.
When I think of all the stuff we did together, there is always a smile on my face. That is enough to prove worthy of our friendship.
It felt like a huge burden when I lost my friends over the course of time, but then I realized it was not only me. Everyone has experienced this in their life. It is as natural as death, sad but inevitable.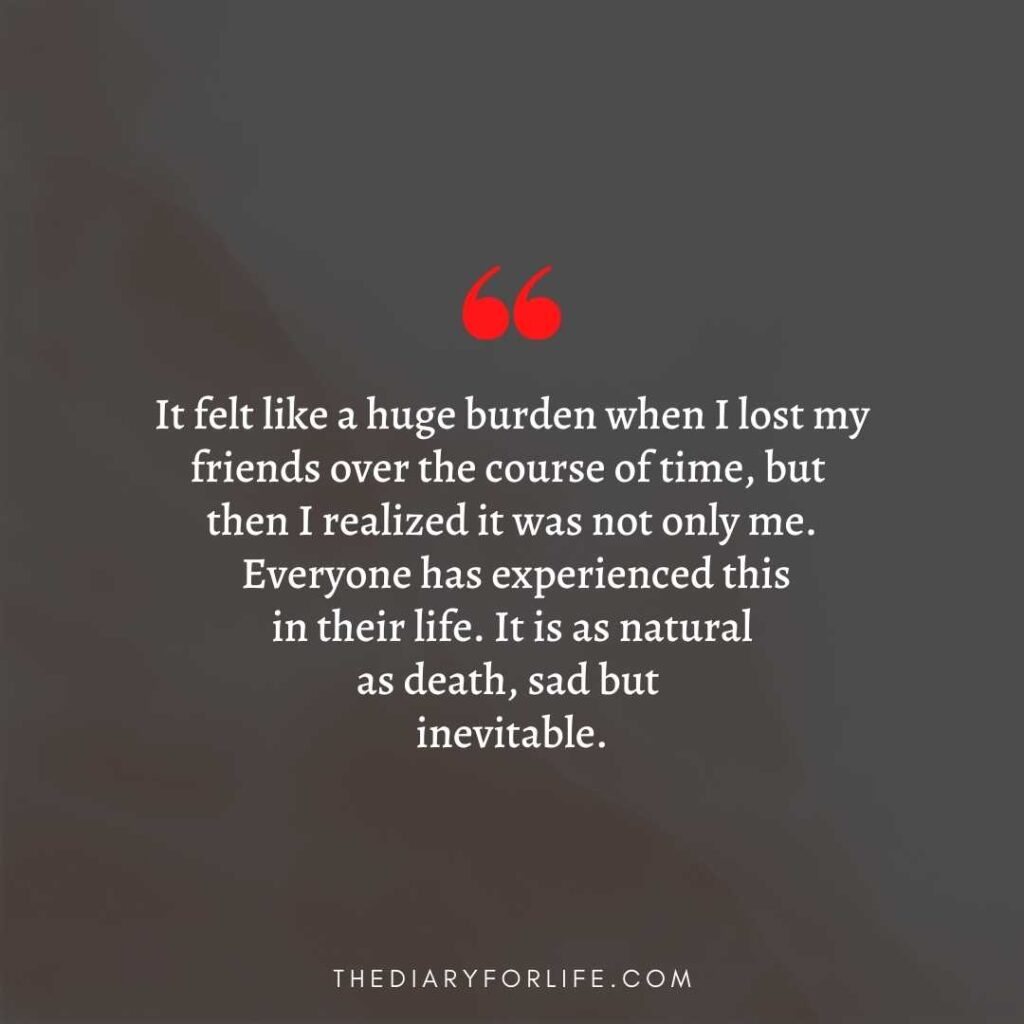 Quotes About Lost Friendships For The Fade Away Friends
With time, it was hard for us to be in touch and give some space at the same time.
The only person who made me smile is the only reason why I have tears in my eyes today.
Despite knowing every single thing about each other in college, we are still strangers after a few years of job.
It was easy to let you go. It was hard to actually live without you.
The reason why I am still suffering is because I still care.
Sometimes, I wonder whether you cared about me or just needed my help.
I was looking for growth, but not at the cost of our friendship.
One of the biggest mistakes is that you let go of a person who knows you more than you know yourself.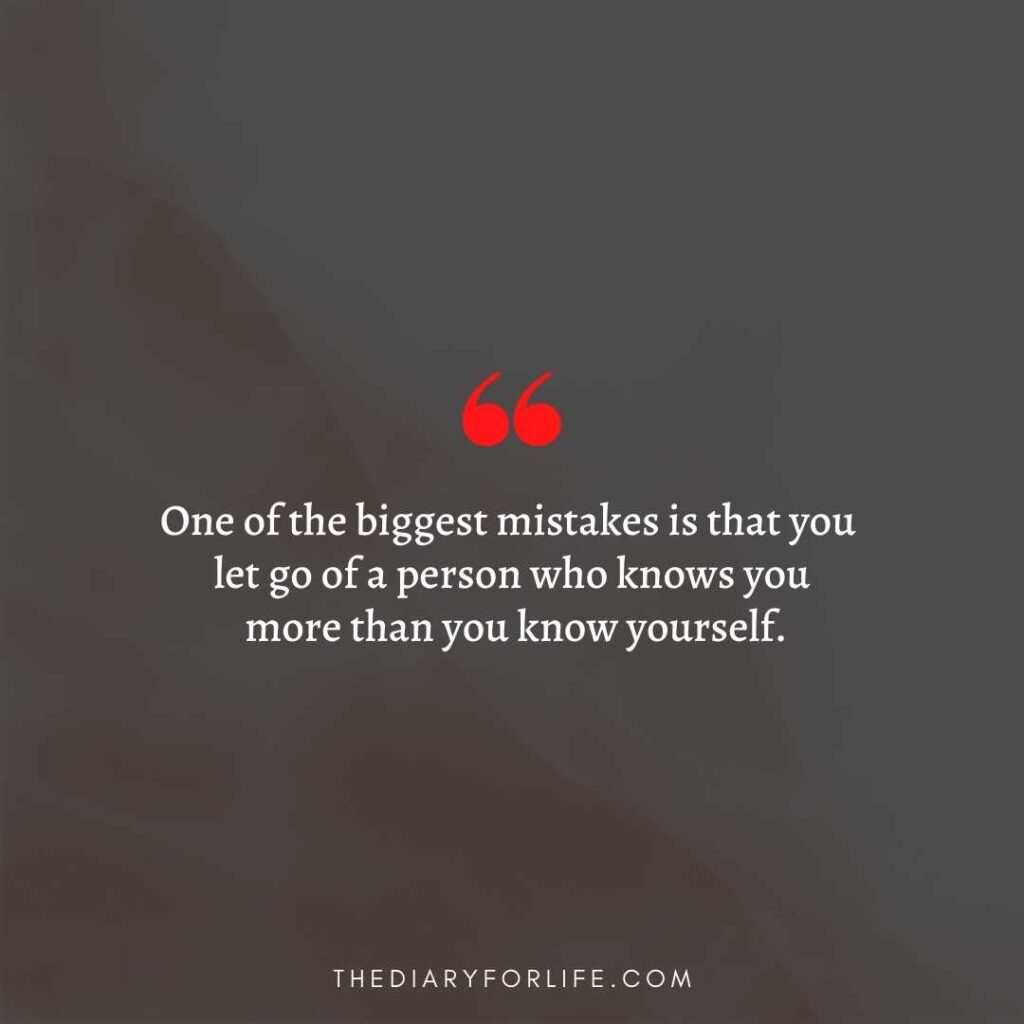 The pain of being apart from my friends is equal to cutting a piece of my body.
The promise of meeting again after college was fulfilled at the funeral.
Quotes About Lost Friendships And Moving On
I still have all those photos of our last day at school and our crazy memories, but I don't have you alongside me to give a high five.
The best part of our friendship was that we never worried about anything when we were together.
We were born to be best friends, but we just couldn't hold on long enough.
Our friendship did its best, but time and the situation changed us both.
It is very important to say goodbye. Those last memories of us together are going to stay with me for a lifetime.
We planned everything together, but we failed to plan what to do when we were not together.
I was always the last person in our friends' group. Even now, I am the last one to give up on our friendship.
There are no words in any language to describe a man who has lost his friends.
Our friendship was strong enough to take insults daily but wasn't strong enough to carry the silence for years.
We secured a place in the heart of each other. We couldn't secure a place in each other's lives.
Best Quotes On Memories Of Friendship
I always underestimated the friends that I had; until you lose someone, you will never know their importance.
Moving on is easy for me. Leaving you behind is what makes me think.
Now I think the only problem with you being my best friend is that one day I have to lose you.
You will be my best friend even if you are dead because you are far better than people alive around me.
I went to the tea stall near our college after a couple of years, even today that man asked me about you. That sums up my college life. Our friendship was our identity.
I still share all the things we did in our college with my children, and now my children want a friend like you.
We said, "we are going to hell" after every mischief we did, now I request you don't go there before me.
I will let you deceive me, but I will never allow myself to distrust you.
Either we will die as best friends, or we will live long enough to see our children being best friends.
I still drink half a cup of tea; the other half is meant for you.
Famous Quotes About Losing Friends And Moving On
Life without a friend is like death without a witness.

– John Ray
This passion, and the death of a dear friend, would go near to make a man look sad.

– William Shakespeare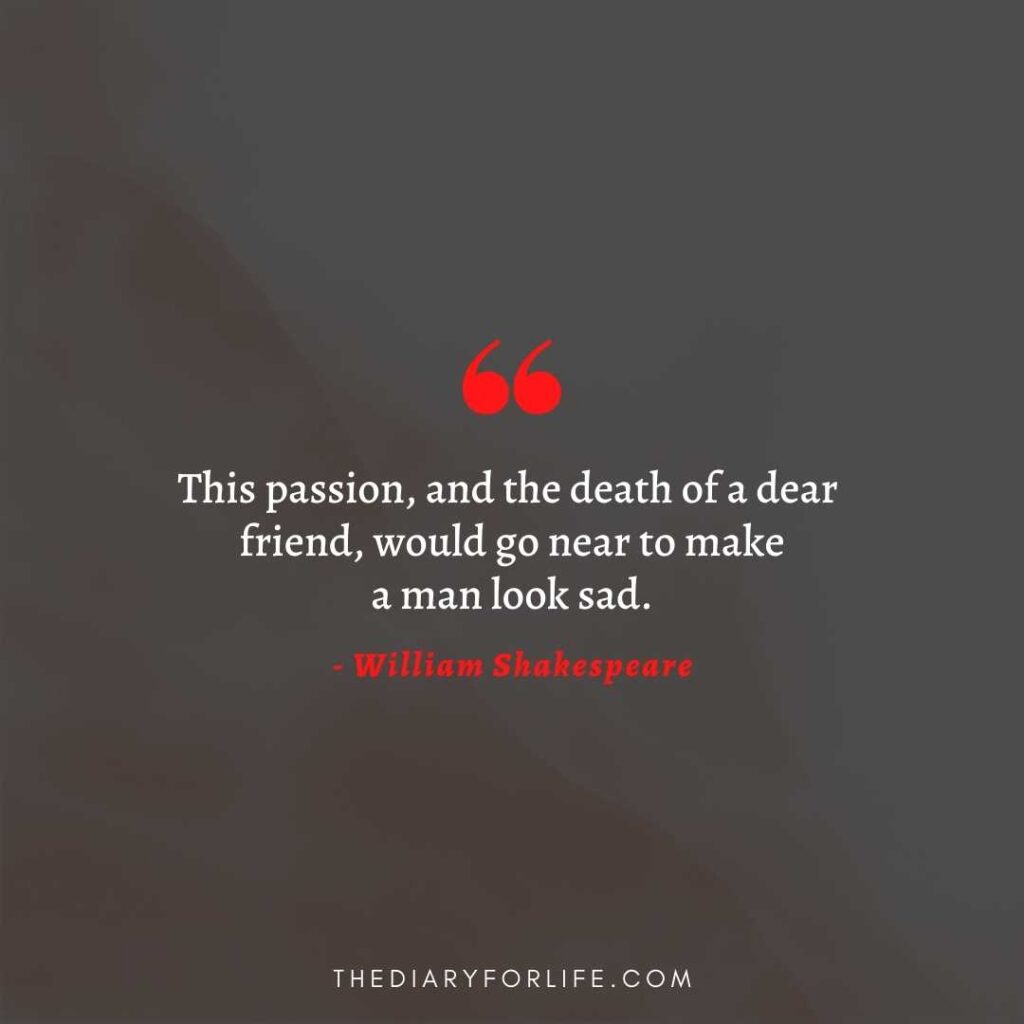 The loss of a friend is like that of a limb; time may heal the anguish of the wound, but the loss cannot be repaired.

– Robert Southey
I don't think of all the misery, but of all the beauty that remains.

– Anne Frank
While we are mourning the loss of our friend, others are rejoicing to meet him behind the veil.

– John Taylor
Every deceased friend is a magnet drawing us into another world.

– Eliza Cook
When a close friend unexpectedly leaves us, a piece of our heart is forever broken.

– Chris Lumpkin
Be grateful every second of every day that you get to spend with the people you love. Life is so very precious.

– Mandy Hale
Quotes About Losing A Best Friend And Moving On
I love you every day. And now I will miss you every day.

– Mitch Albom
His death brings new experience to my life – that of a wound that will not heal.

– Ernst Jünger
Your lost friends are not dead, but gone before, advanced a stage or two upon that road which you must travel in the steps they trod.

– Aristophanes
What we have once enjoyed deeply we can never lose. For all that we love deeply becomes a part of us.

– Helen Keller
The way to love anything is to realize that it may be lost.

– G. K. Chesterton
Losing people you love affects you. It is buried inside of you and becomes this big, deep hole of ache. It doesn't magically go away, even when you stop officially mourning.

– Carrie Jones
But fate ordains that dearest friends must part.

– Edward Young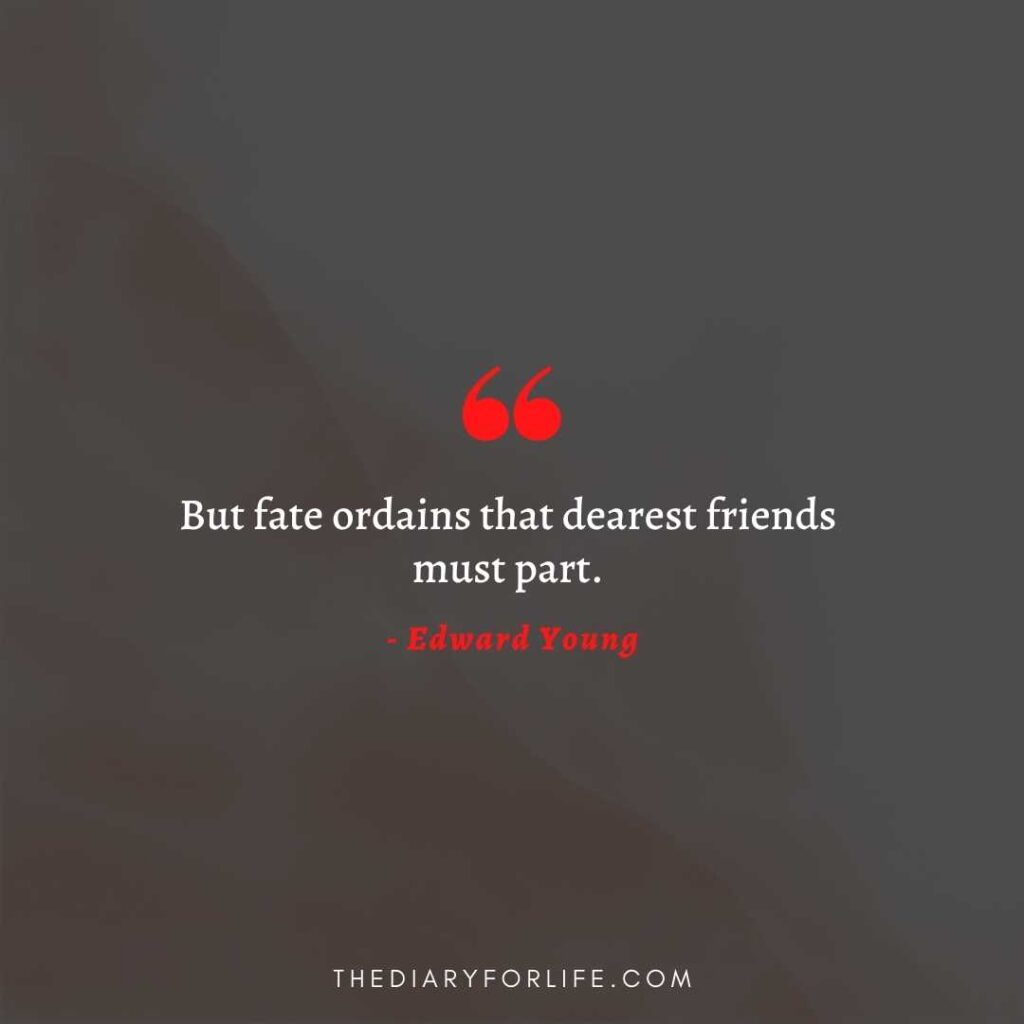 The Bottom Line
Friendship is among the most important things that we have in this world. The love and support that we receive from our friends are priceless.
They are there for us, support us when we are at our worst, stand by us during the tough times, and are selfless in their support.
The sorrow of losing someone important and dear to us can't be overemphasized. How do we cope with the pain that the loss of a loved one can lead to?
That's where these quotes about losing friends and moving on can aid. The thoughts of others sharing their pain and sorrow over the loss of the dearest one can help you clarify your own confusion.
Also read: 50+ Wise And Meaningful Quotes About Circle Of Friends Everyone Must Read