It is said that the mind has no shape, no form, and is something that carries a lot of depth. It can create and destroy without even creating or destroying. As weird as it sounds, the mind has countless abilities and the power to change the world.
For that, you have to channel your thoughts into words and actions. Communication is the key to the development and sharing of knowledge. Speaking your mind is something that you do to clear up or share your thoughts.
The real voice of the mind is never cruel or evil. It is the most righteous and gentle. It is we who suppress the real voice of our mind and sometimes try to hide the truth from ourselves.
What does it do? For you, it will clarify a lot of things, and for others, it will help to understand who you truly are!
To help you understand it, here are some beautiful quotes about speaking your mind and being truthful.
Quotes About Speaking Your Mind
The minds of everyone are complexly connected. If you speak from yours, the other mind will hear it.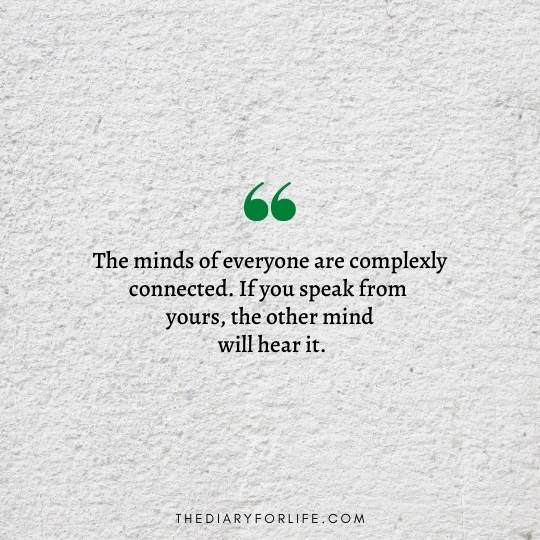 When your mind tells you the truth, say it; keeping quiet is nothing but lying to yourself.
What makes us unique are our thoughts. Do not hesitate to speak your mind.
If you want to have a good time with someone, ask them to speak their mind and heart.
Use the right choice of words to sound less like an idiot while speaking your mind.
Negative emotions coagulate and choke up the flow, speaking them out to keep the thoughts flowing.
Always listen to the voice of your mind that speaks the truth, no matter how low the voice is.
Your mind is your property. You own the right to control it, don't let anyone tell you what your mind says.
If you are one of the very few who speak the truth, you're more developed than the ones who don't because truth never changes, and we should accept it.
Speak out your mind because if you don't, your expressions will reveal that your words are fake.
Always Speak Your Mind Quotes
Your mouth is the gate to your mind; make sure the things that pass through are useful and positive.
Truth from a shaky voice is much more important than a confident lie.
The best way to shut up a liar is to tell the truth.
A healthy mind has a loud voice of truth. A curing mind at least starts to notice the voice of truth.
The truth might be ugly, but the willingness to be truthful is not.
If you find any friend to be truthful, no matter how ugly, how sad, and how painful the truth is, hold him closer than anything else. In this fake world, truthful friends are rare.
The one who speaks and has the guts to face the truth is invincible.
The one who masters the art of telling the truth with love can conquer the world.
Manipulating the truth for personal gains is a toxic trait.
When 2 people who speak the truth no matter what also have the understanding of accepting the truth, the conversation goes beyond normal.
Speak Your Heart Out Quotes
A person who speaks the truth might be bitter about having it, but if that truth is useful to improve you, it's like a sweet aftertaste.
The best communication happens when your tongue talks about what your heart wants.
When the truth is spoken, the words are like an arrow, they might not have momentum, but it is enough to kill the lie.
Speak the truth, and if someone doesn't like it, it's the wrong person to talk to.
Apologizing for telling the truth is silly, don't do it.
Everyone talks about what the listener wants to hear, but very few seek and speak for truth.
The pain caused by speaking truth fades after a time, but the guilt caused by speaking lies remains for a lifetime.
Confidence is to speak the truth without trembling.
Speak Out Your Mind Quotes
Trust is built on the basis of truth, and for that, you have to speak the truth.
The ones who speak the truth save the time and energy that is required to frame the lies.
Once you start to speak the truth, you start to incorporate that truth into your actions.
Speak your mind out, and the truth will either draw strong minds near you or will offend the weak ones.
Talk to yourself once in a while; how do you expect to speak your mind to anyone else if you don't speak true to yourself?
Sometimes all that is needed is to open up and speak your mind.
A mind is a beautiful place, don't store things in there, and speak it out.
Speak My Mind Quotes
Speak your heart, and don't expect everyone to understand it. It wasn't for the ones who won't understand it anyways.
Surround yourself with the people who value you and speak the truth.
Life is a long walk, don't carry excess luggage of lies. Speak out the truth, speak what your mind says, and it will help you a long way.
There's always a gentle way to speak your mind; learn it.
You can run away from people, but you can't run away from your heart, so speak what it wants you to speak.
Speak the truth, not only because that's what you should do but also because that's what the world needs.
You can always count on the honesty of your words, so speak your mind.
Suppressing what your mind says is like killing yourself with slow poison.
Popular Quotes About Speaking Your Mind
Your words will either give you joy or give you sorrow, but if they were spoken without regret, they give you peace.

– Shannon Alder
Never be afraid to speak your mind on relevant issues; good leaders stand for relevance and they are never afraid to face the facts head on. Bad leaders see the problems, close their eyes and do something else.

– Israelmore Ayivor
People live long who speak their mind even when they are absent, "Speaking your mind" is your birth right.

– Dr V V Rao
The truth will set you free. But not until it is finished with you.

– David Foster Wallace
What I know for sure is that speaking your truth is the most powerful tool we have.

– Oprah Winfrey
Integrity is doing what is right and truthful, and doing as you say you would do.

– Roy T. Bennett
There is nothing more pure and beautiful than a person who always speaks truthfully with a childlike heart.

– Suzy Kassem

Even if you are a minority of one, the truth is the truth.

– Mahatma Gandhi
Final Words
These are some of the quotes which are helpful to make you understand that you should always speak your mind and tell the truth. If you found these quotes about speaking your mind meaningful, do share them with your loved ones as well.
Also read: 90 Quotes About People Talking About You Behind Your Back