Your life and the lives of others are severely impacted by drunk driving. You put not just your own life in danger by drinking and driving but also the lives of other people. The car's driver uses more than just their hands and feet to manoeuvre the vehicle.
To be able to operate the automobile and respond to obstacles on the road more quickly, they need their brain to be functioning properly. If you drink, don't drive or drink and drive. Alcohol has several brain-altering effects that make it difficult for you to drive.
Alcohol will delay your reflexes, making it harder for you to respond quickly to things on the road. Your eyesight is impacted, making it difficult to see at night and see colours.
You'll find some of the most well-known quotes about drinking and driving in this article. Others are from well-known figures, some are serious and educational, and some are humorous takes on contentious topics! Make sure you're not behind the wheel or on the road if you're reading this article while inebriated.
Here are some quotes about drinking and driving to remind you to stay safe on the road.
Famous Quotes About Drinking And Driving
An intoxicated person might become angry if others suggest that he or she should not drive.

– Valerie Mendrala
It takes only one drink to get me drunk. The trouble is, I can't remember if it's the thirteenth or the fourteenth.

– George Burns
Alcohol is a make-you-stupid drug.

– Beverly A. Potter
There's only one thing worse than being driven to drink, and that's driving yourself home from it.

– Evan Esar
Drinking and driving can destroy lives and families.

– Valerie Mendrall
A woman drove me to drink. I don't drink and drive.

– Brian Spellman
First you take a drink, then the drink takes a drink, then the drink takes you.

– Francis Scott Key Fitzgerald
People who insist on drinking before driving are putting the quart before the hearse.

– Evan Esar
Driving under the influence of alcohol, or 'drunk driving,' is by far the most commonly encountered offense in the courts today.

– Lawrence Taylor
If you drink and drive, sooner or later, you're gonna meet the Undertaker.

– Vince McMahon
Quotes About Drinking And Driving To Stay Safe
Thousands of fatalities would not have occurred if alcohol drinking had not taken place. Similarly, countless births amount to millions.
Always get a larger bottle than you anticipate needing. Safety comes before sobriety.
People are hooked to escape reality, not alcohol or drugs, according to this statement.
Alcohol makes you lean: toward tables, chairs, walls, floors, and ugly people. It doesn't make you obese.
It seems as though people started drinking and driving once seat belts were invented.
You are travelling down the road to hell while you are intoxicated.
Friends never let friends drive after drinking.
If I could personally apologize to every individual who has lost a loved one to drunk driving, I would. I have a duty, and I made a mistake.
Those who drive drunk will be taken to some new pubs by the police.
Keep your thoughts in check, or you'll lose your soul.
When the roads are dry, the motorist is safer; when the roads are dry, the driver is safer.
It is preferable to arrive late and sober than never.
Quotes And Images About Drinking And Driving
You could be an excellent driver, but not if you drive after drinking.
Someone is going to weep if you drink and drive.
Being drunk is not cool. It causes you to behave foolishly.
Drunk driving: Totally intolerable.
Don't use booze to distort your life.
A tree will never strike a car unless it's acting in self-defence.
Don't drink and drive; you are not a punk.
Avoid being too addicted to dying in this manner.
Let's eradicate alcoholism from the planet.
You don't intend to say goodbye to your loved ones, but if you drink and drive, you will have to.
You'll be stupid if you drink the rum.
Meaningful Quotes About Drinking And Driving
Every state views drunk driving as a serious offence. It ruins countless lives and is wrong and reckless. Alcohol abusers harm others around them, jeopardize public safety, and wreak havoc on our roadways.
Why do individuals drive intoxicated when there is nothing good that can come of it? It is the responsibility of society to punish these criminals and make an effort to rein in an out-of-control problem.
Drinking and driving a vehicle are two activities that should never be combined. They are the well-known causes of demise as well as several more fatal injuries when detected. Drinking while inebriated also results in legal consequences and is very undesirable in society.
Drink and drive Combining the two results in a catastrophic concoction of bad judgment, vehicle accidents, injuries, legal issues, and potentially life-altering circumstances.
The consequences of drinking and driving are disastrous for the entire country. People who drink and drive may at the very least lose their driving rights. In the worst-case scenario, people can lose loved ones or perhaps their life.
These issues like alcoholism, smoking, and drunk driving will never disappear. A certain proportion of any population will always depend on one or more drugs.
When alcohol becomes dominant, you simply lack mental clarity!
Drive after drinking. Combining the two results in a catastrophic concoction of bad judgment, vehicle accidents, injuries, legal issues, and potentially life-altering circumstances.
Although alcohol may be man's biggest enemy, the bible instructs us to love our enemies.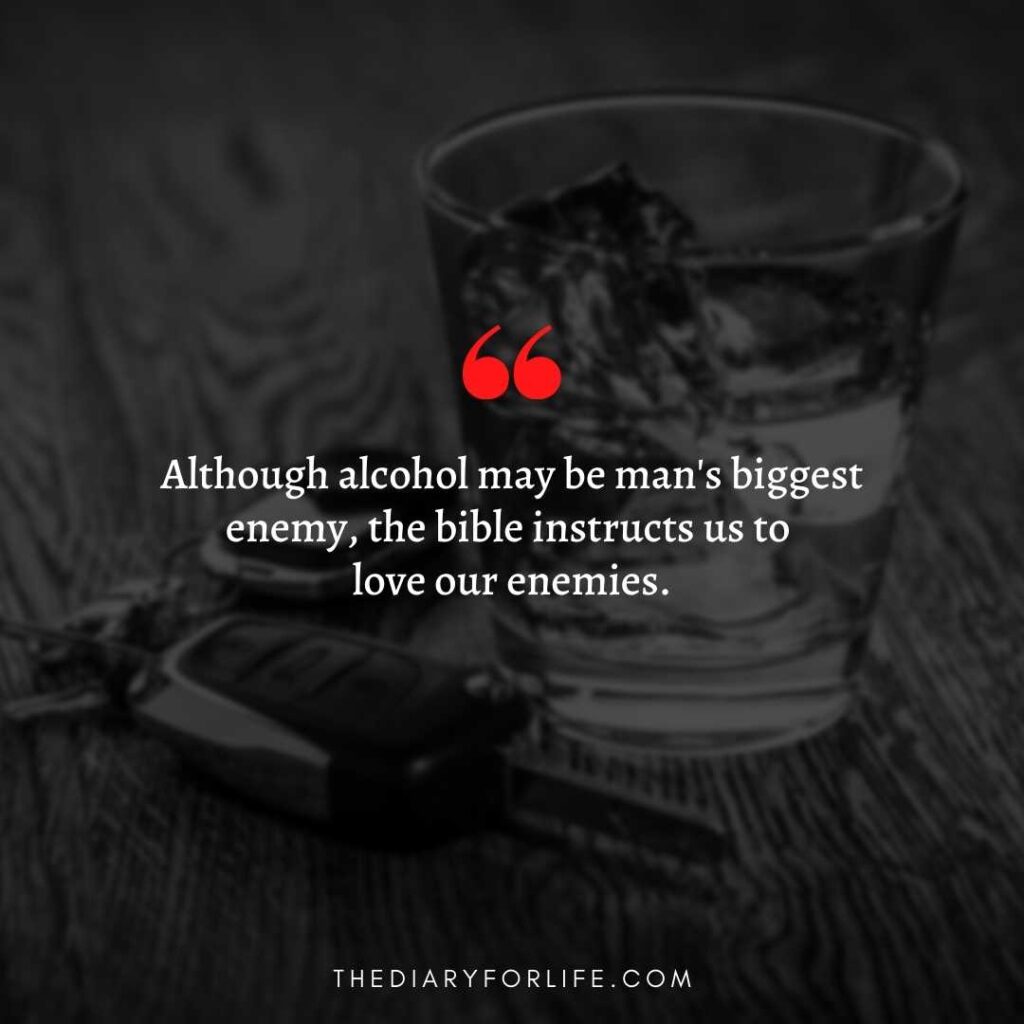 The quart comes before the hearse for those who persist in drinking before driving.
Do not have a third drink.
You are a bloody moron if you drive after drinking.
Others may be discouraged by your untimely passing, but we want you to be the first to understand.
You have the power to destroy your future, harm or kill others, and break the hearts of all those who care about you in a single instant.
More Quotes About Drinking And Driving
Teens who drive after drinking run the risk of hurting innocent bystanders or other motorists.
Really inebriated people tend to hurt themselves and others by falling off buildings and crashing into other vehicles.
Many intoxicated men would rather drive because they believe they are too intoxicated to walk.
Adolescents may change attitudes and perceptions, which in turn alter actions, by talking to other teens about safe driving and having fun without alcohol.
The aftermath of drinking and driving is the problem.
I would receive the drunk driving lecture every weekend. Dad drove drunk all the time, of course. It was probably more of a master's advice than a lecture.
It's better to be late and sober than never.
The hazards to the client are significantly larger than are typically realized when dealing with cases involving drunk driving, which may be surprisingly challenging.
Conclusion
Driving while intoxicated is strictly prohibited and shouldn't be done by anybody in society. The people who break it are subject to severe penalties. Already one of the riskiest daily activities is driving. Why put yourself in further peril every day because of a quick dopamine hit?
Many drivers disregard the new restrictions, even though certain states are taking legislative action to lower these figures. It's simple to think that it's OK to glance at your phone fleetingly in some circumstances.
The issue with this way of thinking is that you ultimately start to stray from what you consider acceptable and cross the boundary of what is safe. Use these quotes about drinking and driving to remind yourself and your loved ones not to drive after drinking.
Also read: 80+ Inspirational Quotes About Doing The Right Thing