Life's differently beautiful when you put yourself first and be kind to yourself. You can instantly relate to this if your soul has tasted the essence of self-love. It leads one towards mental, spiritual, and, eventually, physical well-being while instilling a deep sense of peace and security. You need to understand and acknowledge your self-worth to begin loving yourself.
But that's easier said than done. Our thoughts are typically wired to fulfil others' needs before ours. In fact, some people are also inflicted by the feeling of guilt when they prioritise themselves. Self-love involves breaking this barrier and choosing your well-being before someone else's without any second thoughts.
Self-love is an art, and mastering it takes time. Going over the self-love quotes and updating them on your WhatsApp About will not only help you practise self-love but also spread the importance of such love among your contacts.
In the following sections, we've got a list of 50+ self-love quotes for WhatsApp about to make the going easy for you.
Self-Love Quotes for WhatsApp About
Be compassionate to yourself before being kind to others.
Be brave enough to forgive yourself for those little mistakes.
Love yourself the way you love them.
Expect love from yourself, and the rest will follow.
Self-love is the most underrated ingredient of success.
My health matters above everything else.
Self-love is not a temporary bubble of joy. It's a pristine lake of lifelong bliss.
Being kind to yourself isn't synonymous with being selfish. Mark that.
More than anyone else, I know my worth.
Let us promise ourselves a healing touch of kindness onto our bruised souls.
Show some empathy for yourself, and your mind will breathe better.
In love with the process of loving and accepting myself, slowly and steadily.
My confidence makes me radiant.
Self-love is the key to the infinite glow from within.
I choose to treat myself with regard.
I respect myself and others because dignity begins with self.
I no longer ignite my peace to bring light to their life.
Self-love is my key to the ultimate bliss.
I'm at my best self; no regrets.
I am filled with serenity and love.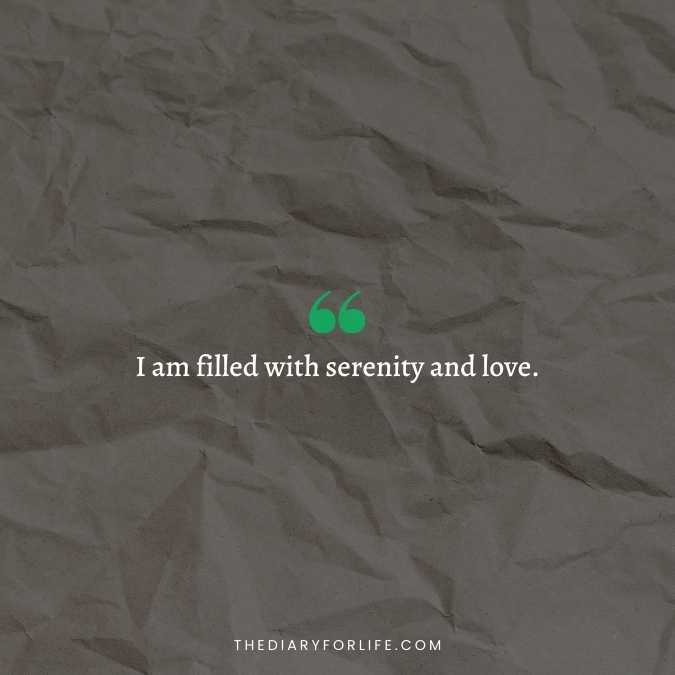 Short Self Love Quotes for WhatsApp About
I am doing the best I can, and I have complete faith in my actions.
You cannot steal my spark. I'm not letting anyone do that.
I feel so content, inside out.
My soul is brimming with bliss.
I am the source of love, light, and happiness.
Everything else is secondary; health comes first.
I am in charge of my peace.
I do not let anyone touch my happiness.
The person in the mirror is my foremost responsibility.
The love and empathy I show to myself reflect back on their soul. That's how positivity spreads.
Self-love is more soothing than you think.
In the trench of courage lies self-love.
Dare to love yourself.
When was the last time you chose your happiness before theirs?
I am learning to inspire myself.
Self-love makes life pleasant.
I hold the reins of my calm.
I realise and acknowledge the hard work I do.
I am shielded from negativity, and I am guarded by self-love.
Joy blooms from within.
Best Self-Love Quotes for WhatsApp About
Sow the seeds of kindness within yourself, for yourself, and then for the rest of the world.
I let go of everything that weighs me down- 'cause I love to fly.
External darkness does not define me, and I have deep roots of light within.
Don't ponder over their thoughts. Work on yours instead.
The kind of love that springs from within goes to the moon and beyond!
Unlock the beauty of life by climbing the stairs of self-love, a step at a time.
Your happiness is your choice, not your responsibility.
Walk the secret lane towards harmony. It's called self-love.
Behold gratitude for everything that you are and all that you are becoming.
Pen your book before helping them write theirs.
Expectation from oneself is the only reality. Those from others are simply illusions.
Shape your thoughts, hone them, and guard yourself against evil.
Run to yourself before chasing others.
A fistful of empathy for yourself can ease your life insanely.
Love is the only drug that heals the self and the world.
One-Line Self-Love Quotes For Whatsapp About
Nothing is unforgivable.
Other shades of love can fade, but not the one called self-love.
Mistakes don't matter once you realise they are so.
Don't hold grudges and regrets. Let go of it all.
Rejuvenate your mind the easy-peasy way – love yourself.
You are gorgeous the way you are.
We are all sailing in the same boat. It's just the winds that caress us differently.
The only way to grow is by letting the burden go.
Magic happens when you choose to believe in it.
Look into the mirror and show some love.
Final Thoughts
Adding these self-love quotes for WhatsApp will add a smart edge to your personality while also conveying to others of your attitude towards yourself. It'll help you and your friends/family maintain healthy boundaries and fair expectations with you.
So, pick your favourite ones and add them to your WhatsApp profile right away, or save this piece and come back every time you wish to update what you are about up there.
Frequently Asked Questions (FAQs)
Who Can See My Self-Love Quotes For Whatsapp About?
Only the ones from your address book who have saved your contact can see your self-love quotes for WhatsApp about. You can also switch between different privacy settings and choose to show you are about to select contacts only.
How Often Should I Update My Whatsapp?
There is no standard as to how often you must update your WhatsApp About. It totally depends on you. If you love all of the above self-love quotes for WhatsApp about, you can update it daily and keep coming back to our blogs for more.
Do Self-Love Quotes For Whatsapp Improve One's Attitude?
Yes, when you add these wonderful and positive self-love quotes on your WhatsApp about on a regular basis, your mind tends to practise similar thoughts and improves your attitude in day-to-day life. Not just that, it also brings a positive change in the mind of the reader.
Also read: 50 Quotes About Finding Yourself Again And Regain Self-Worth