Just gonna stand there and hear me cry. Well, that's alright because I love the way you lie.

– Eminem
Eminem's one of the most iconic songs speaks about lies in relationships. But unlike the protagonist in this song, not everyone loves a lying partner.
Truth, trust, and understanding are the cornerstone of every relationship. Once the veil of lies is lifted, no more faith is left to nurture a healthy relationship.
Lies in a relationship leads to misunderstandings, miscommunication and mistakes. The lies ruin the relationship that once looked strong and long-lasting. But, even in the name of love, are lies always avoidable?
Here are 35 meaningful quotes about lies in relationships everyone must read:
Quotes About Lies In Relationships With Images
Sometimes lies are just a loving shade from the harsh sunlight of a bitter truth.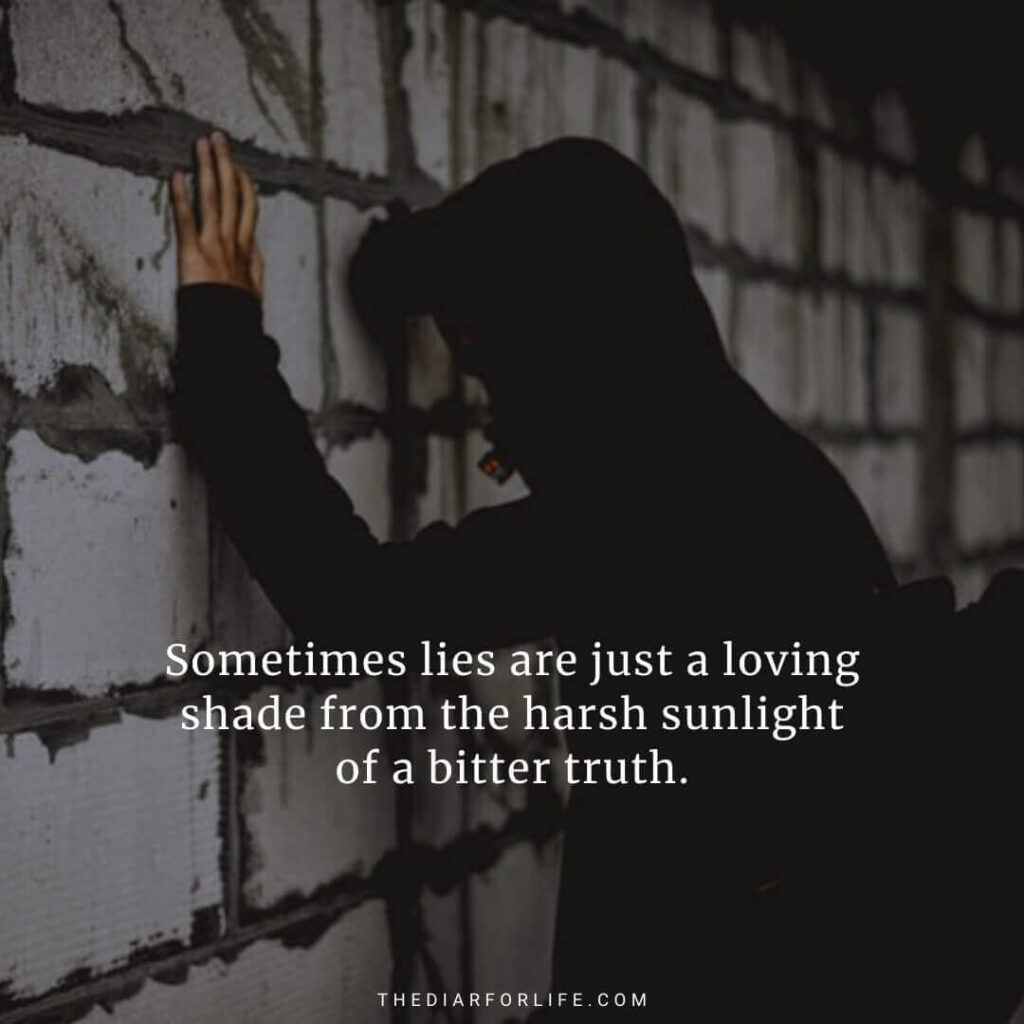 Realities often disappoint, so I comfort you with a lie.
Beauty is deceptive. That's why I prefer an ugly truth over a beautiful lie.
Lies are wrong. But, what if the truth wasn't right either?
You never learned to accept the truth. So, I learned to please you with lies.
Better to be slapped with the truth than kissed with a lie.
It takes a lot of truth to earn someone's trust, but one lie is enough to lose it all.
Loving your lies makes my love a deception too.
Lies are an easy fix for people who never want to address the real troubles.
Lying was the only way of letting you never disbelieve my love.
Lies can be so comforting, right? But a relationship does not necessarily mean comfort. It is a union of two individuals through a journey of ups and downs, hopes and despair, rise and fall.
Saying a lie is like stealing the chance for this beautiful bond to get mature. Lies are comforting & momentarily rewarding, but can they hold the relationship through troubling times? No! Every strong relationship is anchored on truth. And if the truth makes the bond fall apart, it was merely an impending doom.
Best Quotes About Lies In Relationship
Truth is a pause, but a lie is a full-stop to a relationship.
I love you so much. How can I even let the truth hurt you?
You are sure to leave even with the truth. At least the lies borrow me some time together.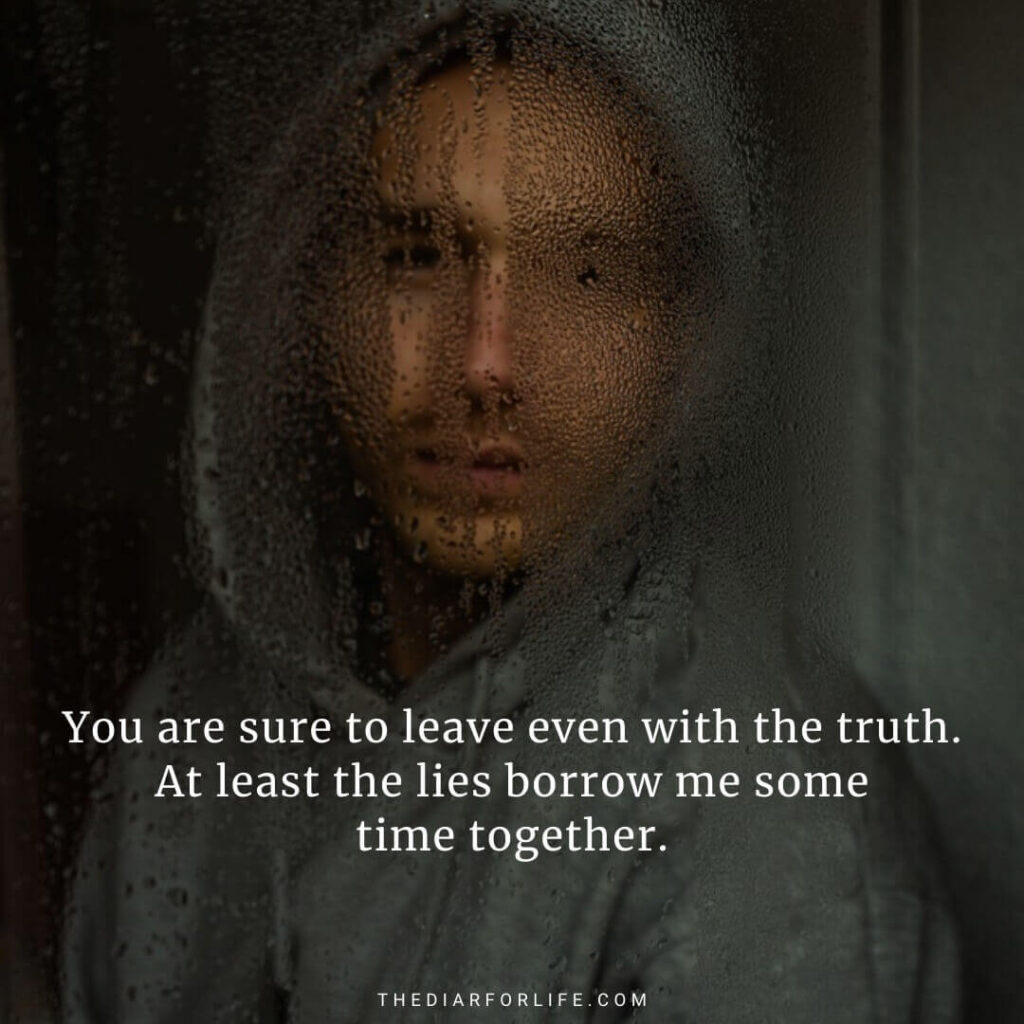 It only took one lie to make me forget the difference between a lover and a loser.
Maybe your love was never real, but I don't deserve your lies.
If telling lies were to save me from a harsh truth. Congratulations, I am already falling apart.
Become a partner who will not need to be lied to.
Honesty helps to communicate without boundaries, and healthy communication is the key to resolve disputes. With a wall of lies, every argument can turn out to be a deal-breaker.
A single weak moment of lie is enough to poison the wings of a fluttering relationship as they say, once a liar always a liar!
Quotes About Lying In Relationships
If the partner is not understanding, lie could actually be the better partner.
Take your relationship to the level where you won't need to hide and lie.
Your lies are a mirage; they never brought me to the oasis of never-ending love.
Ask me why I don't trust you? Why didn't you trust me to be strong enough to get over the truth?
Understanding is only the thing stronger than fear of telling the truth.
If you fear your partner for your deed, you either have done something terrible or your partner is terrible.
I wonder how someone can tell many lies without feeling bad about it.
Meaningful Quotes About Lies In Relationship
Not every partner who lies is bad.
Lying with good intention for hiding the good deed is no lie.
If you have something to do that you couldn't tell your partner, change the partner, not the freedom.
To err is human, to forgive divine, and to lie is a spouse.
If a lie can save the relationship, it is good.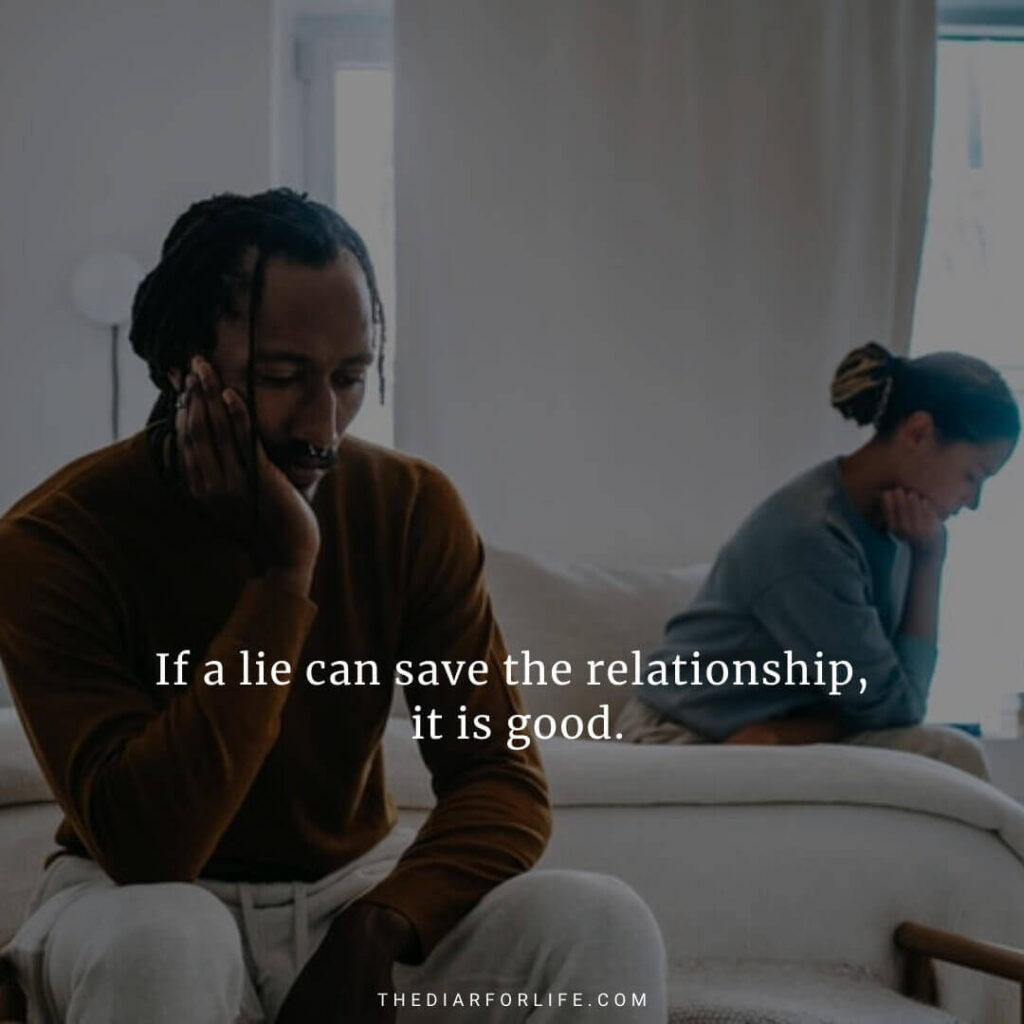 More Quotes About Lies In Relationships
All that one expects from a relationship is love and honesty. But, when honesty is lost, love becomes immaterial.
You say you only hid the truth but never lied. That day I only stopped loving you but never hated.
I thought truth and love came together, but you made me realise you could either love or tell the truth.
A good lie can conjure the illusion of a thriving relationship, but in the end, it's still an illusion, not reality.
It's not worth lying to a person you genuinely love.
The Bottom Line

Every relationship is built on mutual trust, and a lie is enough to ruin any kind of relationship. So, if you think that there is nothing wrong with telling a little white lie, think again!
If you find these quotes about lies in relationships meaningful, don't forget to share them on your social media. And remember, for finding true love in life, all you need is your love to be true!
Also read: 27 Fake Love Quotes That Every Broken Heart Can Relate